FTC Changes How It Polices 'Unfair' Business Practices
The new policy could alter how the commission looks at potential antitrust violations by Apple, Google, and other tech companies.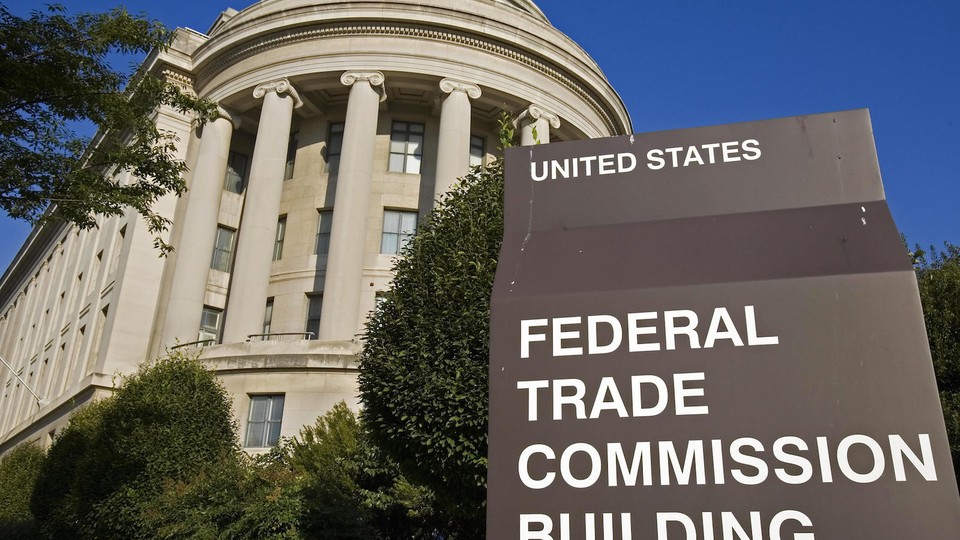 The Federal Trade Commission voted behind closed doors this week on a policy that could limit its ability to crack down on companies that try to stifle competition, National Journal has learned.
Chairwoman Edith Ramirez will announce the new policy in a speech on Thursday, according to commission officials.
The policy marks the first time in the 100-year history of the FTC that it has drawn official boundaries over what it takes to sue companies over "unfair" competition.
In recent years, the FTC has gone after a number of tech giants, including Google and Intel, for antitrust violations, and it is currently investigating Apple for the fees it imposes on rival music-streaming services.
Democrats have resisted any guidelines on the FTC's "unfairness" power that could handcuff the agency from stopping abuse. But business groups and Republicans have been clamoring for years for more guidance, arguing that companies deserve to know what sorts of practices could get them in trouble. Republican Commissioner Joshua Wright has been particularly vocal in pressing Ramirez, a Democrat, to define the limits of the agency's powers.
The FTC's statement, according to commission officials, will include three principles: It bans practices that harm or are likely to harm competition, unless that harm is outweighed by other benefits; the agency will focus on protecting consumers; and the agency should rely on traditional antitrust laws if possible. The full policy is less than a page long and doesn't include any examples, according to officials.
The vote was 4-1, officials said.
Maureen Ohlhausen, the other Republican commissioner, opposed the decision, according to officials, saying the FTC should have taken time to get input from the public. Ohlhausen also argued that the policy is too vague to effectively rein in the FTC, and could actually give agency lawyers the green light to pursue more cases against "unfair" conduct, officials said. The statement is broad enough to justify just about any case that the agency may want to bring, she plans to argue publicly, according to officials.
But Wright believes that he got the best deal possible to impose real checks on the FTC's authority, officials said. Businesses currently have little way of knowing whether a particular practice could prompt an FTC lawsuit, he said during a speech earlier this year. "Such uncertainty inevitably results in the chilling of some legitimate business conduct that would otherwise have enhanced consumer welfare," he said.
Wright has been talking with colleagues about stepping down soon from the FTC, likely to return to his job as a professor at George Mason University School of Law, according to officials familiar with the discussions. His departure would open up a seat reserved for a Republican on the five-member commission.
The new policy will likely be seen as a capstone of Wright's two years on the commission, and he has been pushing to finish the deal before he leaves, officials said.
The Justice Department's Antitrust Division also sues companies that conspire to fix prices or otherwise try to hamper competition. In most cases, the FTC has the exact same authority that the Justice Department does.
But the FTC has long argued that Section 5 of the FTC Act, which bans "unfair methods of competition," grants some broader authority, allowing it to bring certain cases that the Justice Department couldn't. For example, the FTC pointed to its Section 5 powers in 2013 when it settled charges with Google for refusing to let its competitors use key smartphone patents. Yelp and other Google rivals unsuccessfully tried to convince the FTC to use its Section 5 authority to force Google to stop favoring its own services in search results.
Although there has been more than a century of antitrust court cases, the FTC has only rarely invoked its Section 5 authority. And companies often settle rather than fight the agency in court, so the section has remained largely untested.
In a speech last year, Ramirez expressed skepticism about restricting the FTC's Section 5 powers and argued that the agency needs to stay flexible to tackle potential abuses on a case-by-case basis. "While I do not object to guidance in theory, I am less interested in prescribing our future enforcement actions than in describing the broad enforcement principles revealed in our recent precedent," she said at the time.