Frank Guinta's Forgotten Million-Dollar Challenger
Shawn O'Connor is the only Democrat currently running for Rep. Frank Guinta's seat, in one of the most high-profile House races of the 2016 election cycle. But he hasn't made much of an impression.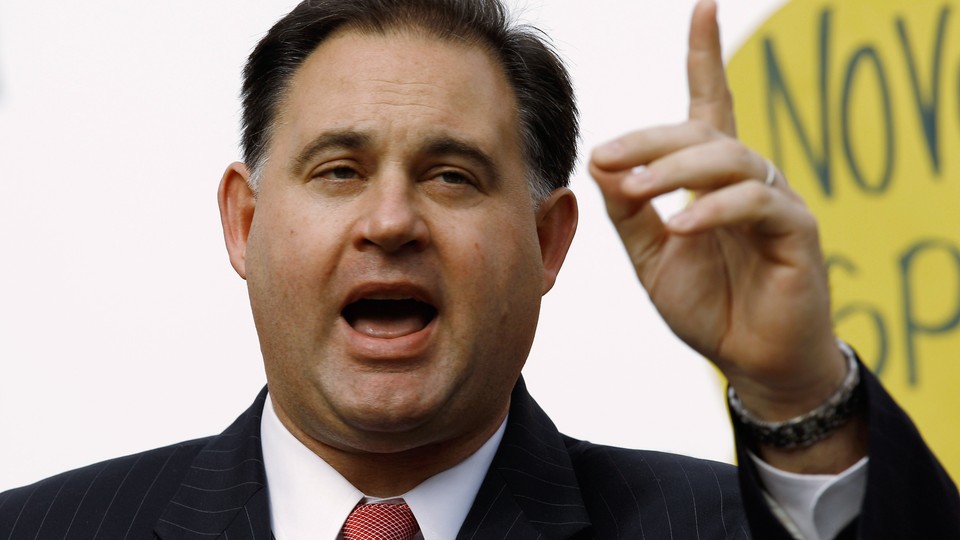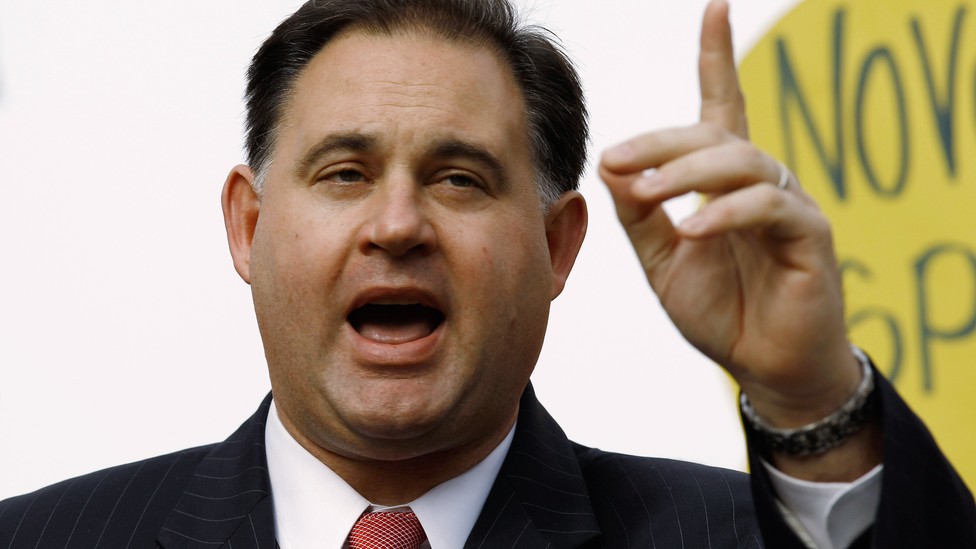 When Rep. Frank Guinta got caught up in a campaign-finance scandal and editorial boards and fellow Republicans alike turned against him, he immediately became one of Democrats' top House targets in 2016. And even if Guinta weren't in trouble, opponents who start with $1 million in the bank have a way of attracting attention.
Yet that hasn't been the case for Shawn O'Connor, the only Democrat currently in the race against the embattled Guinta. In a July WMUR poll, voters who view Guinta unfavorably outnumbered those who like him 2-to-1, and 55 percent of respondents said "they would definitely vote for another candidate" over the incumbent in 2016. (Guinta's campaign did not respond to requests for comment.) O'Connor, a millionaire test-prep executive who has never held elected office and moved to New Hampshire in 2012, quietly entered the race in February and has since seeded his own campaign with $1 million. But he's been nearly invisible in the news, and locals say he hasn't capitalized on the interest in Guinta's seat — mostly because many Democrats are waiting to see if former Rep. Carol Shea-Porter, the Democrat who beat Guinta in 2012 but lost to him in 2010 and 2014, will run again.
"If I was going to bet, I would bet that Carol Shea-Porter will run. And she has incredible name recognition," said Kathy Sullivan, the former chair of the New Hampshire Democratic Party. ""¦You'll hear people who will say she deserves another shot because Frank Guinta cheated. I don't think you can underestimate how that plays."
Shea-Porter hasn't entered the race, nor has she said clearly that she'll run in the 2016 general election. When asked about the race, spokeswoman Naomi Andrews said Shea-Porter "will run in the special election when Congressman Guinta resigns." But Guinta has indicated he plans to stay in office and seek reelection next year. Andrews did not respond to questions about the 2016 general election or a potential primary against O'Connor.
Even while off the campaign trail, Shea-Porter is garnering more media attention than O'Connor: According to Nexis, Shea-Porter has appeared in more than twice as many news stories about Guinta this year than O'Connor has, whether in reference to her past campaigns or her comments about Guinta's trouble with the Federal Election Commission. O'Connor did make a splash at one of Guinta's public events when he brought a petition calling for the congressman's resignation, but New Hampshire's politically attuned media has largely ignored him.
J.B. Poersch, a veteran Democratic consultant who is consulting for O'Connor's campaign, said he's not surprised (or worried) that all eyes are on Shea-Porter for now.
"Tried and true activists are usually with the establishment candidate early, but over the course of the campaign, that factor usually matters less," Poersch said. "Barack Obama had the same problem, but he made it through."
O'Connor's second-quarter fundraising report illustrates his difficulty building grassroots support so far. Aside from the money he's given the campaign from his own pocket, his filing lists only six itemized contributions from New Hampshire residents, despite the intense interest Guinta's scandal generated. O'Connor moved to New Hampshire from New York three years ago, according to campaign spokesman Shea Sennett.
O'Connor has been travelling the state to build support, Poersch said, and made a point of getting into the race early to cut into Shea-Porter's inherent advantage as a former lawmaker.
But after several months of campaigning, others say O'Connor hasn't made much progress in winning supporters. Sullivan said he's "trying to get around and meet people" but that virtually no one knows who he is yet. Former state Republican Party chairman Fergus Cullen said he bumped into O'Connor at an event but that O'Connor "wasn't really working the room. I recognized him standing in the back."
Other facets of the race are also still up in the air. Democrats see Guinta as an easy target, but he could lose the Republican primary: 2014 challenger Dan Innis, who lost by only 8 points last year, has filed to run again. GOP state Rep. Pam Tucker could also run against Guinta.
More importantly, there's over a year left before the Democratic primary, during which time the presidential race will bring plenty of media, attention, and big crowds to the district, giving O'Connor the opportunity to introduce himself. "Borrow somebody else's crowd," Cullen said, adding that he hadn't heard of O'Connor doing that yet. "That's what he should be doing."
A previous version of this article incorrectly stated the month in which O'Connor entered the race. He filed to run in February.