Fox News Is Having a Moment That's Good for Republican Voters in 2016
Voters don't traditionally tune into presidential politics this early, but a little Trumpmentum and high-flying debate drama engaged political spectators.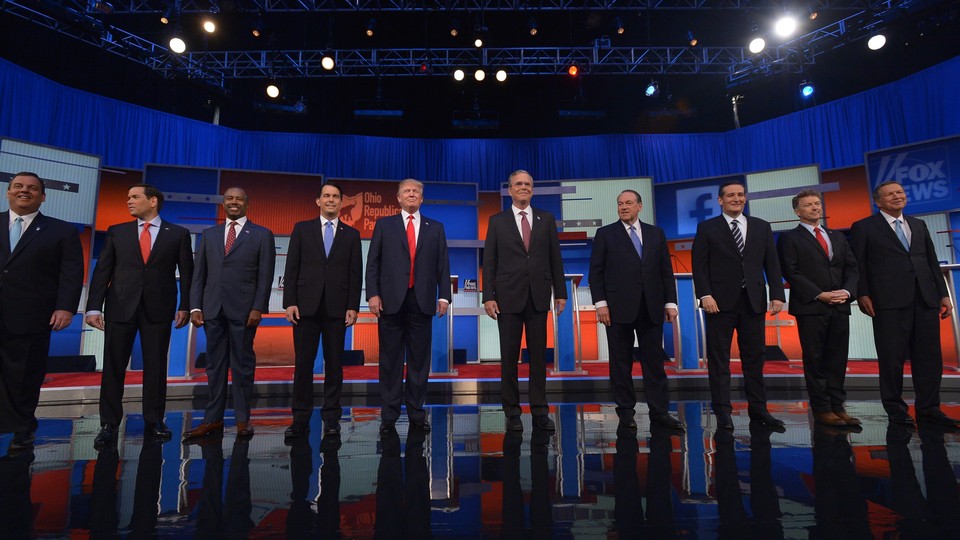 Fox News has set a high bar for any other news network hoping to play in the debate game.
With a record 24 million viewers tuning into the two-hour program — ratings never before seen for a presidential primary debate — Fox News elevated what could have been a dull Republican forum into a high-octane political spectacle.
Fox's debate gave voters a real chance to get to know 17 candidates who are vying for the GOP's nomination — though some got more airtime than others. Sen. Marco Rubio quipped that God "blessed the Republican Party with some very good candidates. The Democrats can't even find one."
The debate revealed genuine differences of opinion among the candidates that may not be surprising to the seasoned observer, but would be to those just getting to know them. The debate's subtext: Voters still have a choice between the conservative and the moderate, the governor and the senator, the libertarian and the hawk, the showman and the policy wonk.
Throughout the show, Fox's moderators remained focused on their mission: to zero in on each candidate's liabilities. For former Florida Gov. Jeb Bush, it was education reform; for Wisconsin Gov. Scott Walker, it was his changing position on a path to citizenship for illegal immigrants.
The debate was also designed to force candidates to react to one another instead of just speaking aimlessly into the microphone before them. For Rubio, that meant confronting his one-time mentor, Bush, on what sort of resume befits a president. And for all the candidates, that meant opportunities to charge at Donald Trump.
From the moderators' carefully thought-out questions to the audience responses, the entire program threw the candidates off-balance enough to give viewers a sense of how these men actually think, rather than a recitation of talking points drilled into them by their advisers.
Megyn Kelly in particular earned praise across the media spectrum for her no-nonsense lines of questioning.
"When did you actually become a Republican?" Kelly asked Trump at one point, after listing off some of the Democratic stances he once held. The audience broke out into cheers and laughter.
Yes, Trump was center stage during the debate — both literally and figuratively — and that undoubtedly helped to boost the debate's ratings. But, judging by Trump's interactions with Kelly et al, the Fox moderators didn't have much respect for Trump on the debate stage. For Fox, Trump is a necessary evil: a clown, but a clown who brings in terrific ratings nonetheless.
The high ratings mean more than just money for Fox. They mean that Fox was able to get its coverage out to its viewership. When Kelly recited the list of crude names Trump had used to refer to women — including "fat pigs, dogs, slobs, and disgusting animals" — Americans were watching. When Chris Christie reminded voters he was still the same hard-charging, blunt New Jersey governor he'd always been when he took on Sen. Rand Paul over national security, Americans were watching. And when Ohio Gov. John Kasich expressed a more accepting stance on gay marriage, Americans were watching.
Winning the ratings game is good for Fox, but it's even better for an informed electorate, and it's absolutely essential for a Republican Party that is trying to discredit Donald Trump and redefine itself in the upcoming election cycle.
And as Betsy Fischer Martin points out, Thursday night's debate wasn't just a win for the network. It was also a win for Fox's advertisers, who got one hell of a good deal.