Four Ways Thelma Golden Might Make Obama's Presidential Library Different
The veteran museum curator has a history of using art to provoke challenging conversations.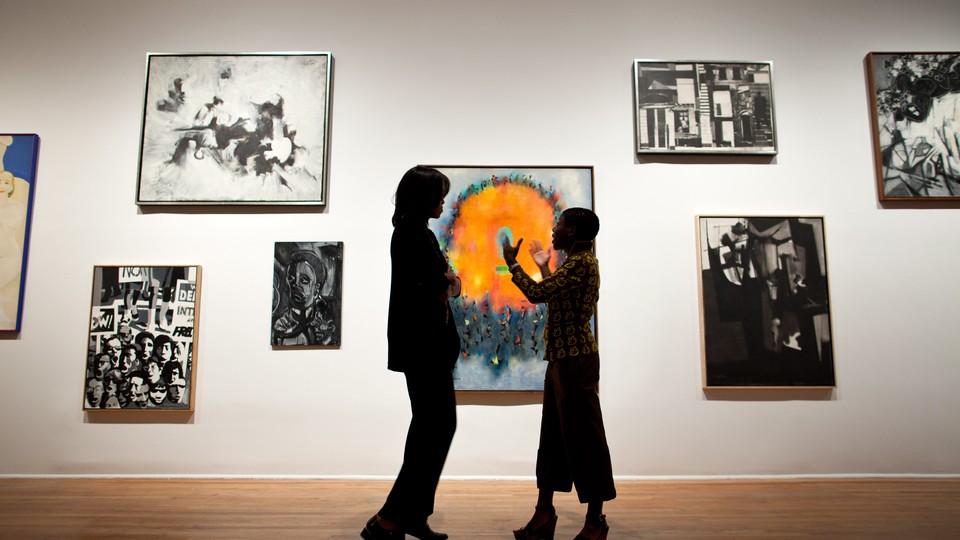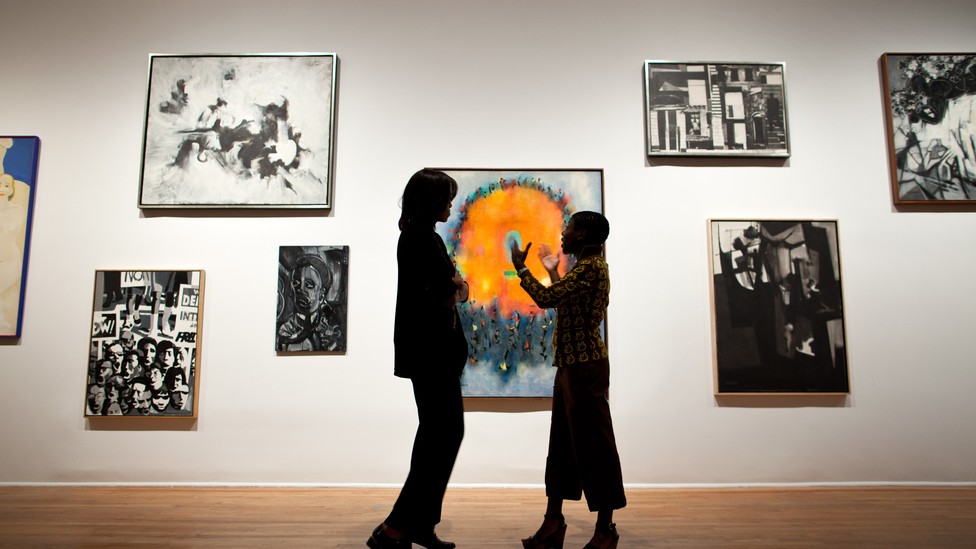 Barack Obama's presidential library is shaping up to look and feel very different from any other.
The president's foundation has tapped longtime museum curator Thelma Golden to be part of a team spearheading the development of the library on the South Side of Chicago, where Obama cut his teeth as a community organizer and where his family still maintains a home. Currently the director and chief curator of the Studio Museum in Harlem, a position she will maintain while serving as a volunteer on the foundation's board, Golden previously worked at the Whitney Museum of American Art.
Golden, an African-American, has a history of producing exhibits that promote young black artists, and the area is the epicenter of the city's black community, two points that offer clues as to what an Obama presidential library might look like.
+ Curator Thelma Golden attends the Max Mara celebration of the opening of the Whitney Museum Of American Art at its new location on April 24, 2015 in New York City. (Mike Coppola/Getty Images for Max Mara)
Presidential libraries typically showcase artifacts and offer information about a president's life, as well as some of the policies and issues of the day. While the museums that Golden has curated have centered around art, her techniques—which pieces she chooses, where she places them, how she groups items—will translate to Obama's library. Drawing from Golden's past projects, here are four elements we might expect to see when the library opens in five or six years.
1. Curation as a catalyst for cultural exchanges
Golden goes for exhibits that make viewers think, so expect the presidential library to tackle controversial portions of Obama's presidency—topics like the "Black Lives Matter" movement, gay marriage, and immigration.
Golden has endeavored to find and feature emerging artists of color often overlooked by other curators, including Glenn Ligon and Lorna Simpson. Ligon has used painting and other forms of expression to examine issues of race, language, and identity. President Obama is a fan. In his late 40s, Ligon became the youngest artist to have his work chosen to appear on the walls of the White House, in the Obama family's living quarters. Simpson uses photographs mixed with text to draw attention to people who are often left out of mainstream art—black women, specifically. In 2013, Golden gave a TED Talk entitled "How art gives shape to cultural change," in which she discussed how she uses art to provoke sometimes-difficult conversations, highlighting artists such as Romare Bearden and Jean-Michel Basquiat who have sparked cultural conversations through their work.
2. Creating community through art
Golden has a history of turning museums into community gathering places. At the Studio Museum in Harlem, she worked to bring together visitors and community members through art. The museum's visitorship has increased during her tenure as director, and a $122 million expansion is underway.
"The South Side of Chicago has historically been the nexus of several important cultural movements for African-Americans, and I believe the new Center will help usher in a new era of community engagement for this extraordinary neighborhood," she said in a statement.
While the library will certainly feature exhibits, we can also expect Golden to have a hand in bringing gathering spaces and community events to the broader Obama Presidential Center—and to make a conscious effort to include communities who have typically been marginalized in the conversations.
3. Director as educator-in-chief
A graduate of the all-women Smith College, Golden regularly gives lectures and participates in panels at universities all over the world. The Studio Museum has a robust education mission, with programs targeted at students and teachers. Her work is consistent with the Obama Foundation's promise to be an education hub. As the foundation's website says, it aspires to "convene the brightest minds with the newest ideas from across the political spectrum, and draw strength from the rich diversity and vitality of Chicago, the city it calls home."
Part of Golden's task will likely be to collaborate with the University of Chicago, the institution behind the city's winning bid for the library. The library organizers said earlier this year that they will work with the university, as well as with Columbia University, where Obama did his undergraduate work. Golden has demonstrated a keen eye for recognizing young talent, and partnering with several universities will give her a pool of talent to draw from.
+ Thelma Golden attends the Museum of Modern Art's 2015 Party In The Garden on June 2, 2015 in New York City. (Neilson Barnard/Getty Images)
4. Black culture as American culture
For more than a decade, Golden has worked to highlight artists of African descent at the Studio Museum in Harlem. That is the museum's explicit intent. For years, it was a mission that appealed to a relatively niche crowd. But Golden has grown the audience and fostered little-noticed artists in the process.
She has overseen, in the words of The New York Times, the museum's "move from the margins to the mainstream, having started as a place that brought attention to black artists who had been largely ignored by major museums."
Golden's academic background has also focused on black history and culture; she has a degree from Smith in African-American Studies. While other presidential libraries may present a somewhat whitewashed view of American history and culture, Golden will surely spotlight the cultural significance of Obama's role as the first black president of the United States.
In addition to Golden, venture capitalist John Doerr and public relations consultant and former Obama administration staffer Julianna Smoot will join the board of directors, which already includes J. Kevin Poorman, David Plouffe and Maya Soetoro-Ng, as well as chairman Martin Nesbitt.
This story has been updated.