For Republicans, Planned Parenthood is the New Obamacare
But Obamacare will resurface during the general election, experts say.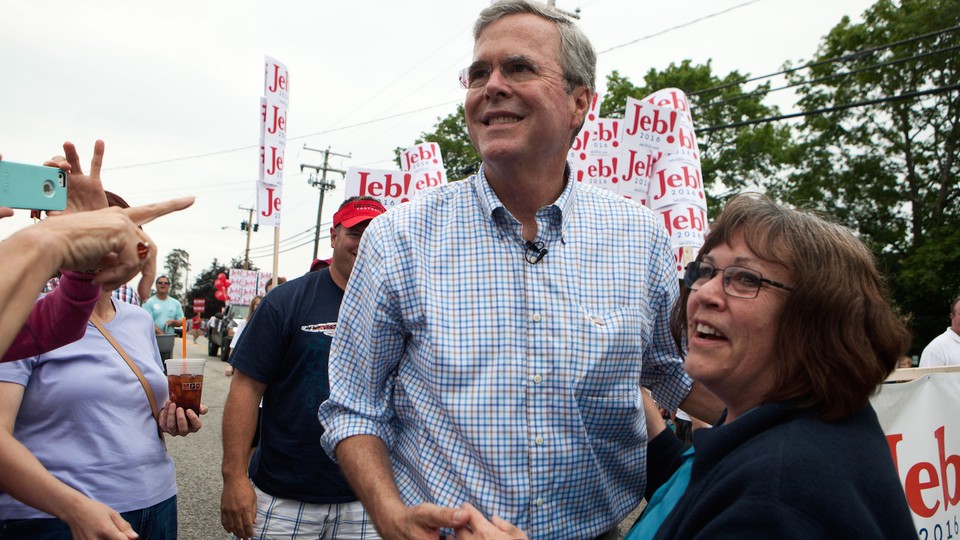 For a party that has put all of its health care eggs in one 2017 White House-shaped basket, Republicans running for president — all 17 of them — spoke very little about the Affordable Care Act during the first presidential debate of the primary season Thursday night.
To be fair, the Fox News moderators did not bring it up much. But a different health care topic got plenty of talking time: abortion.
There are several possible, and plausible, reasons that the candidates are not yet getting into the trenches of their least-favorite law. But the debate resembled congressional discussion as of late in that Planned Parenthood and abortion — not Obamacare — have been the subject of heated, bitterly partisan debate.
"Unlike Hillary Clinton, who has a radical position in terms of support for Planned Parenthood, I defunded Planned Parenthood more than four years ago, long before any of these videos came out," Wisconsin Gov. Scott Walker said Thursday night.
The question is how long abortion will remain a prominent campaign issue and whether it will become to 2016 what Obamacare was to the 2010 and 2012 elections.
"I do think that that is an issue that is going to endure for a while," said Dan Mendelson, CEO of Avalere Health, an independent consulting firm. "You do hear a difference between some of the further right candidates and the more centrist candidates."
Abortion has been brought to the forefront of the political arena over the past month after the release of several sting videos allegedly showing Planned Parenthood officials discussing the sale of fetal tissue. Sens. Rand Paul and Ted Cruz, in particular, have made the issue a key part of their presidential message.
"A lot of people are talking about defunding Planned Parenthood, as if that's a huge game changer. I think it's time to do something even more bold," said former Arkansas Gov. Mike Huckabee during the debate. "I think the next president ought to invoke the Fifth and Fourteenth Amendments to the Constitution now that we clearly know that that baby inside the mother's womb is a person at the moment of conception."
And Florida Sen. Marco Rubio: "What I have advocated is that we pass law in this country that says all human life at every stage of its development is worthy of protection. In fact, I think that law already exists. It is called the Constitution of the United States."
But before the release of the videos, if Republicans had been talking about health care, it was generally to vow to continue their crusade against Obamacare. In June, the Supreme Court upheld the law for the second time, prompting Democrats to say the ACA is here to stay and Republicans to punt to 2017, when the GOP could simultaneously hold the White House and both houses of Congress for the first time since 2006.
Not that Obamacare will be forgotten.
"You get in and you change every aspect of regulations that are job-killers. You get rid of Obamacare and replace it with something that doesn't suppress wages and kill jobs," said former Florida Gov. Jeb Bush.
Walker also briefly mentioned it: "One of the best things we can do is get the government out of the way, repeal Obamacare, put in — rein in all the out-of-control regulations," he said, before listing policy suggestions unrelated to health care.
"[Abortion is] not a new debate, it's an old debate, and Obamacare is a tremendously animating force in the Republican base," said Douglas Holtz-Eakin, president of the American Action Forum. "It brings voters out, it's one of the things that generates energy and turnout, and it is such a sweeping law and has impacts in areas of the labor force and economic growth and tax policy and insurance policy, delivery systems — it hits so many things that ... you just can't avoid it."
But Holtz-Eakin, who worked on John McCain's presidential campaign in 2008, said Obamacare will play a "much bigger" role in the general election.
"In 2010, it was an enormous force for Republicans. In 2014 it was again," he said. "In 2012, Mitt Romney had to run away from health care issues because of his experience as governor. He didn't want to go there. So when we get the general election, and it's a candidate versus the Democrat, presumably Hillary Clinton, you'll hear a lot more about it."
It's not unusual for presidential contenders to avoid policy specifics this early. And with something like Obamacare, discussing it is not very helpful in the primary, as all the Republican candidates will agree that the law needs to be repealed and replaced. Talking about it won't differentiate any one candidate from the rest of the field.
Abortion, however, is more likely to set the candidates apart from one another, and thus more worthwhile to bring up in primary debates. And the debate will not just be about whether or not to defund Planned Parenthood going forward.
"The issues are around what legislation you would approve and how restrictive that becomes on the abortion rights that exist in this country right now," Mendelson said. "Is it a constitutional amendment, is it a law, is it a regulation, is it just a ban on funding for organizations that violate federal restrictions?"
"I think [abortion politics] will play a prominent role, at least in the primaries," wrote Timothy Jost, a law professor at Washington and Lee University.
But while abortion talk might be good for Republicans during the primary debate, it could also hurt them going into the general election if candidates move too far to the right.
"It's kind of a double-edged sword in some respects, because it's possible that by pushing themselves too far on the issue, that they will find themselves out of step with the general-election voter," Mendelson said.