Feingold's Early Fundraising Breaks Longtime Campaign-Finance Pledge
Dating back to a 1992 campaign, Russ Feingold has always raised more money from Wisconsinites than from out-of-staters. Until now.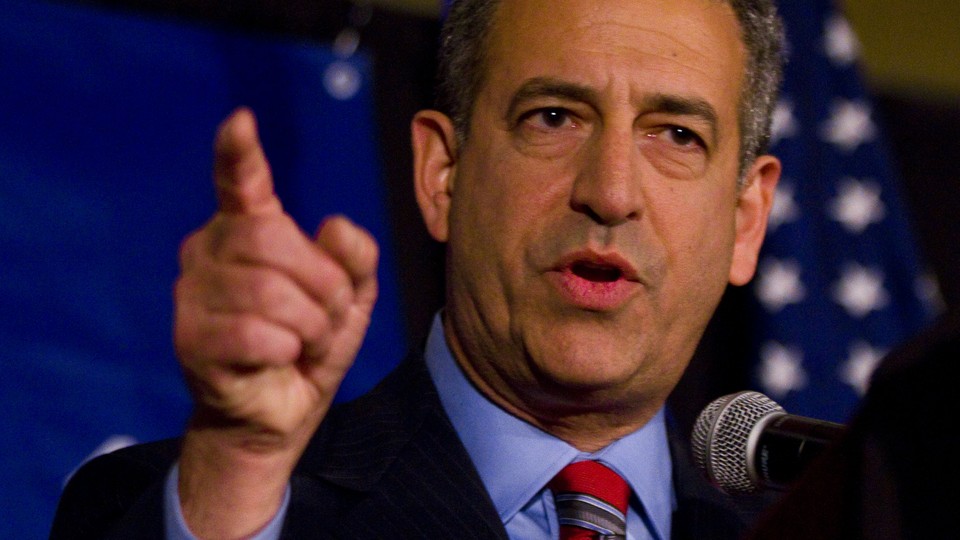 In the first month and a half of Russ Feingold's comeback tour in Wisconsin, the former Democratic senator raised a notable $2.2 million, outpacing GOP Sen. Ron Johnson's entire second-quarter effort. It was an impressive showing by most standards — except, perhaps, Feingold's own.
According to a National Journal analysis of Feingold's Federal Election Commission report and data provided by Feingold's campaign, just over 43 percent of Feingold's money came from Wisconsin donors. That's not unusual in increasingly expensive Senate races. But it does fall short of Feingold's long-held pledge to always raise a majority of his funds from Wisconsinites.
While many major Senate campaigns would brag about that ratio, it's a reversal from the iconic in-state fundraising pledge that Feingold painted on his garage in a 1992 campaign ad. Feingold's opponents, who have organized their campaign around the idea that the former senator's populist rhetoric doesn't match up with his actions as a longtime politician, say it's an example of a changed Feingold — though he still could correct the ratio in the year-plus before the election.
"Russ is proud to have gained grassroots support from more than 11,000 Wisconsinites in the opening weeks of his campaign," campaign manager Tom Russell said in a statement. "It shows the contrast between his positive people-powered campaign and Sen. Ron Johnson's campaign fueled by big corporate money and special interest cash."
The Johnson campaign told National Journal that it raised 46 percent of its money from Wisconsin residents, including un-itemized small-dollar donations.
"Senator Feingold built his whole career on the issue of his campaign-finance-reform promises, but now after 25 years in politics he is breaking every promise he ever made to the people of Wisconsin," said Johnson spokesman Brian Reisinger. "He broke his own pledge." Feingold introduced the pledge, to "rely on Wisconsin citizens for most of my contributions," along with four others in his underdog 1992 campaign. Then a state senator taking on second-term Republican Sen. Bob Kasten, Feingold vowed not only to hold himself to that standard but to advocate for national legislation on the issue if elected. Asked at the time whether such a model was self-serving, since the young Senate candidate lacked his opponent's national donor base, Feingold doubled down.
"It's not just self-serving, because I'm promising it for the future. I'm saying that's a pledge that I'm going to keep," Feingold said then. "I'm not going to get in there and say, OK, where are the PACs and where are the out-of-state contributions? I'm making a pledge for the future."
Feingold kept that pledge for three successive reelection bids, and in 1997, he introduced a bill specifying that "at least 50 percent of the total amount of contributions accepted by the candidate and the candidate's authorized committees are from individuals who are legal residents of the candidate's state."
In 2002, Feingold teamed up with Republican Sen. John McCain on eponymous campaign-finance legislation that cracked down on noncandidate political spending, limiting contributions from party committees and interest groups. Much of the legislation was later dismantled by Supreme Court rulings, primarily Citizens United, but Feingold himself remained steadfast. Heading into his 2010 race against Johnson, Feingold protested the Supreme Court's decision by swearing off the help of national party committees and newly-created super PACs. Though Johnson pledged millions of his own dollars for the race and had outside help, too, Feingold insisted his grassroots model would prevail before losing by five percentage points.
"[Our opponent] Ron Johnson has said he will spend $15 million of his family fortune to buy a Senate seat in Wisconsin, and now his corporate friends from out of state are helping him," then-campaign adviser John Kraus said in a 2010 statement. "We may be outspent on TV but we will never be out organized, because Russ Feingold is an independent voice in Washington with grassroots support."
This time around, as Feingold seeks to reclaim his seat, Democrats have implored him to reconsider his approach, equating it to fighting with "one hand tied behind his back." Asked earlier this spring whether Feingold would run a different type of race, Democratic Senatorial Campaign Committee Chairman Jon Tester said, "It's a different world now, and he knows that."
While Feingold himself hasn't said whether he'll accept the support of super PACs or party committees, Republicans have been eagerly awaiting signs of deviation from his old standards.
"He was a godfather of campaign-finance reform, this was his No. 1 crusade in the Senate, and now he is so desperate to get back to Washington he's willing to throw out all of his previous convictions," Andrea Bozek, spokeswoman for the National Republican Senatorial Committee, told National Journal back in May.