EPA on the Defensive Over Big Spill of Mining Waste
The agency faces congressional questions about the accident even as Administrator Gina McCarthy tries to sell far-reaching climate-change rules.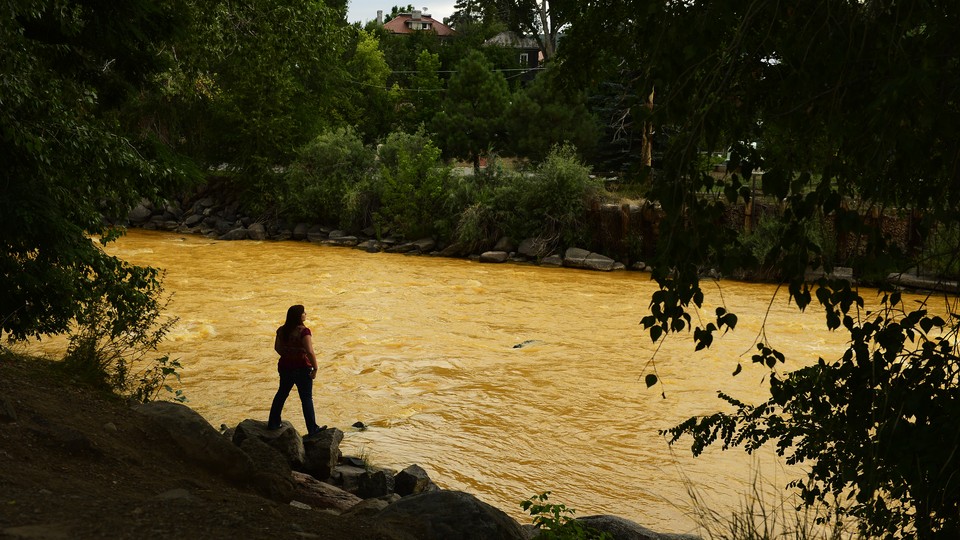 A week after a mining-waste spill turned a Colorado river a sickly orange color, the Environmental Protection Agency finds itself in an unusual spot on the other side of the interrogation table.
That's because this time, it appears to be the EPA's fault, and its initial responses haven't helped matters.
State and local officials have said the agency has been too slow to provide updates about the spill that sent more than 3 million gallons of wastewater contaminated with lead, arsenic, mercury, and other metals into the Animas River, and has not been transparent enough about the cause. The fact that EPA's initial estimate of the spill size was a third of the actual spill has provided little comfort.
Even some of the agency's traditional allies aren't holding their fire. Colorado Gov. John Hickenlooper said Tuesday that the spill was "in every sense, unacceptable," and that he expected "a process of accountability" once the cleanup was complete.
Sens. Tom Udall and Martin Heinrich and Rep. Ben Ray Lujan, all New Mexico Democrats, sent a letter to EPA Administrator Gina McCarthy about a "troubling lack of communication" from the agency, including delays in sharing information with state officials.
One George W. Bush administration veteran thinks EPA is getting off easy and benefitting from a double standard. Dana Perino of Fox News, a former Bush press aide, wondered aloud on Twitter about the reaction if the Bush-Cheney administration had dumped mining wastes into a river.
"Every headline would scream 'Bush:Cheney poisons river, slow response.' Live network newscast from scene. But Obama is never mentioned," she tweeted.
For an agency already facing plenty of heat for its climate-change programs, the spill means only more headaches and questions from critics on and off Capitol Hill.
The spill occurred last week when, according to EPA, a team probing water releases from the mine, treating water, and assessing future cleanup accidentally caused the release while excavating loose material at the mine entrance.
McCarthy on Tuesday took time out of a speech meant to promote the agency's massive new climate-change rule to apologize for the "tragic and unfortunate incident" and said the agency is taking full responsibility and is leading the cleanup with state, local, and White House officials.
"We will undoubtedly look back on whether we did the job we could, how we could have done it faster," and work with local partners, McCarthy told reporters after a speech at the think tank Resources For the Future. "I am absolutely, deeply sorry that this ever happened, but I want to make sure that we react positively and in a way that is credible and we move this forward."
Wednesday, McCarthy will visit Durango, Colorado, and Farmington, New Mexico, EPA said, "to inspect response efforts relating to the release of wastewater from Gold King mine, and meet with local officials and community members."
Colorado officials have said that the water appears to be returning to normal levels and recreational activities could resume soon. The EPA said it does not anticipate negative health effects from exposure to the chemicals in the water.
According to the Denver Post, Hickenlooper praised McCarthy as "committed" to the response, but highlighted the "frustration and anger that exists down here" over the spill.
In a statement Tuesday, Republican Sen. Cory Gardner of Colorado said he was requesting hearings to "examine the EPA's insufficient response and to ensure that the EPA is held to the same recovery standards as the private sector.
"It's outrageous, reckless, and unacceptable that it's been seven days since the EPA release three million gallons of toxic waste into the Animas River and the federal agency still has few answers," he said.
"It is concerning that the agency charged with ensuring that the nation's waters are clean is reportedly responsible for the toxic water spill at Gold King Mine. A spill of this magnitude could be devastating for the families who live nearby and depend on the Animas River in their daily lives," said House Science Committee Chairman Lamar Smith in a statement.
On Monday, Smith sent a letter to McCarthy asking the agency to brief the panel no later than Aug.17. The letter also asks EPA for a suite of documents on water-quality analysis, chemicals present in the wastewater, and other issues.
Aides said they don't have plans for a hearing, but didn't rule it out (likewise, an aide with the House Natural Resources Committee said it was monitoring the situation). Across Capitol Hill, Senate Environment and Public Works Committee Chairman James Inhofe said in a statement that he's "closely monitoring and conducting oversight of EPA's toxic water spill into the Animas River.
"This has and will continue to lead to significant economic damage to local businesses, farmers, tribes, and residents. I will work within the Committee and with my colleagues in Congress to ensure the EPA is held accountable to this grave incident and that those impacted are provided the necessary support to move forward," he said.
Even Inhofe's ranking member, California Democrat Barbara Boxer, wrote a letter Tuesday calling on McCarthy to "commit to taking immediate action to ensure that EPA provides timely information to the affected communities" and "take steps to ensure that a similar incident does not happen in the future."
And Heinrich and Udall also asked for EPA's mitigation plans for other mine releases, heavy rains, or other incidents that could exacerbate the spill.
Speaking to reporters, McCarthy emphasized the difficulties in responding to an emergency, but said that "certainly we expect there will be concerns and lawsuits."
Navajo Nation President Russell Begaye already has threatened to sue the EPA over the release, saying, "They are not going to get away with this."
Meanwhile, environmental groups are trying to pivot away from a story about an agency's mistake and onto an environmental problem that needs fixing. American Rivers President Bob Irvin said in a statement that the disaster "was a long time in the making," highlighting the more than 4,000 abandoned mines in Colorado alone that "continue to pose serious threats to rivers across the west."
Jeanne Bassett, senior associate for Environment Colorado, said the EPA "clearly made a horrific accident," but that the incident would be best treated as a wake-up call to the dangers of abandoned mines and waste sites.
"Right now, it's all 9-1-1 and dealing with the emergency, but we're going to have discussions about this moving forward," Bassett said. "This is a clear example of why we need to do everything we can to protect Colorado's rivers. It's obviously time to figure out how we clean these up and figure out who's accountable."