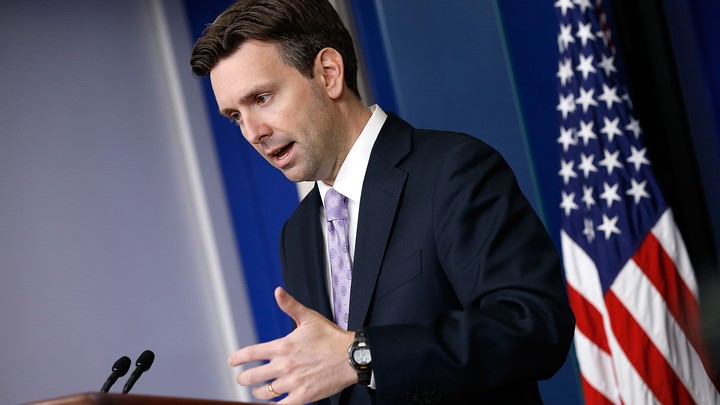 The White House is downplaying the devastation wrought by Chuck Schumer's opposition to the Iran deal.
On Friday, press secretary Josh Earnest told reporters that the defection of the Democrats' future leader in the Senate—and the top Jewish lawmaker in Congress—was "not particularly surprising to anybody here at the White House, even if it was disappointing."
"But it doesn't change that we will be able to mobilize a substantial majority of Democrats in the House and Senate in support of the deal and, if necessary, to sustain the president's veto," he said in a White House briefing.
Schumer announced his opposition to the agreement late Thursday night in a stinging blow to the White House's efforts to drum up support for the deal.
"I will vote to disapprove the agreement, not because I believe war is a viable or desirable option, nor to challenge the path of diplomacy," Schumer said in a statement posted on Medium. "It is because I believe Iran will not change, and under this agreement, it will be able to achieve its dual goals of eliminating sanctions while ultimately retaining its nuclear and nonnuclear power. Better to keep U.S. sanctions in place, strengthen them, enforce secondary sanctions on other nations, and pursue the hard-trodden path of diplomacy once more, difficult as it may be."
Earnest did not take a stand on whether the promised "no" vote from Schumer, who is a top candidate to take over as the Senate Democratic leader when Harry Reid retires, would affect his election for that position. But he conceded that he "wouldn't be surprised" if Democrats considered "the voting record of those who would like to lead the caucus" when choosing their next leader.
He also continued Obama's rhetoric from earlier this week, tying Schumer's opposition to the deal to the senator's 2003 support for the invasion of Iraq, which Obama opposed.
"Anybody who's been covering American politics for the past 12 or 13 years would recognize the fault lines of this political argument" Earnest said. "It is not new, and this is a difference of opinion President Obama and Senator Schumer have had getting all the way back to 2003."
But he stopped just short of comparing Schumer to Iranian hardliners chanting "Death to America," as the president did with GOP lawmakers in an American University speech this week. Republican lawmakers announced their opposition to the deal "before the agreement was even announced," he said.
"Senator Schumer at least read the agreement, talked to the experts who were involved in negotiating, spent time talking to experts who understand the nuclear basis for some of the strategic conclusions that were reached by our negotiators," Earnest said. "That at least demonstrates a willingness to consider the arguments of the other side. And we were just disappointed that he didn't ultimately reach the same conclusion that we did."
We want to hear what you think about this article. Submit a letter to the editor or write to letters@theatlantic.com.
Rebecca Nelson
is a staff correspondent for
National Journal
. Her work has appeared in
TIME
,
Chicago
,
Ms.,
and
Washingtonian.