What Do Donald Trump Voters Actually Want?
30 of the billionaire real-estate developer's backers offer individual explanations for their support.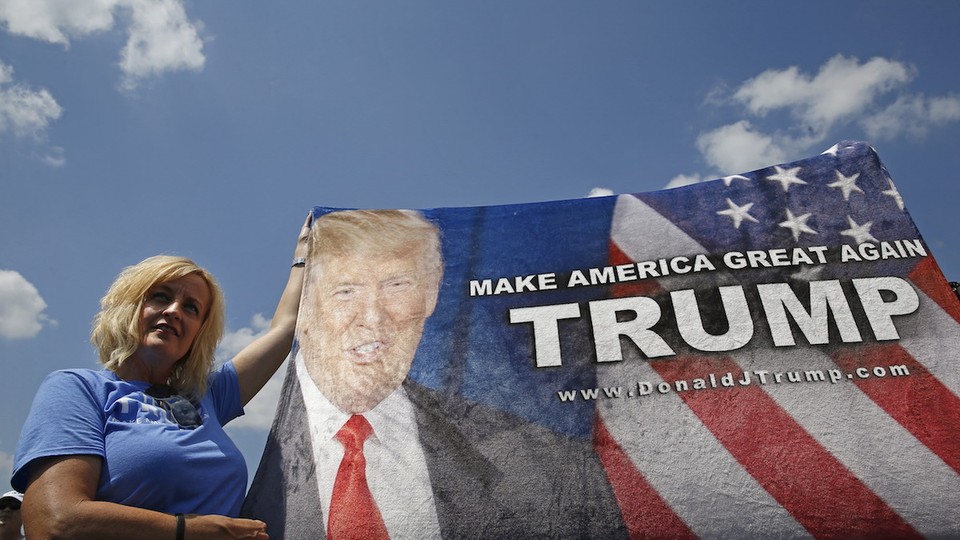 Last week, I asked Donald Trump supporters why they believe that the billionaire real-estate developer will treat them any better than the career politicians they mistrust.
The dozens of replies that I received from across the United States make up the largest collection I've encountered of Trump supporters setting forth their thinking in their own words. And having read through this non-representative sample, I understand the candidate's rise better than I did before. Broadly speaking, the men and women who wrote fall into two categories: Those who earnestly believe that Trump is the best choice to lead America and those who are motivated by giddyness at the chaotic spectacle of his success. Of course, anyone polling at the top of a major party is going to have supporters with all sorts of backgrounds and worldviews, and while the correspondence below includes several recurring themes, many of the rationales are singular.
The table of contents has internal links for those who want to jump to a given entry, but don't rely too heavily on the titles and short excerpts that I've chosen: Many of the responses contained so many rationales that summing them up proved impossible. Below the table of contents you may find all the letters, presented in their full text, in no particular order.
Table of Contents
A Liberal Who Wants America to Win
An Anarchist Who Revels in Destruction
Trump Is Low-Risk, High-Reward
Trump Has a Drive for Perfection
'I Just Want to Watch the Chaos …'
Trump Is a Moderate Compromiser
Trump Is a Corrective to American Culture's Pathologies
Trump Knows It's All a Joke
Trump Embodies the Rage of the White Middle Class
​Desperate People Cast Desperate Votes
​Trump Has Successfully Run Large Organizations
Trump Is a Gamble Worth Taking
Trump Is Jay Gatsby
Trump Is Bizarro Obama
Trump Is the Picture of American Greatness
Trump Will Govern as Steve Jobs Managed
Trump Is an Alpha-Male Who Loves America, Unlike Obama
Trump Did Build That
Trump Has Consistently Championed Protectionism
Trump Put Illegal Immigration Front And Center
Trump Has the Tiger by the Tail
Trump Is Not Rehearsed
Trump's Nature Is to Make the Best Deals Possible
Trump Is the Lead in a Fabulous Mockumentary
Bush Was a Disaster and Obama Felt Like One
Trump Is an Egomaniac
14 Reasons for Supporting Trump
Trump Has Successful Supporters
A Bernie Sanders Supporter Who'd Vote Trump Over Clinton
Trump Could Make the Speech Police Go Away