Donald Trump and Fox News Are Really Friends Again
In an extensive interview, Donald Trump gets air time without too many tough questions.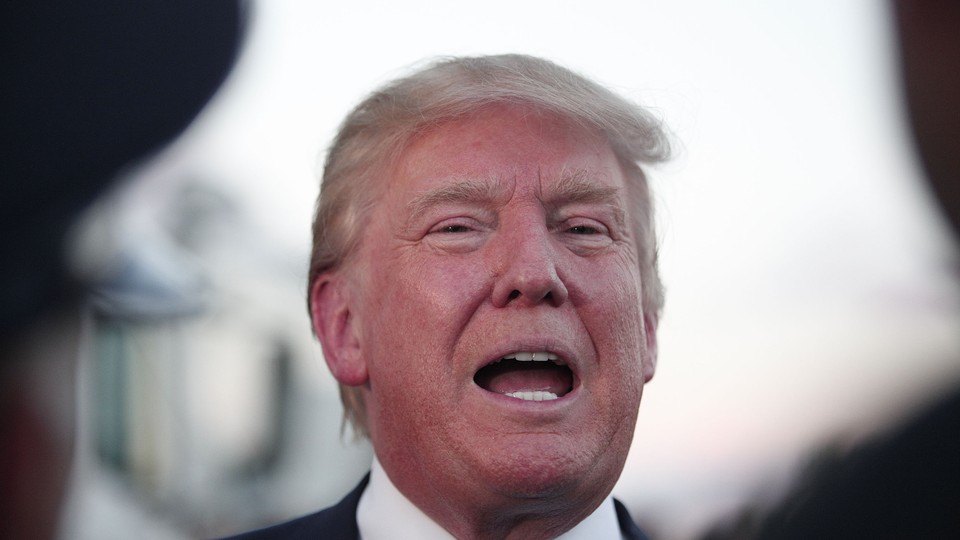 Fox News is not kidding about making its peace with Republican presidential front-runner Donald Trump.
After facing off with Fox News' Megyn Kelly Thursday night at the GOP's first debate and engaging in a weekend-long mud-slinging rampage, Trump got the apology he demanded from Fox News. It came in the form of an extended, two-part interview with Fox's Sean Hannity.
While Fox had won a debate record with viewership at Thursday night's debate, behind the scenes, pressure was mounting to make up with Trump. According to New York Magazine, there was growing concern that Trump would blackmail the network and the magazine reported Trump had threatened "he was never doing Fox News again." Fox News mogul Roger Ailes then gave Trump a call and an opportunity. Ailes, New York reports, asked Trump to appear with Kelly. Trump declined and instead signed on with Hannity.
Yet, the interview with Hannity, the first part of which aired Tuesday night, was more of a forum for Trumpmentum than a sit-down grilling. Many of the early questions were about positive polls and about Hillary Clinton, giving Trump the chance to easily recite zippy one-liners.
"I think I'll do more for women than Hillary can ever do," Trump said when asked to comment on his controversial statements he has made about women in the past.
The interview was full of quick put-downs for his challengers in the GOP field, including former Texas Gov. Rick Perry, who Trump said he heard was "out of the campaign" after low poll numbers. It was reported Perry stopped paying campaign workers.
And whereas Kelly's debate questions were pointed, Hannity's were soft and his follow-ups almost agreeable. When Trump began criticizing the Mexican government for sending, as he sees it, its most dangerous criminals to the United States illegally, Hannity agreed: "It solves a lot of their social problems." And while Kelly asked Trump, "When did you actually become a Republican?" during Thursday's debate, Hannity on Tuesday phrased a similar question far more judiciously.
"To those that doubt your conservatism, explain the transition, how did you grow into a conservative?" Hannity asked.
Trump then had the chance to compare himself to the figure synonymous with conservative credentials: Ronald Reagan.
"It's sort of easy to explain. Now one thing I always start with, Ronald Reagan was a Democrat, and he was sort of liberal. I knew him, I didn't know him them quite, but I knew him. And I knew him well. He liked me; I liked him. He was this great guy, and he was a Democrat with a liberal bent, and he became a great conservative in my opinion," Trump said.
Many of Hannity and Trump's exchanges felt more like an evening poker game between friends than a live, prime-time news interview with the Republican Party's leading presidential contender.
"Were you really No. 1 in your class?" Hannity chimed in when Trump mentioned his days at Wharton Business School.
"I was a good student. People are shocked by that," Trump said.
"I'm not shocked," Hannity responded.
Perhaps the only tense moment of the evening stemmed from a conversation about Planned Parenthood, which is in congressional cross-hairs at the moment after video surfaced of abortion providers discussing fetal-tissue donation. Trump has said that while he is opposed to the abortions Planned Parenthood carries out, the organization provides critical health screenings and health care for women.
"It's actually a fairly small part of what they do, but it is a brutal part," Trump said, emphasizing his opposition to abortion. "They also, however, service women."
Hannity pushed.
That is when Trump did what he does best. He pivoted away from himself and put the focus back on another Republican contender.
"When Jeb Bush ... talked about women's health issues, he was so bad. Like what is he doing?" Trump asked referring to a comment Bush made, and later walked back, last week about the government spending too much on women's health. "We have to help women. A lot of women are helped. We have to look at the positives, also, for Planned Parenthood."
For now, at least, with the weekend war seemingly over, Donald Trump seems comfortable once again on Fox News.