What Is It With Donald Trump?
A focus group sheds light on the enthusiasm with which many voters have greeted his candidacy.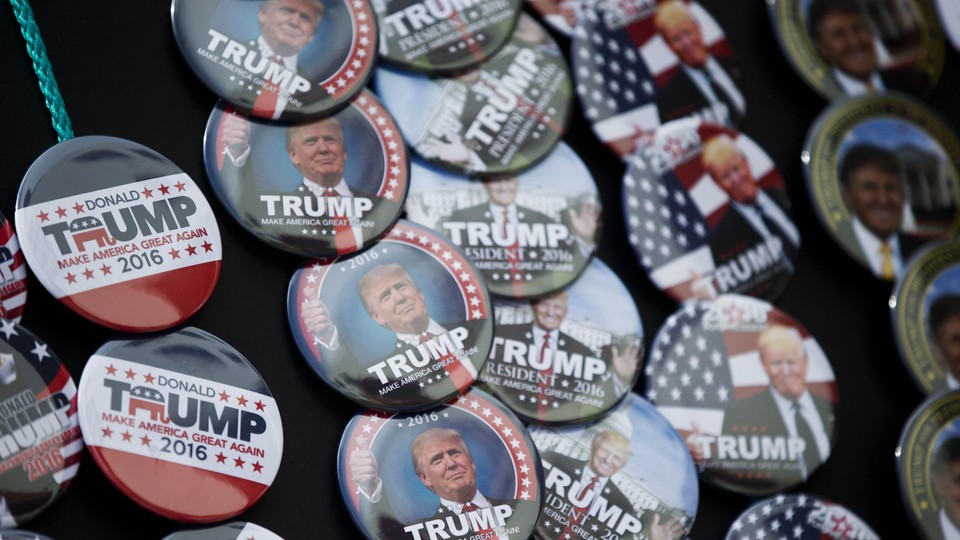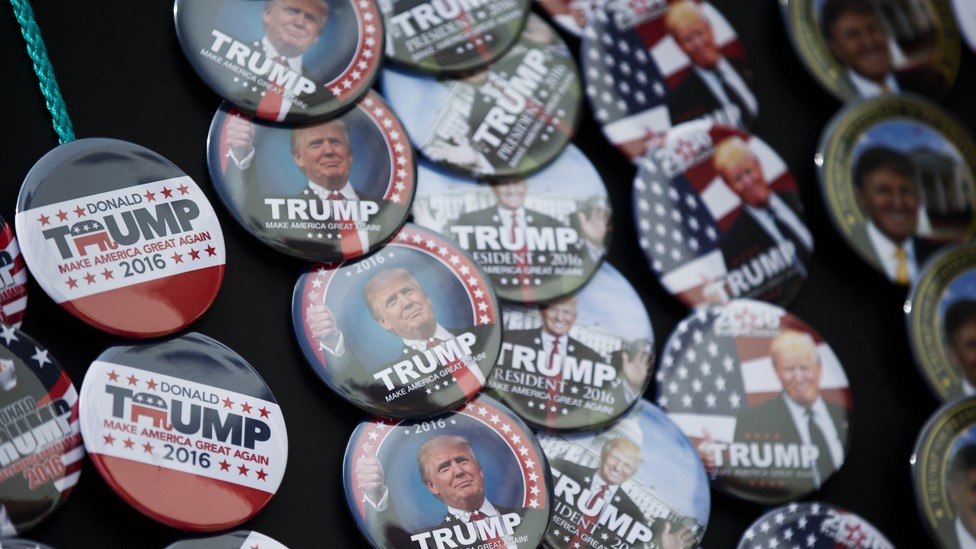 Leader. Decisive. Successful. Brave. Committed. True American.
That's how voters described Donald Trump in a focus group moderated by Frank Luntz on Monday night. Twenty-nine men and women from the Washington, D.C., region, out of 33 invited, participated in the session—offering impassioned  critiques of the GOP establishment.
The sample of supporters included Democrats, Independents, and Republicans: Most were all in for Trump.
Why? "He's voiced what everyone else is saying," one male participant said, "America is a brand and the brand has been hurting a very long time, and it takes somebody like Trump to bring that brand back."
That Trump is competing in a crowded GOP field doesn't seem to faze his supporters. Since his June announcement, Trump has positioned himself as the Republican frontrunner. And last week, a CNN/ ORC poll also found that he's closing the gap with Democratic frontrunner Hillary Clinton.
But his surge in the polls hasn't come quietly. The presidential hopeful has come to be known for calling Mexican immigrants rapists, saying that John McCain is not a war hero, and attacking Megyn Kelly following the first GOP debate. And, while his comments have stirred controversy, they are also generating traction among voters, according to the focus group. Many found his flamboyant style entertaining. Participants reported positive feelings after being shown clips of Trump criticizing Rosie O'Donnell at the first debate, and flaunting his wealth.
The panelists ranked Trump's promise to repeal Obamacare and "restore the balance between U.S. trading partners" highest among his various stands on the issues. Some respondents, including a woman from Mexico, pointed to Trump's visit to the U.S.-Mexico border as the moment they decided to support him.
But Trump's biggest selling point isn't what he's done—it's what he hasn't. A majority of respondents are simply happy that he's not a politician, based on their negative views of members of Congress.
According to a recent Pew Research survey, 27 percent of Republicans have an unfavorable opinion of their party, up from 12 percent since January. Participants at the voter session on Monday reflected that fact.
Many voiced their dissatisfaction with Congress, particularly its Republican members. When voters were asked to describe Congress in one word during the session on Monday, the most commonly used word was "useless."
The party has been struggling to deliver on its promises to voters during the midterm elections. Uphill battles continued to appear this year as lawmakers tackled the renewal of some provisions of the Patriot Act, funding for Planned Parenthood, and, soon, the Iran deal.
Rivalries have also surfaced within the party. Ted Cruz called out Mitch McConnell on the Senate floor, saying he was a liar after the Senate majority leader allowed a a vote of the Export-Import bank. Cruz later conceded that he wasn't attacking McConnell "personally."
Trump has threatened not to support a Republican candidate if he isn't the nominee, holding open the option of running as an independent. For some voters in the session, that wasn't a problem. Only six of the 29 admitted they were bothered by it, but the rest were not. In fact, for many, Trump's lack of partisan loyalty only enhanced his appeal. "He's not a politician. I won't vote for an established politician," one man said.
Some in the group had initially backed Trump, but have since stepped back from that support. They were especially hesitant about his lack of specific policy proposals, and voiced their doubts about some of the details he had offered. There was also general concern about Trump's comments on McCain. Veterans in the group took issue with his words, though many still said they'd support him.
While a majority supported Trump, not all are absolutely committed to voting for him. Only nine definitively pledged their support. Other possible choices among the group were Ted Cruz, Jeb Bush, Ben Carson, Marco Rubio, and Carly Fiorina. Hillary Clinton, Bernie Sanders, and Scott Walker were also mentioned.
As Luntz said to reporters: "Beating [Trump] is still possible."
There's no denying, however, that his supporters are excited about him. Perhaps the sudden momentum is a product of Trump's consistent appearances on television shows and unconventional approach. Or maybe it's a result of his policies and business stature. Whatever the case may be, there seems no denying that he's "entertaining," as one voter put it.