Does Joe Biden Have the Ratings it Takes to Run for President?
Several vice presidents have attempted it, but since 1960, only two have succeeded.
Will he or won't he? And if he does, does he have a chance? As Vice President Joe Biden decides whether or not to officially enter the 2016 presidential race, National Journal took a look at past veeps who ran for president and their success rates. What can these past VPs movements toward the presidency tell us?
There have been 47 U.S. vice presidents, 14 of whom eventually became president. Nine succeeded upon the death or resignation of a president.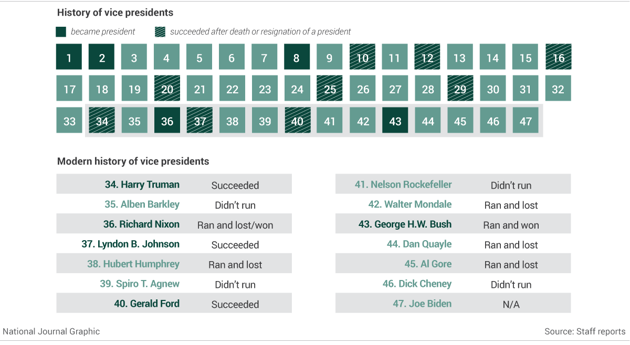 Since 1960, six current or former vice presidents have run for president. But only two have won—Richard Nixon in 1968 and George H.W. Bush in 1988. With that record, veeps have had a success rate of only 28.5 percent in winning the Oval Office. (Nixon ran twice—he lost the first time, but won the second time around.)
Of these, H.W. Bush was the only sitting vice president to win a presidential election—and he had a favorability rating of 48 percent at the end of his time as veep. However, as a president-elect at the beginning of 1989, Bush's favorability rating rose to 70 percent. As of Aug. 9, Biden holds a 47 percent approval rating, according to Gallup.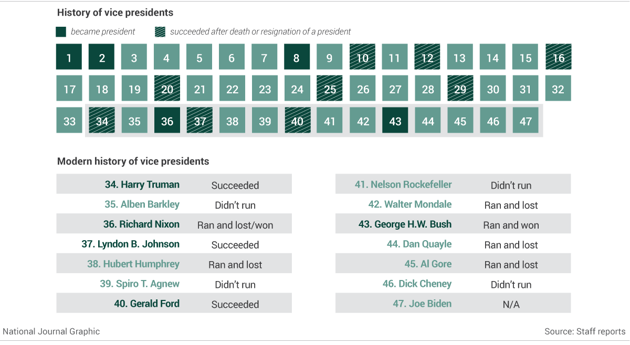 With those numbers it might not seem likely that Biden could pull it off; however, according to a recent Quinnipiac University poll, Biden is polling just as high or higher than Hillary Clinton in primary states for "being honest and trustworthy"—suggesting the vice president could be a legitimate threat to the Democratic Party's front-runner.
Earlier this month, The New York Times reported that sources close to Biden and his associates say the VP is actively exploring a possible presidential candidacy. Some think that if Biden were to declare, the announcement would come as early as next week.
The Roper Center at the University of Connecticut provided the historic favorability ratings.