Democrats Outpacing Republicans in Kentucky Money Race
The Democratic Governors Association raised far more money from Kentucky than its Republican counterpart so far this year.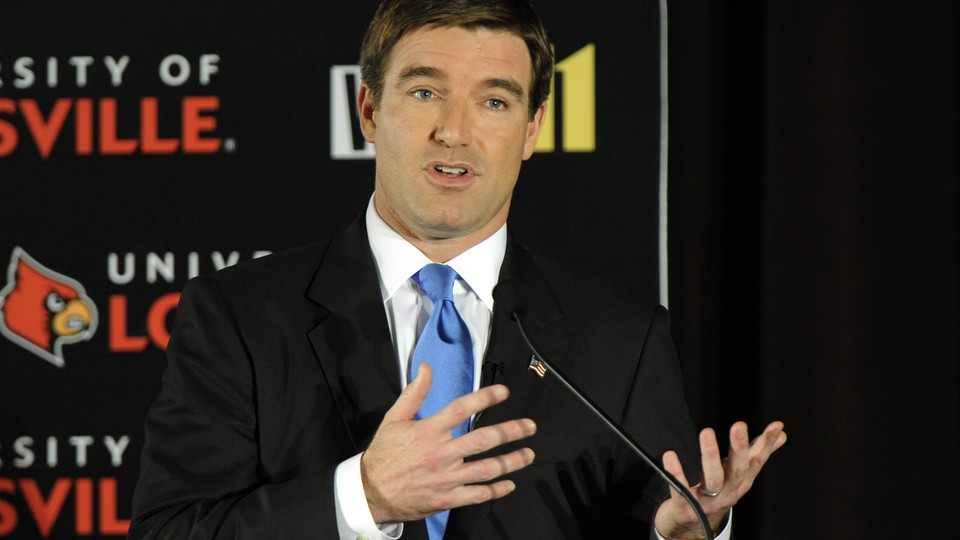 Kentucky Democrats have been outraising state Republicans in this year's race for governor — and that includes Kentucky donations to the two national committees supporting the party nominees, the Democratic and Republican Governors Associations.
Midyear fundraising reports filed with the Internal Revenue Service show the DGA raised just over $417,000 from Kentucky-based donors, while the RGA brought in $155,000 in the first six months of 2015. For the GOP group, that's a sharp decline from the $1.2 million it raised from Kentucky donors during the same period during the last gubernatorial race. Meanwhile, the DGA's Kentucky-based contributions are up from 2011, when it brought in $142,250 from January through June.
Those figures come on top of reports that the Kentucky Democratic Party outpaced the Kentucky Republican Party nearly three-to-one in fundraising for the first half of the year. And Democratic nominee Jack Conway, Kentucky's attorney general, had $1.5 million in the bank in mid-July, while Republican nominee Matt Bevin — who fought his way through a multiway primary while Conway skated to his nomination — had less than $3,000.
Bevin could have a quick fix to his financial woes: his own fortune. Bevin, who gave his 2014 Senate campaign against Mitch McConnell $1.25 million, has already self-funded his gubernatorial bid to the tune of $2.5 million. But Bevin has previously shown little capacity to raise additional money, and that and his frayed ties with the McConnell-led GOP establishment have raised questions about his ability to compete with Conway.
Scott Jennings, a GOP strategist from Kentucky, said the RGA's low Kentucky fundraising had nothing to do with Bevin as a candidate. "Kentucky isn't traditionally a huge donor state to the RGA," Jennings said. "It is much easier for the DGA since they have the incumbent here and have for the past seven years."
Gov. Steve Beshear hosted a policy conference coupled with a DGA fundraiser around the time of the Kentucky Derby this year. At least two bipartisan, in-state government-affairs firms gave $5,000 apiece to the Democratic committee. One, McCarthy Strategic Solutions, is led by John McCarthy, a former Kentucky Republican Party chair. The other, Commonwealth Alliances LLC, is co-led by a former McConnell staffer, Patrick Jennings. Jennings said his firm's DGA contribution was meant to reflect a show of support for Gov. Steve Beshear, not necessarily Conway. The firm had never given to either gubernatorial committee before. Meanwhile, McCarthy's firm gave only to the RGA in 2011.
There are two main reasons, though, why the RGA's Kentucky receipts have declined since 2011: Terry Stephens and B. Wayne Hughes Jr., a pair of major GOP donors. Stephens and Hughes gave a combined total of $1.1 million to the RGA four years ago, and neither has given this year. Earlier this year, Stephens told National Journal he was uneasy about committing money to Bevin's gubernatorial bid, citing a lack of personal ties between the two men. (The 2011 Republican gubernatorial nominee was Stephens's son-in-law.) Stephens did, however, commit $300,000 to an outside PAC this year aiding one of Bevin's main primary opponents, state Agriculture Commissioner James Comer.
RGA spokesman Jon Thompson could not be reached for comment by phone or email.
Spencer Noe, a longtime former legal counsel to Kentucky Republicans who gave $1,000 to Comer earlier this year, also gave smaller amounts to the RGA in past years. But Noe sounded ambivalent at best about donating more to Bevin or to a supportive group later this year. "Probably not," Noe said. "I'm pretty well tapped out."
Noe didn't offer a personal opinion on Bevin, but he repeatedly emphasized, "It's sort of a strange year here in Kentucky," because of Bevin's damaging primary loss to McConnell in last year's U.S. Senate race. Noe did point to Bevin's personal wealth as one reason, other than ideology or personality, of why some donors might feel less inclined to give this year. "Well, you know, if a guy puts four or five million of his own money in a race, why should anybody else give him money?"
There's another problem looming for Democrats: Despite the in-state numbers, Republicans won't be at a loss for funds to help Bevin win. The RGA raised $24.4 million in total in the first half of 2015, while the DGA raised $17 million. Later this month, McConnell and two well-respected players in Kentucky Republican circles, coal magnate Joe Craft and GOP fundraiser Kelly Knight, will host a fundraiser for Bevin. But Bevin and the state party have a lot of catching up to do before they file their next fundraising reports in early October.