Democrats Debate the Debates
The party announced its slate of six meetings for 2016 candidates, and Martin O'Malley and Bernie Sanders are not pleased.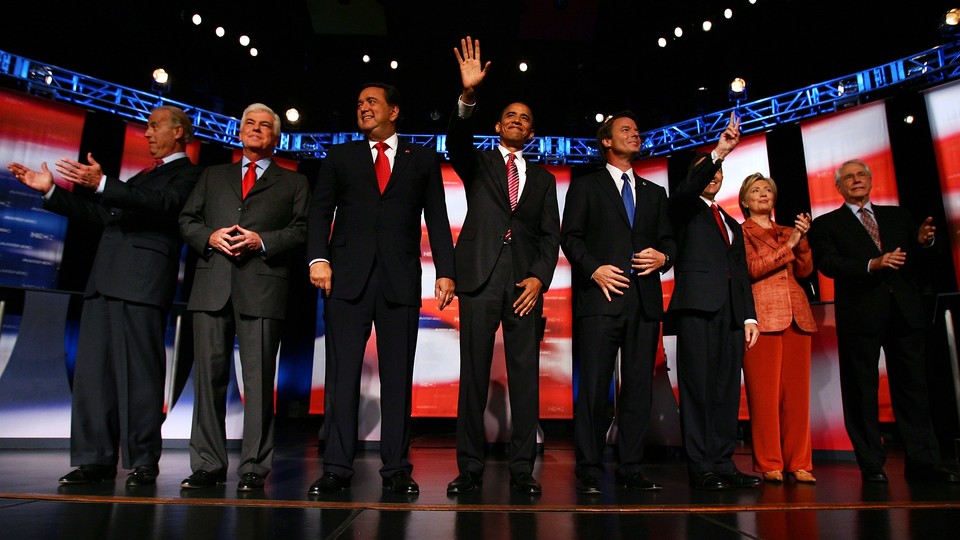 The Republican Party carefully thought through its debate process for 2016, seeking to ensure a good mix of candidates, avoid too much friendly fire, and prevent a circus-like atmosphere. Instead, it's getting Donald Trump onstage Thursday night in Cleveland.
Can the Democrats do better? The party announced its own primary-debate calendar on Thursday. Here's the schedule:
October 13:

CNN—

Nevada

November 14:

CBS/KCCI/Des Moines Register—Des Moines, Iowa

December 19:

ABC/WMUR—Manchester, New Hampshire

January 17:

NBC/Congressional Black Caucus Institute—Charleston, South Carolina
February or March: Univision/Washington Post—Miami
February or March: PBS—Wisconsin
Democratic National Committee Chair Debbie Wasserman Schultz laid out some more details here.
So far the reaction has been … not great, at least from candidates not named Hillary Clinton. Her rivals want more debates, and they want a more open process for them. Martin O'Malley's campaign loudly protested the rules, and said it may seek to set up debates outside of the auspices of the party. (The party has threatened to exclude candidates who participate in unsanctioned events.) Senator Bernie Sanders issued a statement saying he was "disappointed, but not surprised," by the schedule. "At a time when many Americans are demoralized about politics and have given up on the political process, I think it's imperative that we have as many debates as possible—certainly more than six."
Sanders and O'Malley have a point. This year's slate is unusually skimpy and starts unusually late. There were 19 Democratic debates during the 2008 cycle, according to Larry Sabato's team at the University of Virginia, plus other unofficial forums. There were 16 in 2004. In both cases, the summits started much earlier, too—the first Democratic debate of the 2008 cycle came way back in April 2007, and the first of 2004 was in May 2003. A shorter, later debate season is widely thought to benefit Clinton. Because she's the frontrunner, fewer debates means fewer chances for missteps or for other candidates to chip into her lead among Democratic voters. (A counterintuitive minority argument runs that Clinton benefits from more debates, because it helps her prepare for the rough-and-tumble general election.)
On the other hand, Sanders is right that he can't be too surprised by the schedule. After all, the Democratic Party announced in May that it would host six debates, so the outrage at the specifics rings a bit hollow and comes a bit late. The horse is out of the barn by now—and the horserace is in full swing.