Deep-Fried Politics in Iowa
Welcome to the state fair, where presidential candidates shop for votes, mingle with crowds, and indulge in odd foods.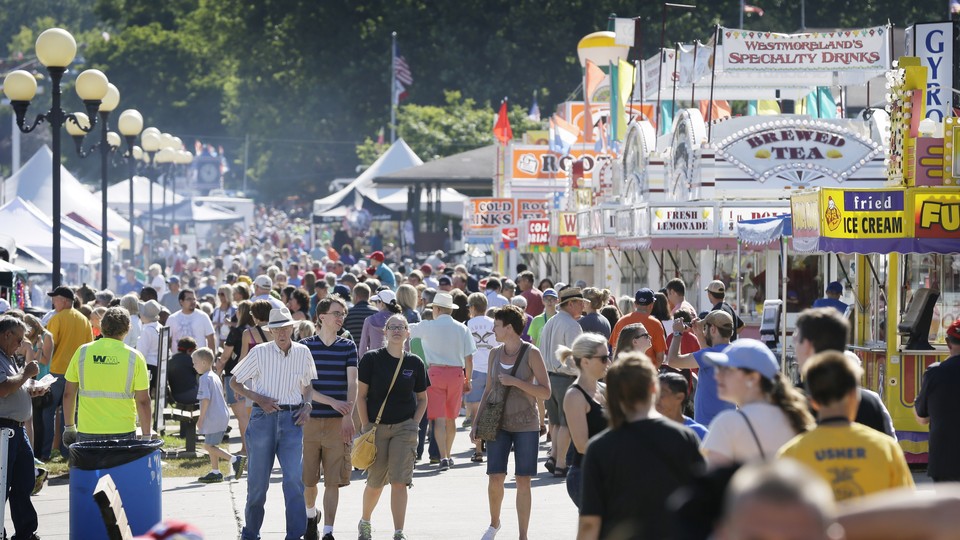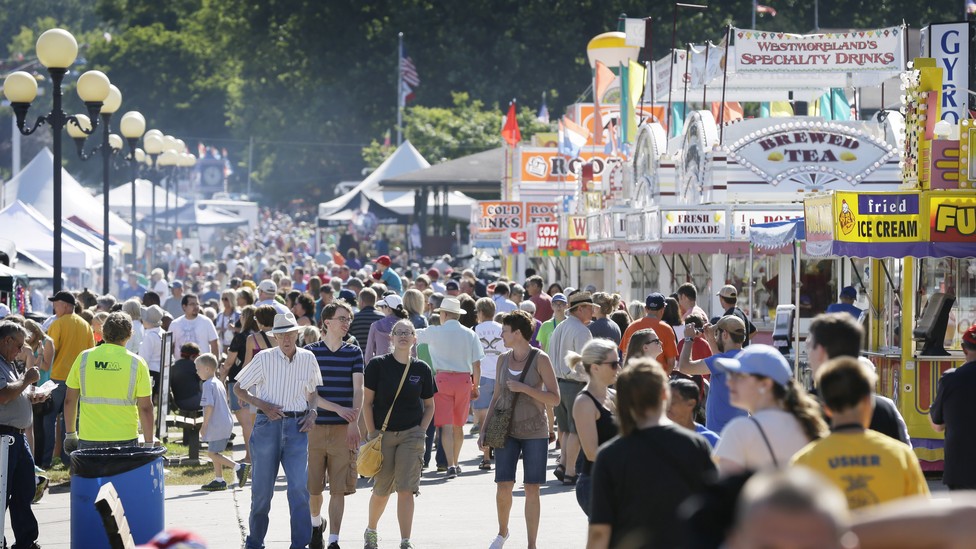 It's August again, when Iowans head to the State Fair, indulge in odd fried foods, and mingle with political candidates. It's as American as apple pie on a stick.
The eleven-day long fair, which opens Thursday, is a traditional stop for politicians in the state. A majority of the 2016 presidential candidates will be there. But this year, the Hawkeye State's other August ritual—the Iowa Straw Poll—has been dropped from the political calendar.
That's not to take away from Iowa's relevance in the presidential race as an early primary state. The State Fair provides the opportunity for candidates, especially those in the shadow of the frontrunners, to distinguish themselves in a crowded 2016 field. Last week's televised debate, for example, boosted Carly Fiorina and cemented Donald Trump's lead in the polls. But the other candidates, perhaps less telegenic, found themselves overshadowed.
This week, in between sampling the ultimate bacon brisket bomb and trying fried peanut butter and jelly on a stick, candidates who excel at face-to-face interaction hope to find a way to stand out. More than a dozen candidates will participate in The Des Moines Register "soapbox," where they're allotted time to speak. And voters can come hear them, and judge their appeal in person.
As the largest annual event in the state, the State Fair puts Iowa's agricultural character on display. Politicians have been frequenting such gatherings for as long as they've been around. In 1859, Lincoln told the Wisconsin State Agricultural Society that, "Agricultural Fairs are becoming an institution of the country; they are useful in more ways than one; they bring us together, and thereby make us better acquainted, and better friends than we otherwise would be."
That still resonates today, as candidates shake hands, kiss babies, and take photos with attendees. Some candidates, like South Carolina Senator Lindsey Graham, thrive on these sorts of retail events. As the chairman of the political science department at Iowa State University, Mack Shelley, put it to The Des Moines Register: "Iowa is kind of the quintessential retail politics state...if (Graham) can be pretty effective in developing a folksy, down home kind of approach — that goes a long way to getting people on your side."
But he may not be the only one to fare well in an environment that rewards those with a savviness for retail politics. Scott Walker, in his prior visits to Iowa, has appealed to voters through personal engagement, by shaking hands and taking photos. Graham, Walker, and other candidates who trail Donald Trump hope to gain more attention in retail politics than they've been able to secure in the cable-news cycle.
And, while the same may hold true for lesser-known candidates like Jim Webb and George Pataki, it remains to be seen how much a few smiles and handshakes can do for the 2016ers. Or, at least, whether photos of them chowing down on corn dogs can give their campaigns the viral buzz they need.