Clock Ticking on Cybersecurity Bill
Rand Paul floats amendments to audit the Federal Reserve, allow members of the armed forces to carry weapons on military installations.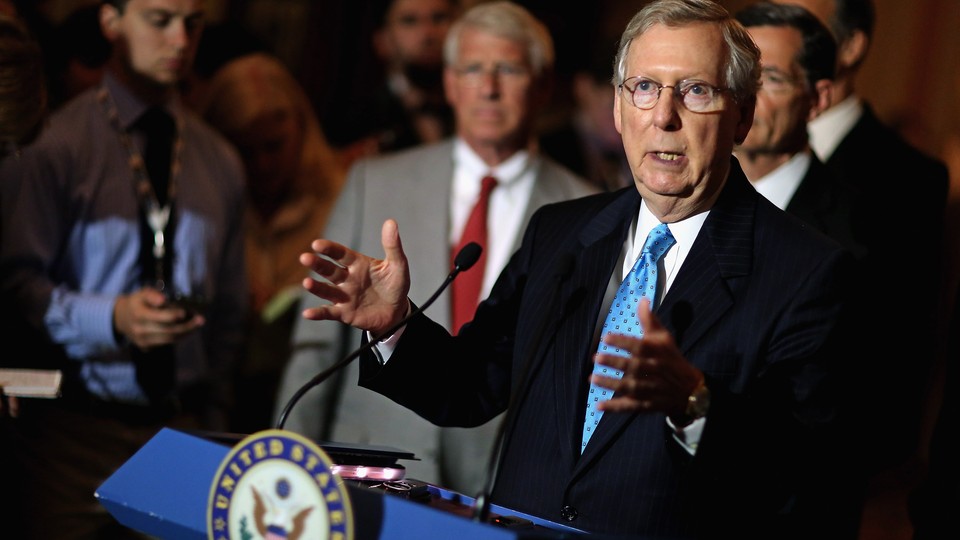 Senators are negotiating a deal to add amendments to the cyberinformation-sharing bill under consideration in exchange for unanimous consent to move the bill forward.
A deal would tee up the Cyber Information-Sharing Act, which provides incentives to the private sector for sharing cyberthreat information with the government. The bill's supporters in Congress and the private sector say information-sharing would help companies and the government ward off cyberattacks.
Senators from both parties have called for amendments that increase security and privacy protections to be added to the bill before a vote. A deal would allow senators to address their concerns within the tight timeline before next week's recess.
But such an agreement hasn't yet materialized.
Majority Leader Mitch McConnell made an initial proposal on the Senate floor Tuesday, asking for unanimous consent to move forward if 10 amendments from each party were made pending. "That's a good and fair start that exceeds the request from our friends across the aisle," he said.
But Minority Leader Harry Reid immediately objected and criticized the offer, which did not go so far as to allow votes on the amendments to be scheduled. "I can't imagine how he can make this offer with a straight face," Reid said of McConnell. "Amendments pending? That's like nothing. We tried that before, as recently as the highway bill. Having amendments pending doesn't mean anything."
Senators are still negotiating a deal that would guarantee the votes. "We could start working on these amendments right now if we can have votes on them," Reid said Tuesday.
Meanwhile, senators from both sides are throwing possible amendments onto the pile.
Sen. Rand Paul, a top privacy advocate in the Senate, floated nine privacy-focused amendments to the bill Monday, as well three non-cybersecurity related provisions. One of those is his effort to allow a government audit of the Federal Reserve, a campaign he inherited from his father, Ron Paul, and has maintained for years. Another of the Kentucky Republican's measures cracks down on undocumented immigrants, and yet another would allow members of the armed forces to carry weapons onto military installations.
Another privacy advocate, Sen. Ron Wyden, said on the Senate floor Tuesday that the bill is "going to need some very substantial amendments." He has put forward an amendment that would ban the government from requiring device manufacturers and software developers build "backdoors" that allow law enforcement access to encrypted data.
Other senators looking to make changes include Democratic Sen. Mark Warner and Republican Sen. Ron Johnson. Johnson said Monday that he hoped an amendment he put forward, which would speed the deployment of a Homeland Security Department cyberdefense system to federal agencies, made it onto the bill.
As senators try to work out an agreement to move the bill forward before recess, Sen. John McCain took the floor to lash out at Democrats for blocking McConnell's proposal. "It is unbelievable that this body would not move forward with a cyber bill with a situation of dire consequences and dire threats to the United States of America," the Arizona Republican said.
"This is disgraceful, and I tell my colleagues on the other side of the aisle: By blocking this legislation, you're putting this nation in danger," McCain continued. "This is a shameful day in the United States Senate."
Reid, for his part, blamed Republicans for using a vote to defund Planned Parenthood earlier this week to drag out consideration of CISA. "It appears to me this is just stall and stall and stall, so McConnell can go out and say, 'See, they killed cyber.' "
McConnell filed for cloture on CISA on Monday night, so a cloture vote could occur as early as Wednesday morning. At that point, senators would have 30 hours to debate the measure before putting it to a vote, a timeline that would overflow into the weekend.
Since senators have repeatedly indicated that they would not stay past Friday, they must either reach an agreement to vote earlier or try to address the issue when the return in September, when they will also be debating the Iran nuclear deal and dealing with fights over appropriations.
---
Jason Plautz contributed to this article