Climate Agenda Puts Purple-Staters in a Difficult Spot
Political fallout from the White House regulations could put moderates in jeopardy.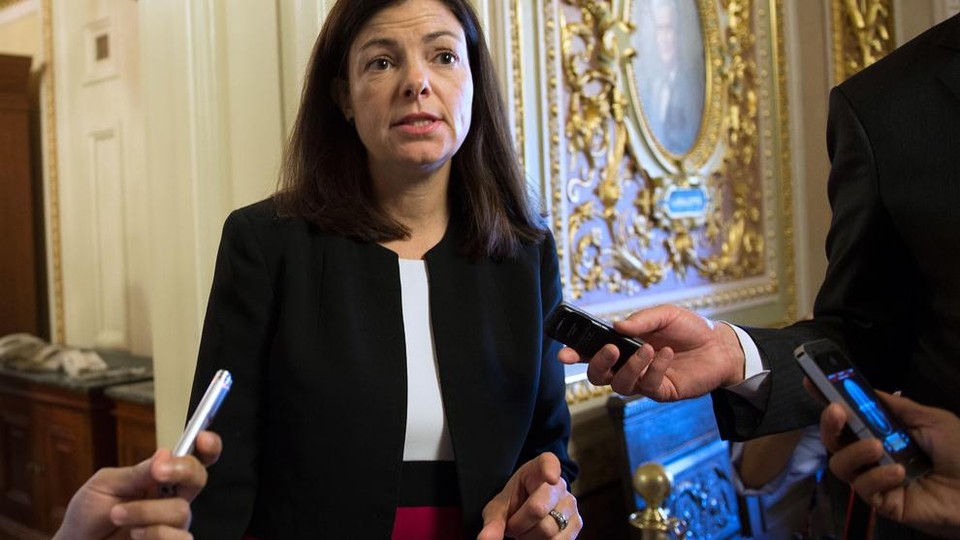 Kelly Ayotte, Mark Kirk, and Michael Bennet are in a tough spot.
All three senators face potentially tough reelection battles in purple states next year. They have all affirmed that climate change is real. Now, they must find a political line they are comfortable with when it comes to defending or attacking President Obama's agenda to regulate greenhouse-gas emissions from power plants.
It's easy for senators such as Majority Leader Mitch McConnell of Kentucky or West Virginia Democrat Joe Manchin to attack Obama's Environmental Protection Agency as a job-killing machine and demand votes to repeal the freshly finalized regulations.
But swing-state lawmakers and candidates have a much more difficult calculus. Republicans such as Ayotte in New Hampshire and Kirk in Illinois risk turning off the Democratic or independent voters they will need to keep their seats should they vote against the climate plan.
Obama's agenda has also made global warming and coal power an issue in other states Democrats must win to take back the Senate. Democratic candidates in Florida, Nevada, Ohio, Pennsylvania, and Wisconsin must decide how closely to tie themselves to the president's power-plant limits amid what is certain to be a hail of negative ads against it. (They presumably would have liberal billionaire Tom Steyer on their side should they embrace the White House plan, however.)
In Colorado, for instance, Bennet has to find a way to protect the president's climate agenda while acknowledging a boom in the fossil-fuel industry that has created jobs in recent years, particularly as a result of fracking. It's a tension that in part cost fellow Colorado Democrat Mark Udall his Senate seat to oil and gas champion Cory Gardner.
And while climate change ranks low on overall rankings of voter priorities, a survey from The New York Times, Stanford University, and environmental think tank Resources for the Future conducted in January found that voters prefer candidates who recognize the threat of rising temperatures. But while Democrats point to polls to defend their support for the president's climate agenda, Republicans will be sure to hold up the rules as a cautionary tale of what the GOP calls job-killing regulations and Obama's penchant for overreach and executive fiat.
Ayotte has so far not come out for or against the regulation—saying instead that she needs more time to study the policy and its potential impacts. "We're reviewing it. It just came out. It's a pretty complex set of rules," she said Monday in the Capitol.
But she was quick to tout her record of working "to protect New Hampshire's clean air and water" in a statement reacting to the regulation on Monday. It added that Ayotte will continue the state's "long, bipartisan tradition of working to advance common sense, balanced environmental regulations" while she weighs the rule's impact on the environment and the economy.
As one of the few Republicans on record saying that climate change is real and caused partly by human activity, Ayotte has received some support from environmental groups. Along with Maine's Susan Collins, she broke with her party on several amendments on the floor this year, including one that would have invalidated the U.S.-China climate-change pact.
But simply expressing a belief in climate change won't be enough to earn full-throated backing from the Left any more. With several congressional challenges to the climate rule expected to come to the floor, supporters want to see Ayotte and other moderate Republicans vote to keep the rules intact.
"She's on record as saying this poses a threat to my state and that we need to act, and she also knows quite well the success story of the [Regional Greenhouse Gas Initiative] that is the foundation for this rule," said Sara Chieffo of the League of Conservation Voters. "This is a huge opportunity for New Hampshire to build on the clean-energy economy, so we're hopeful she'll continue these positive steps."
New Hampshire is a part of the multistate trading scheme and has moved forward on clean energy, making the plan a relatively easy sell at home. But Ayotte also faces pressure from the Right—her campaign committee pulled in $23,100 from none other than the Koch Brothers in the 2013-2014 cycle. She also received a $500,000 donation last quarter from Jay Faison, a conservative donor who wants to see climate action but opposes the use of regulation to achieve that goal.
That means Ayotte could be pulled by competing interests—pressure to act on climate change while opposing a massive regulatory scheme—that will make it difficult to simply reject the president's agenda.
"If you're going to oppose something then the question becomes, 'OK and so what is your plan then?' That's something that voters expect and that should be addressed," Republican pollster and strategist David Winston said. "Otherwise it looks like you're just saying no."
Senator Mark Kirk of Illinois voted to effectively block the power-plant regulations in June, a move that drew sharp criticism from green groups and sparked an ad campaign paid for by the Natural Resources Defense Council attacking Kirk's environmental record.
Kirk did not comment on the final version of the regulation on Monday when asked in the Capitol. An aide said that the senator was in a rush to get to votes. That vote was on the motion to proceed to legislation to defund Planned Parenthood, another problematic vote for Kirk in Illinois. In this case, he was the only Republican to break with his party and vote against the cloture motion.
If Kirk rejects the final EPA regulation, because he has also expressed concern over the threat of global warming, he will have to explain the vote and may be called upon to propose an alternate policy.
On the other side of the aisle is Michael Bennet, a moderate Democrat who faces pressure from his party to protect the president's climate agenda while at the same time pleasing the fossil-fuel industry in his state.
Natural gas is big business in Colorado, a state that has seen a boom in jobs from fracking. But the final version of Obama's climate agenda stands to give clean energy more of a boost than natural gas relative to an earlier version of the rule, a move that provoked backlash from the industry on Monday.
But Colorado may be better prepared than most fossil-fuel states to meet the standards, given the growth in wind and solar energy there thanks to a 30 percent renewable energy standard. And that's the industry Bennet, at least in his initial response, is leaning on.
In a statement, he said the state was "well-positioned" to meet the federal targets, adding, "Colorado's leadership on this issue is already paying off."
Eric Sondermann, an independent political consultant in Denver, said that Bennet is likely to sidestep some of the divisive energy politics that sprung up in Udall's 2014 race, making it easier for him to come out in support of the Clean Power Plan.
"He's under pressure to be reasonable, to be a moderate, and not to be a zealot on the environmental left," Sondermann said. "But that's the clothing that tends to fit Michael Bennet anyway. At the end of the day, Bennet is going to side with the president on this, but his manner will give lip service to concerns about jobs and those impacted by the regulations."