Chris Christie Asks Cory Booker to Use His 'Moral Voice' Against the Iran Deal
The New Jersey governor teamed up with one of Booker's longtime friends to pressure him on the Obama administration's nuclear agreement.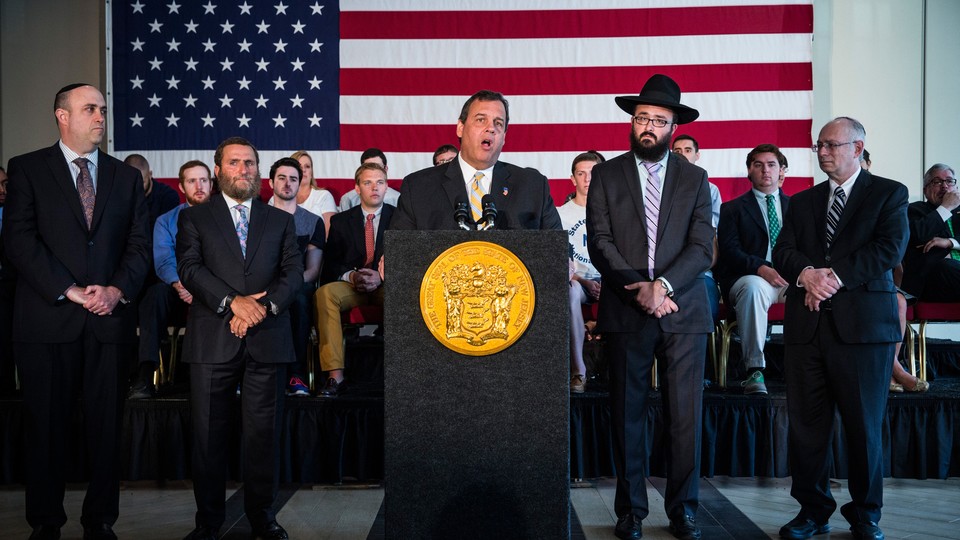 Chris Christie is looking for a savior. He's hoping to find one in Sen. Cory Booker.
The New Jersey governor took the campaign trail home Tuesday for a news conference with Jewish leaders from his home state to oppose the White House's proposed nuclear deal with Iran. And while Christie insisted throughout his remarks that he was addressing the entire New Jersey congressional delegation, he reserved his most pointed and emphatic words for its junior senator.
"The people of your state and the people of this country and the people of the world are counting on you to be a strong, direct, and powerful moral voice," Christie said, "to look your president in the eye—to look our president in the eye—and say 'No, Mr. President, not this time.'"
Christie's opposition to the Iran deal has at times veered into the territory of political attack. His most recent volley came Tuesday, when the governor repeated his claim that President Obama lied to the American people about the provisions of the agreement. Christie strongly supports Sen. Robert Menendez's public decision to vote against the deal come September, and during the news conference asked Booker to not only match the senior senator's vote, but pledge to override a potential presidential veto.
But Tuesday, Christie urged New Jersey's representatives in Congress—"particularly" Booker—to view the Iran deal through a moral, not political, lens.
"We now must count on the United States Congress to substitute for the moral clarity that this president lacks," Christie said, and embrace the checks and balances system that the Founding Fathers instilled at the country's outset to fix the "gross mistake" of the Iran deal.
Along with Booker, Reps. Bill Pascrell and Frank Pallone of New Jersey haven't publicly announced a position on the agreement.
Last month, Booker said he'll "hold this deal to a very high standard, and in reaching any conclusion will participate in the rigorous congressional scrutiny a deal of this magnitude warrants."
In a statement to National Journal, Booker spokeswoman Silvia Alvarez said the senator's verdict will be "based upon what he believes is best for America's national security regardless of political pressure, lobbying, or theatrics."
"The question of how best to stop Iran from obtaining a nuclear weapon is as complicated as it is serious," she said, "and Senator Booker will continue to devote himself to determining the path forward that will best ensure America's security and that of our allies."
Booker's eventual decision will come with some unusual complications, in the form of Booker's long friendship with Rabbi Shmuley Boteach, and his long-standing ties to the Jewish community. Boteach, the famous Englewood, N.J.-based rabbi, introduced Christie at the press conference and has known Booker since they were at Oxford University in the early 1990s. At the time, the senator was a student leader of Boteach's campus Jewish group, though Booker is Christian.
On Tuesday, Boteach called Booker his "soul friend" and said Booker has a "special place" in the hearts of American Jews—some of whom, including the pro-Israel PAC NORPAC, have financially backed the senator's campaigns, and are now calling on him to back them on the Iran deal.
Boteach, who has said he's "not appealing to [Booker] as a friend," nonetheless spoke at length about their relationship at the press conference, echoing stories he told in a New York Observer op-ed this month titled, "Cory Booker Would Never Vote Against Israel."
During his remarks Tuesday, Boteach identified policy areas Booker has championed—gay marriage, women's rights, prison reform—and asked how a man with those convictions could support a deal with a regime steeped in oppression.
Though in terms of their friendship, "there's nothing that can come between us," Boteach said. "This is a policy issue, and I know he will do the right thing."
This story has been updated with a statement from Sen. Cory Booker's spokeswoman.