The people (through polls that even pollsters don't trust) have spoken. Exactly 10 Republican candidates for president will take the stage Thursday in Cleveland during prime time for the first major debate of 2016.
Criteria from Fox News, one of the cohosts of the first Republican National Committee-sanctioned debate of 2016, set off a scramble for presidential campaigns to make the top 10 in national polls, even as candidates and strategists alike decried the rules as arbitrary.
Some of the lucky winners—Donald Trump, Scott Walker, Jeb Bush—have consistently fared well enough in the polls to easily make it into the top 10. But other candidates, as the chart below shows, fall within the margin of error of their less fortunate peers.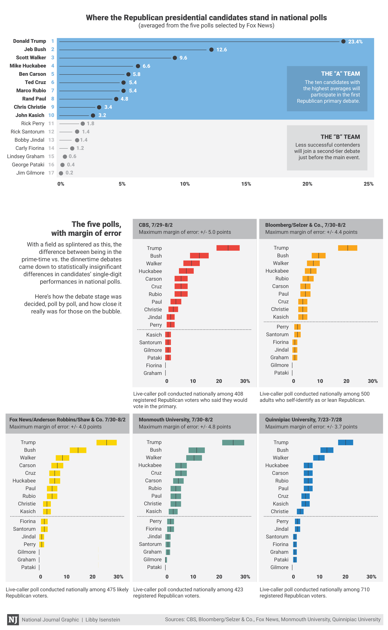 For at least a few weeks, the top tier for those in the debates was obvious to poll-watchers, with Donald Trump and Govs. Jeb Bush and Scott Walker shoe-ins for the stage. Former Arkansas Gov. Mike Huckabee as well as Sens. Marco Rubio, Ted Cruz, and Rand Paul make up a second level to share the big spotlight. Even Ben Carson, who fought against the "tremendous disservice" that the cap does to the Republican party, will be on the stage. Govs. John Kasich of Ohio and Chris Christie of New Jersey grabbed the last two spots, both in a statistical tie in many polls to those who will miss the 9 p.m. event