Charting What Separated the Winners and Losers in Qualifying for the GOP Debate
The people (through polls that even pollsters don't trust) have spoken. Exactly 10 Republican candidates for president will take the stage Thursday in Cleveland during prime time for the first major debate of 2016.
Criteria from Fox News, one of the cohosts of the first Republican National Committee-sanctioned debate of 2016, set off a scramble for presidential campaigns to make the top 10 in national polls, even as candidates and strategists alike decried the rules as arbitrary.
Some of the lucky winners—Donald Trump, Scott Walker, Jeb Bush—have consistently fared well enough in the polls to easily make it into the top 10. But other candidates, as the chart below shows, fall within the margin of error of their less fortunate peers.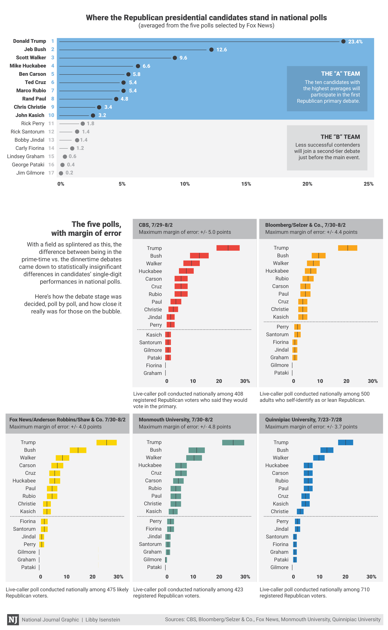 For at least a few weeks, the top tier for those in the debates was obvious to poll-watchers, with Donald Trump and Govs. Jeb Bush and Scott Walker shoe-ins for the stage. Former Arkansas Gov. Mike Huckabee as well as Sens. Marco Rubio, Ted Cruz, and Rand Paul make up a second level to share the big spotlight. Even Ben Carson, who fought against the "tremendous disservice" that the cap does to the Republican party, will be on the stage. Govs. John Kasich of Ohio and Chris Christie of New Jersey grabbed the last two spots, both in a statistical tie in many polls to those who will miss the 9 p.m. event
Other candidates were not as successful and will join a second-tier debate just before the main event. Rick Santorum and Lindsey Graham didn't make the cut. They likely expected as much, for weeks calling the criteria for inclusion "arbitrary" and "the beginning of the end" of early-caucus-and-primary states' clout. Also relegated to the 5 p.m. event is Carly Fiorina, the only major female Republican candidate, and a number of governors past and present: Rick Perry of Texas, Bobby Jindal of Louisiana, George Pataki of New York, and Jim Gilmore of Virginia.
"Is the arrangement perfect? No," RNC spokesman Sean Spicer wrote in the The Wall Street Journal. "It is, however, the most inclusive setup in history."
With almost half the field left out of the main event, Thursday's debate will be on par with the last open presidential contest on the Republican side. In 2008, the first debate that Republicans held also featured 10 candidates (including Huckabee and Gilmore). In 2012, that number shrank to five (including Santorum).
The polls:
Fox News/Anderson Robbins Research/Shaw & Company Research