Charlie Crist Could Make a Political Comeback. But This Star Republican Candidate Could Block His Path.
Newly redrawn congressional lines in Florida could set the stage for a Crist campaign. Republicans are hoping former St. Petersburg Mayor Rick Baker answers the bell, too.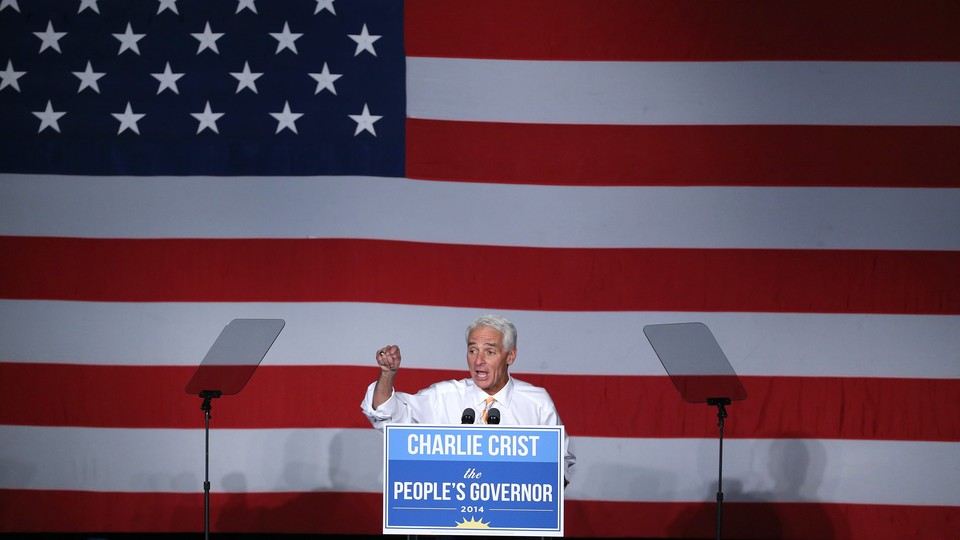 If Florida's new draft congressional maps are approved by the state legislature, Charlie Crist's chances of a political comeback start looking good.
The Republican-turned-Democrat former governor would then have the option of running for Congress on his home turf in Pinellas County, in a Republican-held district that's about to add a bunch of new Democratic voters. Though Crist lost to Gov. Rick Scott by a small margin in 2014, he handily carried his home of St. Petersburg, and Democrats think he'd be a formidable contender for Congress in a newly Democratic-leaning seat.
And GOP Rep. David Jolly has already cleared a path, deciding to run for Senate instead of defending his seat. But there is still one Republican that strategists in both parties named as the most credible potential roadblock to a Crist comeback: former St. Petersburg Mayor Rick Baker, a local political star.
"This district is almost tailor-made for only one Republican as well as one Democrat, which would make a Charlie Crist-Rick Baker square-off maybe the most looked-at congressional race in the nation in 2016," said Adam Goodman, Baker's senior political adviser. "It would truly be a clash of two titans."
Despite Crist's losing gubernatorial effort, he remains popular at home. "After a candidate runs and loses, there's a sort of bitterness towards them," said Eric Jotkoff, former communications director for the Florida Democratic Party. "With Charlie Crist, there's none of that. Rick Scott won the race by spending $100 million against him, and there's no one that has ill will based on that."
Baker, meanwhile, is also waiting to see how the congressional maps shake out before deciding whether or not to run. But both Republicans and Democrats agree that he remains a popular political fixture in St. Petersburg, and GOP insiders have wanted him to run for higher office for years.
Baker, who was mayor from 2001 to 2010, is credited with revitalizing the largely African-American midtown section of St. Petersburg. During his reelection campaign, the former mayor won that area of the city by a whopping 90 percent.
Goodman said there is currently no "active planning" happening on Baker's end, and National Republican Congressional Committee spokesman Chris Pack declined to comment about the race. (Kevin Cate, a Crist adviser, also said Crist isn't discussing the race, though he's been receiving a lot of support for a run both locally and nationally.) Florida Republicans say they haven't heard many other names besides Baker's floating around, and the party is watching and waiting for the former mayor's next move.
"There are a lot of X factors, but it's becoming a seat that is much more difficult for us to achieve," said Florida Republican strategist Rick Wilson of the new district. "Everybody's waiting for Baker. That's the sort of miracle cure that can work."
The only declared Democratic candidate is Eric Lynn, who entered prior to the redistricting case. So far, he has raised $400,000 and has said he'll remain in the race regardless of Crist's plans. The Democratic Congressional Campaign Committee said it approached Crist about running before the court struck down the current maps. But as of now, it doesn't plan on endorsing if there are multiple candidates.
"Baker would be probably be the strongest against a potential Democrat," a DCCC aide said. "But it would be hard for Baker to beat Lynn or Crist "¦ in a presidential election year, if the Saint Pete area is added to FL-13."
"I think as a party we can't take anything for granted, and we're going to have to campaign hard for it, but I think that district will become more Democratic," said Ashley Walker, President Obama's Florida state director in 2012. Walker, who managed Democrat Alex Sink's special-election campaign in this district in 2014, added that Jolly opting out of reelection is "a good indication of what Republicans think of what's in place, "¦ a seat that will only become more difficult."
If he runs, Crist could still have to get past Lynn in a primary to win the seat — but he would start with the advantage of near-universal name recognition. If that happened, the district could turn into a magnet for political dollars and attention next fall.
"I don't think you'll have to worry about turnout, especially this district," said Nick Hansen, a St. Petersburg-based GOP strategist. "I think if Rick Baker decides to run and Charlie Crist, they will both be fully funded at maximum levels."