Carly Fiorina: Democrats' Virginia Shooting Response Is 'Disappointing'
The GOP presidential candidate addressed the tragedy in her home state Thursday.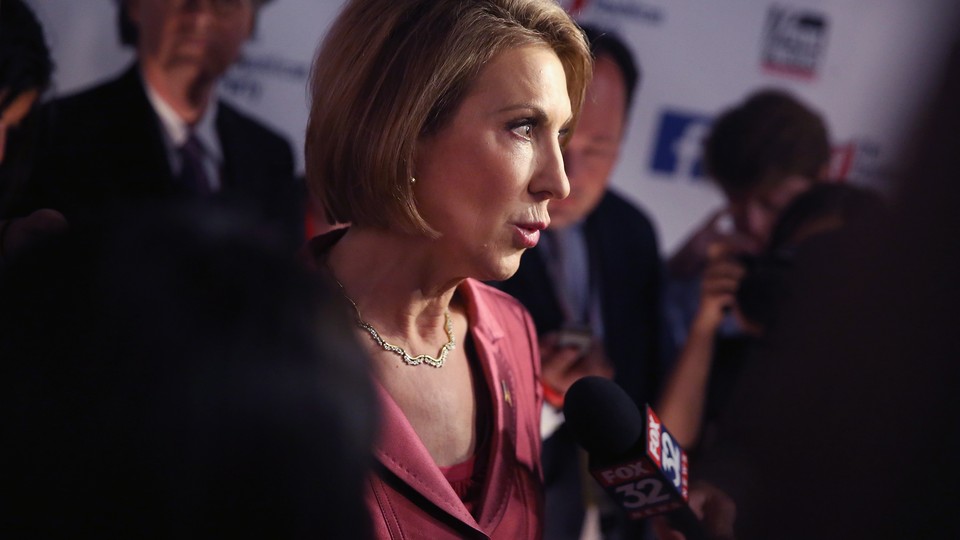 LE MARS, IOWA—After speaking to a crowd of roughly 100 Iowans on Thursday morning, Carly Fiorina told reporters that the shooting of two Virginia reporters on live television Wednesday was a "tragedy" and "really disturbing." But she also had hard words for Democrats who, in the discussion of the shooting, called for stricter gun laws.
She said she found it "so disappointing that once again, politicians—in this case Democrats—politicize a tragedy."
Fiorina went on to criticize Virginia Gov. Terry McAuliffe (and by extension, Hillary Clinton) for using the shooting as an example for the need for stricter gun legislation.
"They do this every time. Every time we have a tragedy, they use it as an opportunity to push forward their ideological agenda, even though we know that in the vast majority of the cases, the things they're pushing for would have made no difference at all," Fiorina said. "We ought to spend some time contemplating as a nation our sorrow, this horror, and if anything, we ought to be talking about mental health and its treatment, not gun control."
Fiorina made her comments to reporters after speaking to a packed room of roughly 100 Iowans at the Blue Bunny Ice Cream Parlor here.
"First, it's just hard to verbalize the sorrow that the family, the community, the station has to be feeling," she said. "Secondly, there's something really wrong when we have gotten to be such a '15 minutes of fame' obsessed culture that someone thinks 'murder by selfie' is a good idea. And third, we obviously have a lot of really disturbed people who need help or to be identified as a danger to themselves and others, and for this person to justify this kind of act with, in essence, political slogans, is really disturbing."
Fiorina, who lives in northern Virginia, has a long pro-gun record. In 1994, she opposed a ban on semiautomatic weapons passed during the Clinton administration. She also said during her 2010 Senate race against Sen. Barbara Boxer that some people on the federal no-fly list should be allowed to own a gun, saying that the list "isn't particularly well-managed."
"The no-fly list has been, unfortunately, way too large, and I know people who have been on it who have been stopped and if we permit anyone who is on that no-fly list to have their Second Amendment rights taken away from them," she said at the time. "That's a terrible problem."
In 2010, the National Rifle Association gave Fiorina an A(q) grade, a grade reserved for "a pro-gun candidate whose rating is based solely on the NRA-PVF Candidate Questionnaire and who does not have a voting record," according to the organization's guidelines. Only politicians who have served in office and cast votes can qualify for the NRA's "A" rating.
It's unclear what political ramifications, if any, the tragedy in Moneta, Virginia will have. But if Fiorina's "15 minutes of fame" theory is correct, there'll be another tragedy to fight over soon enough.