Can LGBT Businesses Win the Fight To Be Considered "˜Traditional Minorities?'
In areas of workplace discrimination, fair housing, fair credit, and supplier diversity, LGBT people and business owners don't receive equal rights.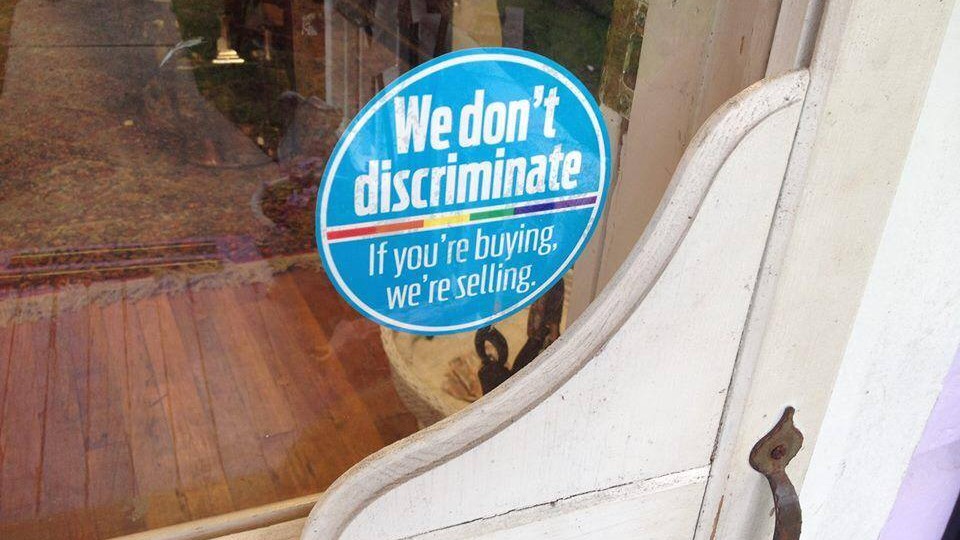 Ray Parrish runs a small business in Los Angeles, a managing consultant firm called InSight. Like many other small-business owners, he's traded nearly all personal time to grow his company. It's been a tough, long slog. And it's been made a bit harder because he's gay.
There was a time Parrish says he was outed at work and later fired. He's been passed over for jobs because he was gay (he knows this, he says, because he was told so). And though those instances happened more than a decade ago, it would seem that he has certainly faced barriers in his career he would not have were he straight.
"As a 51-year-old gay man," Parrish told Next America, "I remember a very different time when I faced overt hostility and overt discrimination."
A lot of companies have programs that acknowledge that for some business owners, the world has not always been a level playing field. One of the ways corporations help these companies get a leg up is through diversity initiatives. But in many cases, LGBT business owners aren't included in this.
(LGBT Families Shop More, Spend More.)
That's because LGBT businesses aren't extended the same protections as "traditional minorities," says Sam McClure, senior vice president of the National Gay & Lesbian Chamber of Commerce. "We've talked with LGBT people for along time about barriers to equality, whether it be workplace discrimination or marriage," McClure says. "What hasn't been a conversation in equality is sustainable economic strength — building generational wealth."
Last week, the NGLCC's held its annual Business and Leadership Conference in Fort Lauderdale, Florida. A topic of conversation this year, as it is every year, centered on supplier diversity and how it could help LGBT businesses. It's not the sexiest of fights. It doesn't lend itself well to posters in rallies. But McClure believes it is up there in importance with marriage equality.
Diversity initiatives have been around for more than three decades. They're meant to broaden the range of companies that corporations work with, most often to businesses run by owners of color, by women, and more recently by disabled veterans. Missing from that list, the NGLCC says, are LGBT-owned businesses. Leaving LGBT businesses out of these programs means that private corporations and government-regulated industries don't consider LGBT people to fit the same economic or social disadvantages that these programs seek to level, the NGLCC argues.
"What a shame that I can be married in all 50 states but I can't sell to any of them," says Jonathan D. Lovitz of the NGLCC.
The organization first targeted supplier diversity in 2004 by setting up a program that would certify businesses as LGBT-owned and -operated. Among other requirements, the businesses had to prove that they were 51 percent LGBT-owned and -managed. But certification meant little if no one would acknowledge that LGBT companies should be brought into these diversity initiatives.
Of Fortune 500 companies, only about a third factor LGBT businesses into their diversity initiatives. So in order to make a statement, the NGLCC went after California utilities.
The California Public Utilities Commission is a behemoth. It includes huge telecommunications companies (like AT&T), and huge electric companies (like Pacific Gas & Electric). Within its diversity-initiative program alone, last year California utilities spent $8.5 billion with suppliers. And because it operates as a quasi-government entity, these utility companies fall under state regulation.
A general order already required utility companies that made more than $25 million to set up programs to work with businesses owned by women, disabled veterans, blacks, Latinos, Asians, and Native Americans. The recommendation was that companies purchase 21.5 percent of goods and services through diversity-initiative businesses. But that didn't include LGBT-owned operations.
McClure and NGLCC helped write a bill, the first of its kind, backed by lawmakers, that brought LGBT businesses into the California Public Utilities Commission's diversity initiative. Many of the utility companies even spoke in support of the bill.
(A Court Ruling Means You're Less Likely To Be Fired for Being Gay)
Last year Gov. Jerry Brown signed it into law, making the California Public Utilities Commission one of the first, and largest, government entities to extend such support to LGBT businesses. For business owners like Parrish, that means access he'd normally never have.
"As an out, gay, Hispanic man," says Parrish, "I guarantee you that I don't have the same access to what we would call the 'good ol' boy' network. I don't play golf with them, my kids don't play soccer with their kids — those traditional things that people use to connect and grow their network."
But repeating the same strategy would be impractical across the country. That would mean a slow fight for inclusion state by state, or even city by city.
Some areas, such as Cleveland, have set up registries to lend LGBT businesses exposure, and to connect them with larger companies. But what's needed, McClure says, is a federal law that includes LGBT businesses in diversity initiatives.