Can John Kasich Find Sunlight On Clean Energy?
Greens say his position is muddled, but he has an opportunity to clear it up.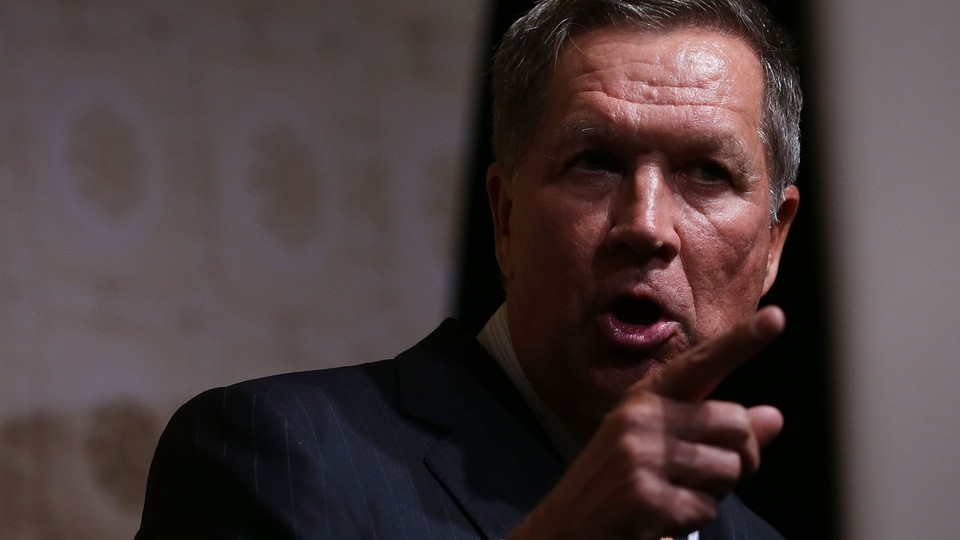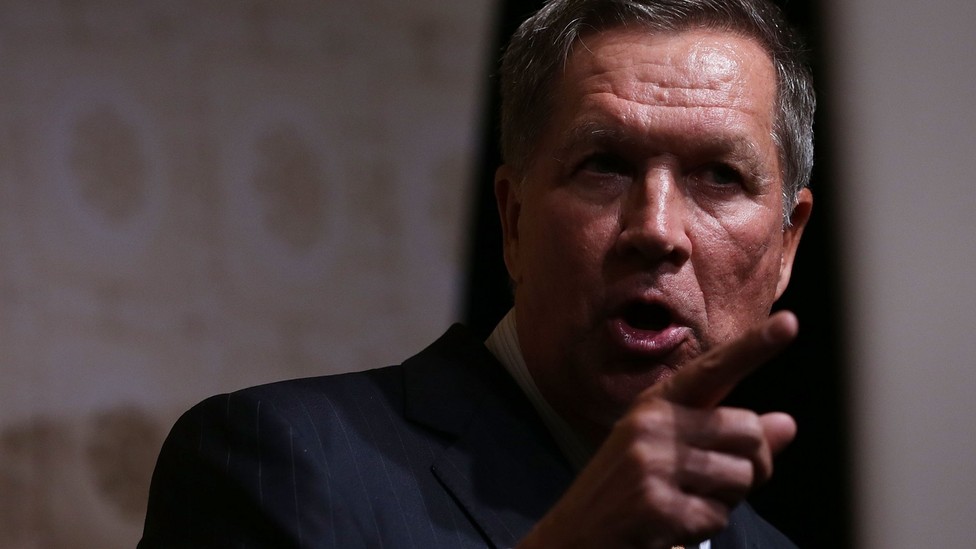 When it comes to energy, John Kasich seems to like living in the murky middle. But he can't stay there forever.
Unlike his Republican presidential challengers, the Ohio governor hasn't been virulently in denial of climate-change science, nor has he fully embraced the scientific consensus that it is caused by man. He has said he sees a role for clean energy, but he hasn't defined how the government should (or shouldn't) support it. He's touted emissions reductions, but also spouted concerns about job losses from climate action.
When it comes to President Obama's climate rules for power plants, Kasich has been critical and his state attorney general has sued the Environmental Protection Agency seeking a stay. But Kasich hasn't said his state will try to skip the rules entirely, unlike other Republican governors and presidential contenders Louisiana's Bobby Jindal and Wisconsin's Scott Walker.
As Kasich has moved up in the Republican polls, he has emphasized his lack of red-line conservative values, like in a Sunday interview on CNN where he said Republicans had "allowed themselves to be put in a box" on social issues. And environmentalists say that in his sometimes fuzzy moderate positions, there's a chance for Kasich to take a more definitive stance on energy that sets him apart from the rest of the Republican field.
He will likely have to weigh in one way or the other soon as his home state is considering whether or not to continue its freeze on a renewable-power standard, with a legislative report out this fall that will force the issue back into headlines. With the state also considering how to meet EPA emission-reduction rules, greens in the state say they plan to push Kasich to take a more aggressive leadership role on the issue in the state, even while he continues his national campaign.
Earlier this month, Kasich responded to a question about climate change by saying, "We don't want to destroy people's jobs based on some theory that's not proven," but later said that "man absolutely affects the environment." His campaign then tried to clarify those remarks by saying, "The governor has long believed climate change is real and we need to do something about it."
Kasich's record in his home state doesn't present a clear orthodoxy on energy. He came into office embracing an "all of the above" strategy that he said could balance Ohio's traditional coal mix with emerging shale-gas resources and renewable power. After a 2011 two-day energy summit in Columbus, Kasich produced a strategy built around 10 pillars for the state's energy policy that he said would "support a diverse mix of reliable low-cost energy sources that meet Ohio's continuing job-creation needs."
Among the pillars were promoting the use of natural gas, promoting renewables and clean power, and embracing heat-to-power technology that would make manufacturing more efficient. That strategy was codified in a 2012 bill that overhauled a drilling law to help Ohio embrace shale-gas finds in the Utica and Marcellus shale regions, but the bill also included measures that would allow waste-energy recovery and combined heat and power systems to be considered as renewable and efficiency measures under state law. It was a bill Kasich said would "last 100 years in Ohio" at a signing ceremony.
But then, according to energy-industry sources in the state, Kasich more or less dropped his focus on clean energy and climate change. At the same time, the Republican-controlled legislature started looking to kill the state's renewable-portfolio standard, passed in 2008, which would require the state's utilities to get 25 percent of their energy from renewable sources by 2025. The repeal effort — backed by some utilities in the state and driven by conservatives in the legislature — would effectively undo the clean-energy language in Kasich's bill.
"We thought that we were done. We had a major discussion about energy policy people were generally happy and then this repeal talk started again," said Amanda Woodrum, who works on energy issues with the left-leaning Policy Matters Ohio. "Kasich didn't put a stop to these talks "¦ and I think a lot of people thought there was a failure in leadership that he allowed this conversation to even keep going."
After debate about a full-on repeal, the legislature ultimately passed a two-year freeze of Ohio's RPS, becoming the first U.S. state to halt a renewable portfolio standard. The freeze — which automatically lifts if the state has not passed another law resetting or repealing the RPS by 2016 — was touted by Kasich as an opportunity to review the merits of the program, which he was was "well-intentioned" but "a challenge to job creation and Ohio's economic recovery."
Campaign spokesman Rob Nichols said that by making sure the legislature approved a pause, rather than a full-on repeal, Kasich had positioned himself between two extremes of the energy debate, a stance he still holds today.
"There are those who want to do away with all renewables. Then you've got the environmentalists who think that you can't touch any of the subsidies," Nichols said. "We're right smack dab in the center."
But clean-energy supporters say the effect of the freeze — coupled with a provision in a separate budget bill that put restrictions on wind turbines — has chilled the state's renewables sector. Steve Melink, chairman of the Cincinnati-based clean-energy company Melink Corporation, said that several of his company's planned solar projects fell apart amid uncertainty about the renewable standard, and ultimately his firm has taken much of its work out of state.
"It's disappointing that my home state was becoming a national leader, then we gave up so quickly," Melink said. "It's inevitable that we need to diversify and transition to more renewables, but here's a big missed opportunity.
Even critics say that Kasich wasn't the driver of the RPS freeze — in fact, his most obvious public role was in not vetoing the bill. Some even say that the freeze may have been the best possible option and credit Kasich for avoiding a repeal.
"In my opinion, I think he did what he could under the circumstances. Hence, I do him credit for stepping in," said Rob Kelter, a senior attorney with the Chicago-based Environmental Law and Policy Center. "We know for certain there was a lot of momentum in the legislature to kill the standards completely, not freeze them."
And since the state bill passed, Kasich has reiterated his commitment renewables. In a 2014 speech in Ohio, Kasich said he strove to find "a bill that fit Ohio, that will not bankrupt consumers, or hurt jobs, but something that's still forward-looking on renewables." At a July campaign stop in New Hampshire, Kasich said he was "a supporter not just of our traditional forms of energy, but also of the critical importance of renewables because renewables should be a very large part of the energy picture of America as we go forward."
Ohio's renewable policy is set to come back into the public sphere next month, when a legislative commission delivers a report about the RPS freeze that is meant to guide future legislation. Greens say the very name of the body — the Energy Mandates Study Committee — gives an indication of how it is likely to come down.
The debate also comes as Ohio has to comply with the EPA's recently announced rules reducing carbon emissions from the power sector. While most Republicans have come out viciously against the rules, which they say are a job-killing over-reach, Kasich hasn't been nearly as strong.
Speaking to reporters in New Hampshire the day after the plan was announced, Kasich criticized the rule, saying: "I don't think it's a climate change plan. I think it's an unemployment plan." Ohio's attorney general also joined with 14 other states last week in asking a federal court to put a stay on the rules, arguing that states are facing economic harm by having to prepare for the standards, which do not have to be implemented until 2022.
Beyond 200 pages of comments the state filed on the proposed rule, Kasich hasn't said much on the rule. He's also given no indication that he'll opt out of the rule, as other Republicans have done.
Ohio is required to slash its power sector emissions by 36 percent of 2005 levels by 2030 under the EPA rules, a target that can come through a variety of measures, including switching to natural gas, boosting the use of renewable energy, and retiring coal plants. And that's where Ohio's RPS could come back into play.
"Doing away with those clean-energy standards will be disruptive to meeting the federal rules," said Woodrum. "I think those dots are currently being connected among decision makers."
Daniel J. Weiss, senior vice president for campaigns at the League of Conservation Voters, said that if Kasich brought back his early support for clean energy, he could separate himself from the crowded Republican field.
"It could set him apart from the vast majority of candidates who are in the 'drill-baby-drill caucus,'" Weiss said. "In a multicandidate field where the most conservative voters are unlikely to support someone like Kasich, there's an opportunity to attract those who are not the most conservative. Whether he or another candidate wants to seize that opportunity is another question."
Nichols pushed back on the notion that Kasich didn't have a clear-energy policy, saying: "We believe in coal, we believe in nuclear, we believe in an 'all of the above strategy,' and that includes renewables. Everybody knows that." But Nichols said there aren't plans for Kasich to release any sort of larger energy platform or to address his state's RPS freeze on the trail. Discussion of the latter, he said, would be driven by the committee report and "if need be, we'll talk about it."
The question then is how firm Kasich decides to be when the need arises.
"I think Gov. Kasich believes we should have a balanced energy policy that includes renewable energy and energy efficiency because it's the right thing to do," said Kelter of ELPC. "Where he comes down on defining 'balanced' is still unknown. He's never publicly said it."