Can Carly Fiorina Seize Her Moment?
A solid performance in the opening-round debate has given the former HP executive a boost in the polls.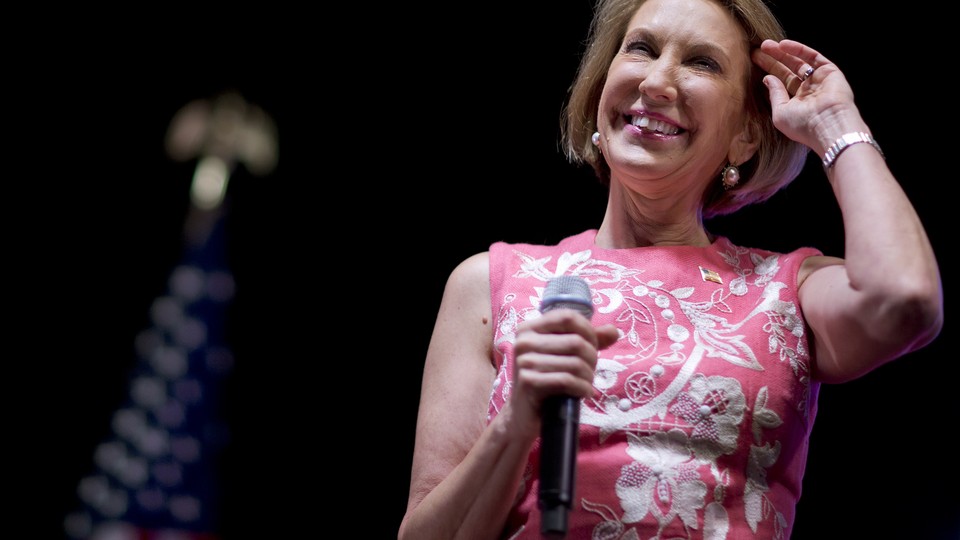 It's hard for any Republican to stand out in a presidential field of 17—certainly when an impossible-to-ignore loudmouth is hogging the spotlight, and especially when your big chance to shine in a debate comes during a glorified dress rehearsal airing when most voters are still at work.
But if anyone can be said to have won last week's GOP doubleheader in Cleveland, it's Carly Fiorina. While Donald Trump has spent the last few days insisting he didn't make a crude reference to Megyn Kelly's menstrual cycle, Fiorina has leapfrogged several of her fellow also-rans in the national and state polls taken since the debate. Relegated to the "Happy Hour" debate last Thursday, the former HP executive may not have been facing off against the cream of the GOP crop, but she came off as poised and self-assured, speaking cogently on policy and landing a few well-timed zingers that would have hit even harder had she not been speaking to an empty theater. Fiorina followed up her debate performance with a solid showing at Erick Erickson's RedState Gathering, and she's been a fixture on the Sunday and morning news shows in the days since.
Lest we get carried away, Fiorina's rise is—for now—something well short of a surge. She has advanced safely beyond the land of the 1 percent in polling, and she appears well-positioned to take a spot in the top-tier debate when Republicans converge on the Reagan Library next month. But she has yet to top 10 percent in either a national survey or in polls in Iowa and New Hampshire, which show her trailing Trump and three or four other candidates. As Politico's Katie Glueck observed, many people at the RedState convention said they liked Fiorina, but few said she was their first choice for the nomination. On policy, she has stayed well within the bounds of traditional conservative orthodoxy.
Fiorina stands out as the sole woman in the GOP field, and the early months of her candidacy seemed predicated less on any innovative policy proposals than on her insistence that the party needed someone who could "throw every punch" at Hillary Clinton—a none-too-subtle reference to the fear that attacks on the Democratic frontrunner by a male Republican nominee will inevitably be portrayed as sexist. Trump's recent head-smacker about Megyn Kelly has only given ammunition to that message, and Fiorina dutifully denounced his comments as "offensive" when she was repeatedly asked about it over the weekend.
But Fiorina's competition with Clinton to become the first woman president obscures another trait that could explain her appeal to Republican voters: Like Trump, she rose to prominence in the private sector and has never held elected office. (The only other political novice in the race, Ben Carson, also earned a post-debate boost in Iowa, according to a CNN-ORC poll released Wednesday.) In television interviews since the debate, Fiorina has said she understands the "anger" with the establishment that Trump is tapping into.
Fiorina is offering up herself as a calmer, steadier alternative. As if to prove her mettle, she made sure to tell viewers of "Face the Nation" that she was perfectly willing to say Clinton "lied" about Benghazi. But unlike Trump, she does have a filter:
I agree there's too much political correctness. I agree as well that people are tired of sanitized sound bites and bumper sticker rhetoric. That is different from hurling personal insults at all kinds of people.
On "Fox News Sunday," she made a similar point, telling Chris Wallace: "I don't think you get things done by insulting everyone. I have a track record of getting things done, of challenging the status quo, of leading toward results."
Fiorina's problem is that neither her business record nor her political résumé is all that impressive. After presiding over mass layoffs, a sharp decline in the stock price, and a controversial merger with Compaq as the head of Hewlett-Packard, Fiorina was removed by the company's board. She became an adviser and surrogate for Senator John McCain's presidential run in 2008 before making a failed bid to unseat Senator Barbara Boxer in California in 2010.  "She got fired, and she ran for office, and she lost in a landslide," Trump said of Fiorina. "I don't see that as being necessarily great credentials." (Factcheck: Fiorina lost by a respectable 10 points in a very blue state, although her defeat did come during a favorable year for Republicans.)
By now, Fiorina is well-accustomed to the criticism. Although acknowledging her ouster, she said the company's revenue doubled during her tenure, the rate of new patents tripled, and the unpopular decisions she made as CEO proved correct over time. "Yes, I got fired in a boardroom brawl," she said on CNN's "State of the Union." "And you know why? It's because I challenged the status quo. It is what leaders must do. And when you challenge the status quo, when you lead, you make enemies. It is why so few people lead. But guess what? It is the kind of leadership we need now in the Oval Office." Fiorina then noted that other business titans who had been "fired" included Steve Jobs, Oprah Winfrey, Mike Bloomberg, and even Walt Disney.
Anticipating the renewed scrutiny that accompanies a bounce in the polls, Fiorina's allies are also trying to change the perception about her time at HP, pointing reporters to supportive testimonials by rank-and-file employees filmed for her 2010 Senate run. Democrats already are trying to paint her as a less successful version of Mitt Romney: a cold-hearted executive who axed thousands of employees and then bragged about doing so.
Holly Shulman, a spokeswoman for the Democratic National Committee, recounted the low lights of Fiorina's tenure before concluding: "With a resume like that, this is going to be one very long and awkward job interview for her. She does not know how to lead a company, let alone a nation." And as Fiorina tries to demonstrate her conservatism in the GOP primary, Shulman noted her opposition to mandated paid family leave, funding for Planned Parenthood, and abortion rights—stances that she suggested would neutralize her unique status in the GOP race. "When it comes to policies that help women, there is no diversity in the Republican Party," Shulman said.
None of those attacks will come as a surprise to Fiorina, who seemed to revel in the opportunity to face the critiques on national television this weekend. "You cannot have a president who is thin-skinned," she said on CBS. The moment Fiorina has sought is now here, and she seems ready for it. When the Republicans gather for their next debate in California, she should be on stage in prime-time, with her best chance to make it stick.