Boehner's Republican Enemies Could Be Biggest Losers in Redistricting
As courts and GOP legislators in three states look at redrawing congressional districts, some of the speaker's antagonists could be in big trouble.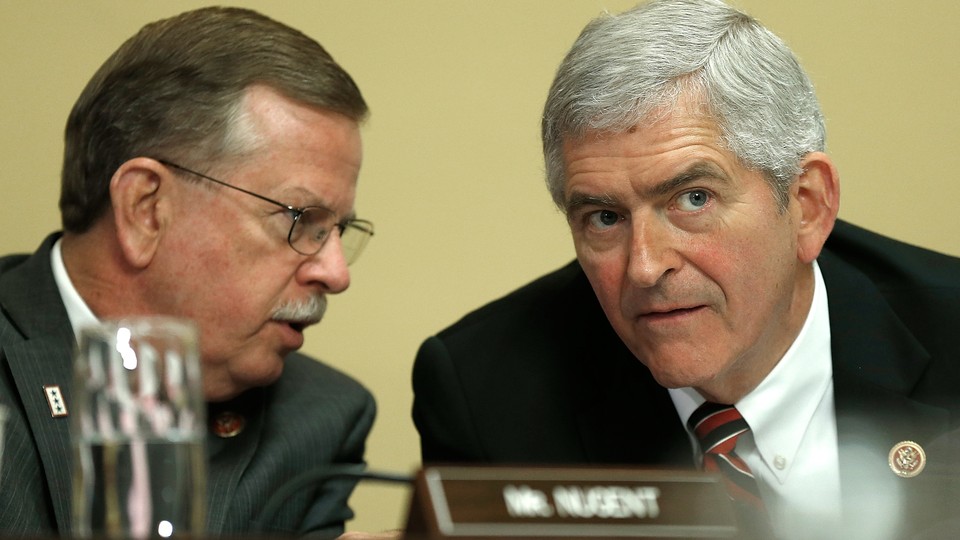 Three of the most prominent anti-John Boehner rebels in the House of Representatives find their political futures under threat this summer as Republican state lawmakers prepare to redraw local congressional maps.
Different forces (and lawsuits) are at work in Florida, Virginia, and North Carolina, but the results could be the same for three Republicans who have challenged the House speaker this year. Reps. Dan Webster, Dave Brat, and Mark Meadows could all basically get drawn out of their jobs before the 2016 election.
There's a long way to go before any new maps are put into place: Florida's and Virginia's legislatures are in special sessions to redraw their maps after court decisions, and the Florida lawmakers have specific instructions not to take politics into consideration. Meanwhile, the North Carolina Supreme Court is still preparing to hear arguments in a gerrymandering lawsuit. But already, there have been enough signs to scare anti-establishment conservatives.
In Florida's new draft congressional map, Webster's district absorbs thousands of Democratic voters and turns into a majority-minority seat; Webster, who ran for speaker against Boehner in 2015, told legislators that the new district would be "impossible to win." Many Republicans in Virginia would like to do the same to Brat's district as they prepare a court-ordered redistricting little more than a year after Brat defeated ex-House Majority Leader Eric Cantor in a primary. (Brat also voted against Boehner for speaker this winter.) And in North Carolina, the GOP congressional delegation is packed with members who have experience and connections in the state legislature that may redraw their map — advantages that Meadows, who recently filed a motion to remove Boehner from power, does not have.
"These conservative members should definitely assume that they are enemy No. 1 on the list," said Daniel Horowitz, senior editor of the Conservative Review. "If you're going to redraw the maps, who's going to be your first priority? "¦ If the establishment could kill two birds with one stone — comply with the courts and pick off a conservative — they would absolutely take that opportunity."
Webster himself told National Journal he doesn't blame state legislators or think they're out to get him. In a state with an anti-gerrymandering amendment to the constitution, other factors are just working against the onetime speaker candidate.
"They're under a lot of pressure" to follow the guidelines set by the state supreme court, Webster said. "There's pressure points all across the top of state."
In Virginia, a court directed lawmakers to shift African-American voters out of Rep. Bobby Scott's heavily Democratic district, leaving the neighboring Brat as an appealing target.
"If they could take it out on Brat, they could," said Quentin Kidd, director for Christopher Newport University's center for public policy. Kidd cited "a deep-seated frustration that Brat knocked off Cantor." Plus, he added, Brat has no high-profile defenders in the state legislature.
Ironically, Brat's saving grace could end up being Democratic Gov. Terry McAuliffe, who can sign or veto whatever plan the legislature approves. Pushing extra Democrats from Scott's district into Brat's would be the least-beneficial option for Democrats, Kidd said. Rather, Democrats see an opportunity to push potential swing seats belonging to Reps. Scott Rigell and Randy Forbes in their direction.
In North Carolina, Meadows said he has faith that the process will be fair. "I trust the state legislature and the North Carolina Supreme Court, both of which have my admiration and respect," Meadows said.
Other Republicans, though, may be able to take more active steps to protect themselves if their maps get redrawn.
"Those with closer relationships to leadership at the state level in the House and Senate would have a clear chance to provide meaningful input into any modifications that would need to be made," said Dee Stewart, a Raleigh-based Republican strategist.
If Republicans in the legislature have to pick losers within their party's congressional delegation, it matters that half of the state's Republicans in Congress have previously served in the state legislature. That includes Patrick McHenry, who's now the chief deputy whip.
Carter Wrenn, another North Carolina GOP strategist, said he thinks the legislature's top priority will be to save as many Republican seats as possible, before choosing favorites. At the same time, he said, it's not a stretch to expect Republicans with ties to the legislature to have an advantage.
"If the establishment controls the legislature," Wrenn said, "that's sort of an 'A plus B equals C' kind of scenario."