Big GOP Donors Still Believe in Chris Christie
Donors, holding out hope for New Hampshire, say it is too early to give up on the New Jersey governor.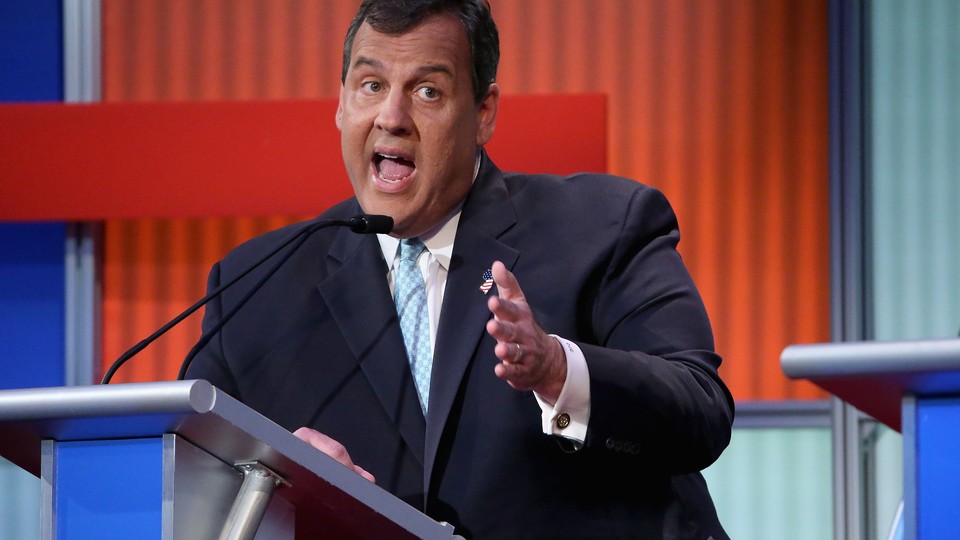 Before Fox News premiered a Republican debate last week, Bobbie Kilberg, one of Chris Christie's biggest evangelists and bundlers, dialed up roughly a dozen potential donors. She wanted them to make a pledge.
Many donors were intrigued by Christie, but they wanted to hold off on writing their checks until they saw if the New Jersey governor still was the same bellicose and straight-talking politician who had once stirred excitement in the hearts of moderate Republicans and led New Jersey through a $36.9 billion hurricane.
Christie had a message for supporters Thursday night. He may not be a front-runner, but he has still got something to say. During the 10-person debate, Christie's moments were few but memorable. And an explosive exchange on national security and data collection assured donors Christie still had more than a little fire.
"You know, when you are sitting in a subcommittee just blowing hot air about this, you can say things like that," Christie said shaking his finger at libertarian-leaning Sen. Rand Paul of Kentucky. "When you are responsible for protecting the lives of the American people, then what you need to do is to make sure that you use the system the way it is supposed to work."
In the 24 hours after the debate, Kilberg says that she heard back from eight of the 14 supporters she'd reached out to. They were ready to back Christie.
"They liked what they saw," Kilberg told National Journal.
In the last two years, Christie has slid from one of the Republican Party's most serious White House contenders to an embattled politician fighting debt-rating downgrades back home and low, single-digit poll numbers across the country. The Bridgegate scandal, a sluggish state economy, and a symbolic hug with Republican public-enemy No. 1—President Obama—have all taken their toll on Christie.
But Christie's debate performance Thursday was enough to keep a few high-rolling donors interested.
"Among a strong field of GOP candidates, I believe Governor Chris Christie and his no-nonsense, tell-it-like-it-is approach is the kind of leadership our nation needs at this time. His plan for moving our country forward is strong, clear, and devoid of the vagueness and fogginess that has defined too many of our nation's politicians for far too long," Quicken Loans founder and Cleveland Cavaliers Owner Daniel Gilbert told National Journal. "We saw a positive preview of the governor's leadership during the recent debate at the Quicken Loans Arena in Cleveland. I don't believe this presidential race has even started yet. It is a marathon that Governor Christie is well-suited to win."
Gilbert contributed $750,000 of the $11 million the super PAC backing Christie raised in the first half of 2015. And his continued support is a reminder that in the age of super PACs, a few invested donors may be all that is needed to get candidates over the next campaign hurdle.
Christie has now entered a weeklong fundraising swing along the East Coast with stops planned in the Hamptons, Cape Cod, Long Island, the Jersey shore, and Nantucket.
Yet, even with a bit of momentum after the debate, Christie still sits on the bubble between breaking through and tumbling into the bottom rung of candidates. In a race with 17 candidates competing for a small pool of donors and a just-awakening electorate, Christie's position is in flux.
As the former leader of the Republican Governor's Association, Christie had ties to some of the party's biggest donors. Yet his super PAC's haul was still bested by those of fellow candidates Marco Rubio, Jeb Bush, and Ted Cruz. During the debate, Christie—like several other non-Trump candidates—endured long lulls without any questions. And Christie barely made the 10-person prime-time stage Thursday at all.
After the debate, an early online poll from Reuters/Ipsos shows Christie outmaneuvered by businesswoman Carly Fiorina. According to that poll, which included just more than 250 Republican voters, Christie is tied with B-team debaters like former Texas Gov. Rick Perry and Louisiana Gov. Bobby Jindal with 1 percent of the vote. A Suffolk University poll Tuesday showed that while nearly 11 percent of likely Republican Iowa caucusgoers found Christie's confrontation with Paul to be the most memorable moment of the debate, just one person out of 300 surveyed thought Christie was the most impressive candidate onstage.
But Mike DuHaime, a strategist for Christie's campaign, says the field is still "completely wide open."
"Christie has methodically moved up," DuHaime says. "We feel good right now and also realize there is a really long way to go."
While the campaign points out that Christie has been spending time in several early states, Christie's strategy and his donors' hopes have long been settled on performing well in New Hampshire.
"New Hampshire really becomes the test for him," Bill Kilberg, Bobbie's husband, said before the debate. "There is no test before that that really counts."
Gene Ulm, a pollster for Christie's super PAC, America Leads, says that New Hampshire is "tailor-made for Christie."
"If you look at his travel schedule, you are seeing how much he is campaigning there," Ulm says. "John McCain did about 160 trips, and I would look for Chris Christie to beat that mark."
Ulm says polling shows that voters who go and see Chris Christie in a town hall or campaign rally in New Hampshire are twice as likely to have a favorable opinion of him.
"If you go see him, you see the power and the force of this guy," Ulm says.
Whether Christie can stay afloat, however, long enough to make his appeal to voters will have everything to do with how long his donors will stick around. For now, his debate performance was enough to keep them believing.
Correction: An earlier version of this story misidentiefied the governor's association Christie led. It was the Republican Governors Association.