Bidenmentum Has Not Reached the Senate
The vice president's former colleagues still love him. That doesn't mean they want him to run for president.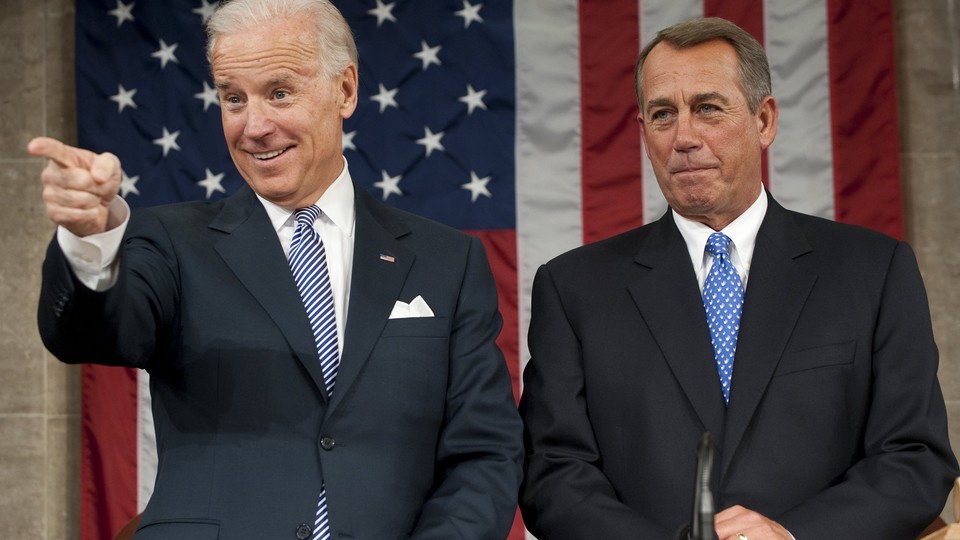 There's no doubt that Democrats in the Senate are still very fond of Joe Biden. But that doesn't mean they want him to run for president. Or that they really want to talk about it.
"I love Joe!" was the refrain on Capitol Hill Monday amid speculation about his potential 2016 presidential campaign, as Biden's former colleagues were chased down hallways and into elevators and asked about the vice president's future.
But pressed on whether Biden should actually jump into the race, a dozen Democratic members said that it would be a personal decision for the vice president, and left it at that.
(RELATED: Joe Biden's Political Moment)
The lack of Senate enthusiasm is notable. Biden served 36 years there, and his deep friendships and longtime alliances on Capitol Hill have made him the White House's most effective envoy to Congress. So if a Biden bid were imminent, it's likely he would be consulting with at least a few of his old friends.
Sen. Edward Markey, who has yet to endorse in the 2016 contest, became visibly flustered on Monday when asked whether Biden should enter the race, as he rushed between phone calls to a vote on the Senate floor. "I—I can't—I can't. I've just gotta go vote," Markey said, getting into an elevator.
Sen. Bill Nelson paused for several seconds when asked whether Biden should enter the presidential fray, finally saying: "I have talked to him and I think I'll keep that conversation private." Pressed on whether they'd discussed the presidential race, Nelson said the conversation had been about "personal things, like family."
Looming over all of these conversations is Hillary Clinton, a former senator herself, who already has the support of nearly two-thirds of the Senate Democratic conference. Any conversation about Biden entering the presidential race, at this point, could be seen as a strike against the front-runner for the party's nomination.
(RELATED: The Draft Biden Movement)
"I love Vice President Biden," said Sen. Tim Kaine of Virginia, a Clinton supporter. "He is so good at so many things, but I've already declared." Kaine noted that his early backing of Clinton also precluded him from supporting former Sen. Jim Webb of Virginia, another friend who's entered the race. "I'm not encouraging anyone to get in except for Hillary Clinton, who I support," Kaine said.
Sen. Dianne Feinstein, who encouraged Clinton to run again as early as 2013, responded with an enthusiastic "Oh, I love Joe Biden!" when asked about the presidential speculation. But pressed on whether he should enter the race, she added: "I don't know. I'm not going to go there."
Many of the senators emphasized the personal nature of the decision, saying Biden needed to listen his family—still grieving just two months after the loss of Beau Biden, the vice president's oldest son. Sen. Jon Tester, who is leading the Democratic efforts to retake the Senate in 2016, said that the decision should come down to what is best for Biden, rather than concerns about the party. "No, you know, I think it's more about Joe. Joe's been through a lot. So, whatever Joe wants to do," Tester said.
(RELATED: Should Joe Biden Chase His Dream?)
Added Sen. Christopher Coons of Delaware, Biden's home state: "I hope the vice president gets the time to make the right decision for him and his family. "¦ He needs the time and the privacy to make that decision in the best interests of his family." Coons added that Biden would bring a seasoned voice to the race on foreign policy issues, but demurred when asked if a potential Biden bid would be good for the Democratic Party.
Others were even less eager to discuss a Biden candidacy. "I think it's speculation," said Sen. Robert Menendez, when asked about the recent reports Biden is moving closer to a bid. "I don't have any thoughts about it, to be honest with you."
Sen. Claire McCaskill, a strong supporter of Clinton who backed the Obama-Biden ticket in 2008, said that whether Biden enters the race is "a completely personal decision for Joe Biden. He's my friend. We all love him dearly. We all feel protective of him, and I know he'll do the right analysis and figure it out."
Asked whether Biden would be a good president, McCaskill said he would, but added: "I obviously believe Hillary Clinton would be a better president. But I also think he would be a good president."