Joe Biden's South Carolina Strategy
The vice president's political—and personal—ties to the Palmetto state could give his presidential campaign the boost it needs.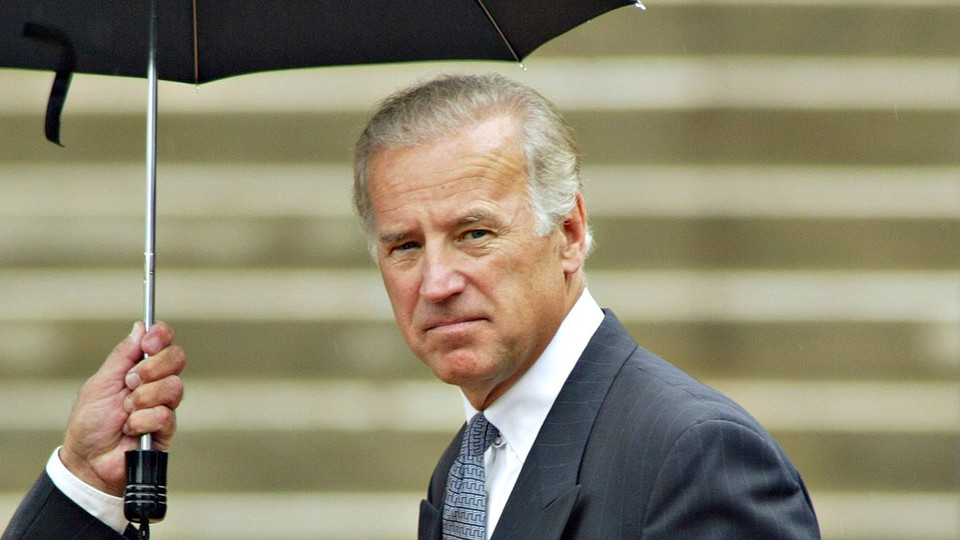 The moment was rich with irony, and Joe Biden wasn't about to let it slip past.
Here he was, a northeastern, liberal Democrat who went to Washington to take up the cause of civil rights, delivering a eulogy for Strom Thurmond, the legendary South Carolina senator best know for his staunch defense of segregation.
Biden addressed the packed funeral service in Columbia, South Carolina, in 2003 by starting with the obvious: Why had Thurmond wanted him there?  "I'll never figure him out," Biden told the crowd. The long-time senator from Delaware looked around at familiar faces. "I think this is his last laugh," he said, a smile coming to his lips.
He proceeded to deliver a nuanced remembrance of both Thurmond the accepting friend and of Thurmond the hard-line segregationist who later changed his views.
South Carolina Democrats, like former state Democratic party chairman Dick Harpootlian, sometimes refer to Biden as the state's third U.S. senator. They point to that eulogy as just one example of the deep understanding and mutual affection between Biden and the Palmetto State's political players. If Biden launches a presidential bid, as he's reportedly considering, it's South Carolina that may hold the key to his prospects.
Biden's friendship with Thurmond and with former Senator Fritz Hollings, among others, has made the vice president a regular in the early primary state for years, building what Harpootlian calls a "ready-made" network of supporters eager for Biden to jump into the presidential race. Biden's regular vacations to Kiawah Island—where he spent the past weekend—have also kept him in contact with key political players in the state.
As the vice president reportedly mulls a run for the presidency, even as he grieves over his son Beau's death, many in Washington are looking askance at the probability of a Biden campaign. Since The New York Times published a report that Biden was talking anew to confidantes about a presidential run, and columnist Maureen Dowd reported that the vice president had been implored by his then-ailing son to pursue the office, a bevy of experts have weighed in. And by any tally, most in Washington officialdom are scratching their heads.
Not without reason. Biden has tried for the nation's top office twice before, in 1988 and 2008, and he never gained much steam. A Washington Post blogger called a Biden run a "terrible idea," a post that ran under the headline, "Sorry, folks: Joe Biden is not running for president." Delaware's News-Journal quoted Larry Sabato, the University of Virginia political scientist, throwing cold water on the idea. "Probably … doomed," he said of a potential Biden bid.
But not in South Carolina, where Democrats have been clamoring for Biden to take on party standard-bearer and frontrunner Hillary Clinton. The conventional wisdom hasn't figured in the boost a win in an early primary could give him. "The Democratic nomination for president will be decided in South Carolina," said James Smith, a South Carolina lawmaker and key figure in Democratic circles. "There's such an appetite for Joe—and also not Hillary. There is Clinton fatigue."
Politically, Washington pundits have noted, Biden and Clinton agree more than not—Bernie Sanders plays a more obvious and better Clinton foil than Biden. And the vice president's unscripted warmth is often charming, but can also produce gaffes, be accidentally offensive or lead him off-message.
Farther South, where relationships and warmth are prized, the feeling is markedly different. While Biden and Clinton are politically close, especially on domestic issues, it is Biden's candor and loose campaign style that contrasts starkly to Clinton's more scripted and calculated approach, Biden supporters argue.
"If he got in the race for the nomination my guess is he would win South Carolina," said Richard Quinn, a Republican political consultant. "[Clinton's] negatives, I've done polling on her, and her negatives in South Carolina are very, very high. [Biden's] just a likeable guy. Everybody likes him. He's personable and you don't hear anybody say he's a jerk."
Quinn believes Clinton is her own worse enemy, as she continues to weather a succession of political storms. "I have learned over the years that voters have incredible intuition about a candidates veracity," he said. "Some candidates are so good they can fake it. Bill Clinton was that good. She's not that good."
Biden's office and a spokeswoman for the Clinton campaign did not return requests for comment.
Smith, the state lawmaker, has kept in regular touch with Biden, attending his annual Christmas party in the District, among other events. Like other South Carolina pols, Smith said he grew closer to Biden because of his long-held determination to ensure he grasped the world outside the D.C. bubble.
When Smith, who is in the National Guard, was deployed to Afghanistan in 2007 to lead a unit near the Pakistan border, it was Biden, then the chairman of the Senate Foreign Relations Committee, who checked in with him. Smith said he had the then-senator's cell phone number and was encouraged to call.
Biden told Smith he could call a general whenever he wanted but preferred to have the on-the-ground view from the troops.
It's a trait that Hollings, Biden's longtime colleague in the Senate, said the presidency could use.
"He's a wonderful fella and smart and knows everybody and speaks to Mitch McConnell," said the 93-year-old Hollings in a recent phone interview from his office in Charleston. "He knows politics and how to work a Congress. Poor Barack doesn't."
No one doubts that a bid against a better-funded, better-organized Clinton would be an uphill battle in South Carolina or anywhere else. Clinton supporter Bakari Sellers, a former Democratic state lawmaker, said Clinton's personal skills have also been underestimated. The former secretary of state is doing an increasingly good job of showcasing her personal and political skills, he said.
"We want to see the campaign 'take the reins off Hillary' because of the fact that she does have the ability to touch people in a very unique way," Sellers said. "I think that will happen. It's still early. It can't be a repeat of 2008. It has to be a campaign centered on energy… and they're getting there and Joe Biden is going to push them to get there a lot quicker."
Sellers, a young, African American Democratic Party leader, said neither candidate could claim closer ties to the state's crucial black voters, who make up the majority of Democratic voters in the state.
He said Clinton knows the potential challenge Biden poses.  "The people who are in the inner circle are only one phone call away," Sellers said of Biden.
Harpootlian, the former state party chairman, said he donated $10,000 recently to the Draft Biden super PAC, which is organizing ahead of Biden's potential announcement. He and other supporters are assembling a list of crucial Democrats in the state who they plan to recruit. Harpootlian says he's fielded phone calls from Democrats who have expressed support for Clinton but would switch allegiances if Biden gets in the race.
"I always liked Bill," Harpootlian said of the Clintons. "Still like Bill. He's got it, he gets it; I don't think she does."
The last Democrat to win a third presidential term for the party was Franklin D. Roosevelt in 1940, who succeeded himself in a historic situation amid World War II.
Harpootlian says with history stacked against any Democratic candidate, he believes Clinton is a lackluster candidate who couldn't beat any Republican in the field, with the exception of outspoken businessman Donald Trump. Harpootlian says he's "desperately hoping" Biden runs.
As for overcoming a better-funded candidate and a tide of doubt about the endeavor, Harpootlian has one key to a Biden victory in South Carolina. "Announce," he said.