Bernie Sanders's Team Is Embracing Former Elizabeth Warren Backers
In Iowa, Sanders has rounded up the old Warren draft effort's top staff, and many supporters have jumped over in New Hampshire.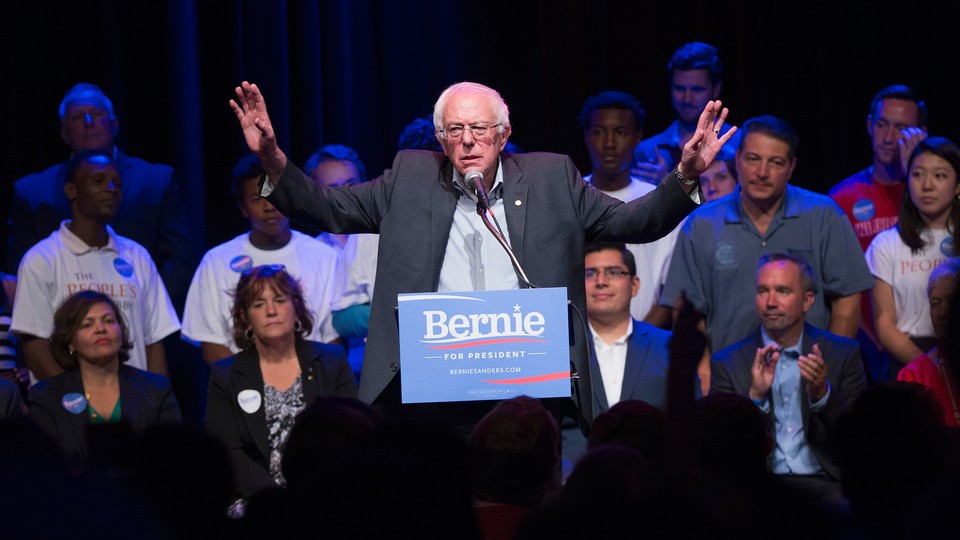 When the effort to draft Sen. Elizabeth Warren to run for president failed, Sen. Bernie Sanders's campaign incorporated much of the movement into its larger infrastructure. That now appears to be paying off.
In Iowa, Sanders's field director is Blair Lawton, who was field director for Run Warren Run, an effort by Democracy for America and MoveOn.org to encourage the Massachusetts Democrat to campaign for president. Along with Lawton, who joined in June, the Iowa team also includes Susana Cervantes, Beth Farvour, and Margaret Jarosz, who were all also affiliated with Run Warren Run.
Saba Hafeez, who as part of MoveOn.org helped deliver more than 365,000 signatures to Warren encouraging her to run and was part of the organizing effort at the University of Iowa, said she is now backing Sanders because of his authenticity.
(RELATED: Bernie Sanders's Climb to the Top)
"I was just getting into the political phase," Hafeez said. "I loved what Warren was saying. I have never been against Bernie at all."
Hafeez, who is a student, also said that she did not consider Sanders a backup option to Warren, and that she had applied for a job to officially work on Sanders's campaign.
"I am definitely going to volunteer," she said. "If I get a campus-organizer position, I'll do that."
A Sanders campaign official in New Hampshire formerly involved with Run Warren Run told National Journal that many of the people involved in the Warren effort are now working on Sanders's campaign.
(RELATED: How Bernie Sanders' Popularity Creates Trouble for His Campaign)
"It's hardly even recruitment," said the Sanders official, who asked not to be attributed when speaking about the campaign. "When Bernie announced and it was clear Senator Warren wasn't running, it was the natural thing to do."
"Sanders hadn't declared yet," Jerry Curran, chapter chair of the New Hampshire Sierra Club, said of the time when he was working on the Warren effort. "It was a draft campaign for Warren. We didn't know Sanders would be declared. As soon as he did, that was a no-brainer."
Despite the insistence of many Warren-turned-Sanders supporters that Bernie is not a second choice, the timing suggests otherwise. Sanders had been teasing the idea of a presidential run for quite some time, whereas Warren had explicitly said on numerous occasions that she had no interest in running for president.
(RELATED: There's Something About Sanders)
Sanders has been gaining steam in New Hampshire lately. A poll released last week showed Sanders beating former Secretary of State Hillary Clinton among likely Democratic voters within the margin of error. Sanders's New Hampshire campaign official said the campaign is planning to channel that momentum into a strong ground game.
"By the end of next month we'll have a large crew of people working throughout the state," the official told National Journal, adding that there were plans to open offices in the major towns and cities, including one in Manchester that will serve as the statewide office because the current Concord headquarters has gotten too small.
During the effort to draft Warren, Run Warren Run got 27 former and current members of the New Hampshire state legislature to sign a letter encouraging Warren to enter the race. Of the signers, 10 now back Sanders, compared with three who back Clinton and only one who backs former Maryland Gov. Martin O'Malley.
"My support for wanting Warren to run was based on issues. When it was clear she wasn't going to run, there was only one candidate," said former New Hampshire Senate Majority Leader Burt Cohen, who cosigned the letter.
State Sen. David Watters, who also cosigned the letter but backs Clinton, said Clinton has moved forward on issues that Warren has pushed.
"The main Democratic candidates, Sanders, Clinton and O'Malley, are really very close and I think it's a tribute to Senator Warren's efforts," Watters said. He also said he thought Clinton would be the best candidate to both win a general election and implement progressive policies.
Cohen said that despite the support and momentum, there is still a recognition that winning New Hampshire will be a huge challenge for Sanders.
"I don't know how many paid staffers Clinton has. It's difficult odds to start up against," he said, adding that get-out-the-vote efforts will be vital.