Bernie Sanders's Nurses' Union Endorsement Comes Despite Labor Concerns About Electability
Union members throughout the labor movement have been clear that they like the Vermont senator. But until this week, crucial support has been hampered by the belief that Hillary Clinton is better suited to win.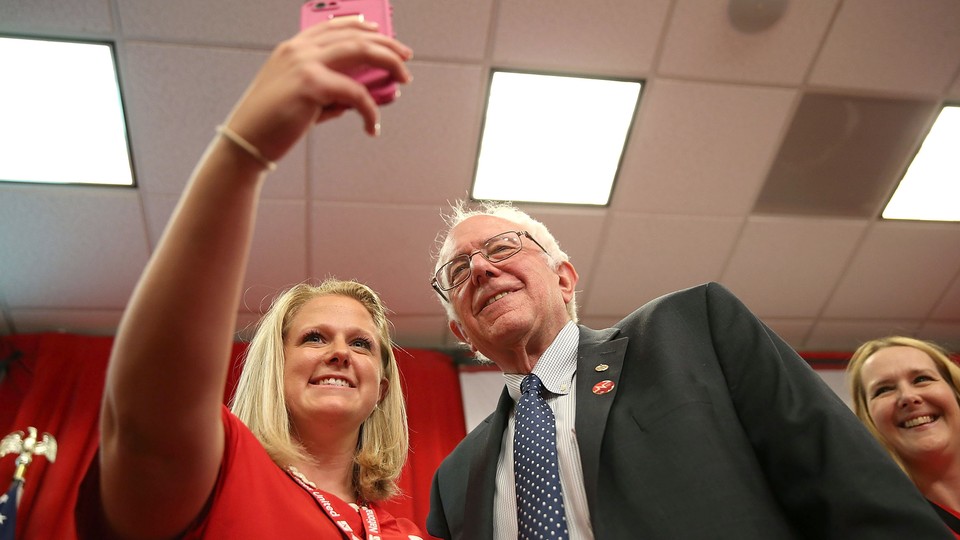 When National Nurses United Executive Director RoseAnn DeMoro announced that her union would be backing Sen. Bernie Sanders for president, she introduced him as the next president.
"Don't let anybody tell you that can't happen," DeMoro added ahead of Sanders's address to nurses both in Oakland and calling in from other parts of the country. DeMoro wasn't just speaking to a skeptical press or outside audience. Doubts about Sanders's electability have permeated the labor movement.
Last month, when the American Federation of Teachers announced its endorsement of Hillary Clinton, the response by some local teachers' union members was that while they liked what Sanders said generally, the question of electability factored into their decision.
"I love Bernie," Daniel Montgomery, president and chief operation officer of the Illinois Federation of Teachers, told National Journal last month. "I think most people don't think Bernie is going to be president."
AFT president Randi Weingarten, who sits on the board of the pro-Clinton super PAC Priorities USA Action, tweeted last month, "We love Bernie, but on ability to win, member support, it's Hillary."
But Charles Idelson, spokesman for the National Nurses United, told National Journal that it was Sanders's opposition to both the Keystone pipeline, which Clinton has repeatedly punted on, and the Trans-Pacific Partnership, the free-trade deal that many progressives oppose, which made Sanders stand out against Clinton.
"She has not taken a position on TPP," Idelson said. "That's a core issue for labor. Labor has been totally unified."
Of course, one of the biggest endorsements from organized labor would be from the AFL-CIO, which boasts 56 unions according to its website and is one of the most influential organizations. The South Carolina and Vermont arms of the AFL-CIO have passed resolutions supporting him, but the national union has not endorsed so far.
Last month, the AFL-CIO's executive council heard from Sanders and Clinton, as well as Democrats former Maryland Gov. Martin O'Malley and former Sen. Jim Webb of Virginia, as well as Republican former Arkansas Gov. Mike Huckabee. Sanders said he was confident that in the future, the AFL-CIO would determine he is the best candidate for labor.
"I have walked the picket lines," Sanders said during a Q&A at the event in response to a question about whether unions would support his candidacy over others. Sanders has an overall voting record of 98 percent from the AFL-CIO, while Clinton had a lifetime voting record of 94.
The nurses' union has shown it is not afraid to break with the Democratic establishment. In 2008, the predecessor to what would become National Nurses United endorsed then-Sen. Barack Obama over Clinton in the contentious Democratic primary and National Nurses United later criticized Obama as president when he announced a two-year wage freeze for nonmilitary federal workers, arguing it would hurt Veterans Administration nurse-recruiting efforts.
While National Nurses United made the formal announcement Monday, its members hinted they were likely to back him beforehand, featuring him at a rally in Washington celebrating Medicare's 50th anniversary. In addition, according its midyear report, National Nurses United's political action committee gave $1,000 to Friends of Bernie Sanders, for his 2018 Senate reelection campaign in January but didn't give any to Clinton.
Sanders's biggest hope is that his clear stances on trade and the environment will supersede union members' anxieties that he is not an electable or viable candidate.