Bernie Sanders Has a Nevada Problem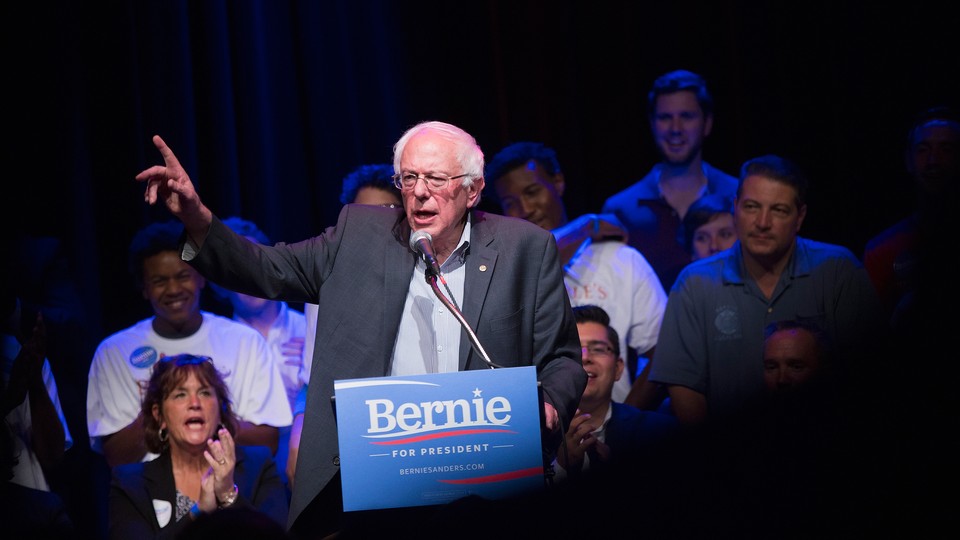 LAS VEGAS—Bernie Sanders has rapidly gained support in the first-in-the-nation voting states of Iowa and New Hampshire, creeping up on Hillary Clinton and raising the possibility of mounting a real challenge to the Democrats' primary front-runner. But in Nevada, the third state on Democratic primary calendar, Sanders faces a challenge that thus far has been the principal sticking point of his campaign: moving past a core supporter base that is largely white, and winning favor among minority voters.
Unlike the first two states on the map, in Nevada, minority voters are poised to play a major role in picking the Democrats' winner. Nonwhite voters make up just less than half of the state's population, while white voters are much more dominant in New Hampshire (92 percent) and Iowa (88 percent).
"Politically, Vegas is such a melting pot," said Yvanna Cancela, political director for the Culinary Workers Union Local 226. "So looking into a presidential year, New Hampshire and Iowa are important but Nevada really tells the story of where America's at just because our electorate is so diverse ... it does tell the story of how people are leaning and what messages will actually be persuasive."
Of course, Sanders has the option of waving the white flag in Nevada and focusing on states where he's faring better in the polls. But passing on Nevada raises real questions about his ability to compete on a national level. After all, in terms of its demographics, Nevada, far more than Iowa or New Hampshire, mirrors the country as a whole—and provides a far more accurate microcosm of the Democratic party.
In the United States, 63 percent of the population is white, followed by 17 percent Hispanic, 13 percent African-American, 5 percent Asian-American and 1.2 percent Native American. In Nevada, the population is 52 percent white, 28 percent Hispanic, 9 percent African-American, 8 percent Asian-American and 1.6 percent Native American.
And for Sanders, who hails from equally white Vermont, finding a message that resonates with minority communities has posed a challenge thus far. While Clinton had an 80 percent favorable rating among nonwhite Democrats in late July (before his run-ins with Black Lives Matter activists), per Gallup, Sanders's rating with the demographic was just 25 percent.
The most high-profile face-off came earlier in August at a campaign event in Seattle, where Sanders was driven off the stage by activists from the BLM movement. (The group also protested during his appearance at the Netroots Nation conference in Phoenix in July.)
Unlike Clinton, who's a "known entity" to minority communities in Nevada, said former state Assemblyman Jason Frierson, Sanders hasn't focused his attention on those groups in the past. "It's a reflection of the state he's from—but he's not running for president of Vermont," he said.
And among Latinos, the questions are similar. At an event with the U.S. Hispanic Chamber of Commerce in Washington this summer, Sanders responded to a question about his platform for Latinos by saying his policies benefit all demographics. "I think our economic agenda, which says that we have got to reach out to working-class, low-income families … that will be a proposal I think many Hispanic families will respond to," he said.
At the time, Javier Palomarez, the group's president who questioned Sanders during that event, said he wanted to hear more details from Sanders on his plan for Latinos—but that coming from Vermont, it's an issue he's had little past experience with. "Absolutely, I wanted to hear more specific examples," he in July. "But again, in fairness, he comes from a state that 97 percent of the population is white. So you have to be fair."
More than a quarter of Nevada's population is Hispanic, according to Census Bureau estimates from 2013. The group plays a huge role in politics there—and especially with top state-level and congressional Latino candidates on the ballot, such as Democratic Senate candidate Catherine Cortez Masto and congressional candidate Ruben Kihuen, Democrats in the state will be working to boost the Latino turnout as much as possible.
Tad Devine, Sanders's top national strategist, said the campaign is working to improve his standing with Latino and African-American voters, beginning with helping introduce Sanders to those communities. His campaign hired Symone Sanders, an African-American woman and supporter of the BLM movement, as his national press secretary.
"It's really important for Bernie to become better known by the Latino community, the African-American community," he said, noting that Sanders's own immigrant experience—his parents came to the United States from Poland—will help him connect with other immigrant communities. "That process has already begun from outreach we've done."
But that requires direct outreach, and without a campaign operation set up on the ground thus far, the senator will have some catching up to do if he wants to make a serious play for the state.
Clinton has made specific outreach to African-American and Latino voters a big part of her campaign from the start—and has used her campaign stops in Nevada to further that message. Her first event in the state, back in May, was when she proposed going even further than President Obama's executive action on immigration. And after a video surfaced of a tense meeting Clinton held with BLM activists earlier this month, it was to North Las Vegas she went the following day to reaffirm that "black lives matter" and answer questions in a heavily African-American part of town.
Clinton's team has also had high-level surrogates campaigning to various groups in the Las Vegas area. In mid-August, New Jersey Sen. Cory Booker spoke to a predominantly black audience in North Las Vegas and took questions about Clinton's record on criminal-justice issues.
That said, there are certainly elements of the state's political makeup that could give Sanders a leg up. It has a strong union population, particularly in Clark County (where Las Vegas is located). Sanders, Clinton and former Maryland Gov. Martin O'Malley came in mid-August to speak to the state AFL-CIO Convention on the Las Vegas Strip. The all-powerful Culinary Union in Las Vegas has yet to endorse a candidate, and if Sanders—who typically gets high marks from union members—were to earn its support, it would be a major coup.
Devine disputed the notion that the Vermont senator will have a difficult time in Nevada—in fact, he argued that the union factor, combined with the caucus system that favors candidates with grassroots enthusiasm, will make it fertile ground for the Sanders campaign. Sanders came to Reno in mid-August and drew a crowd of 4,500 to his rally, which Devine noted is a sign of strong grassroots support in the state.
"Nevada is going to be a place where we can compete vigorously," he said. "We're going to have a serious presence on the ground."
He'll need to work hard to catch up in that respect, though: Clinton's team has a team of 22 staffers already on the ground in Nevada, many of whom arrived back in April when she officially launched her campaign. Her campaign has put a premium on early organizing efforts, building on the campaign she ran here in 2008 and the long-standing relationships with Democrats here that strategists say will be a big plus.
"The Clintons have a longstanding relationship with the state," said Billy Vassiliadis, a longtime Democratic strategist. "The Clintons are used to being in and out of this state, they've been successful here, they've got long term relationships."
As of now, the Sanders campaign has no paid staffers in the state; Devine said the campaign has discussed hiring a state director and that Nevada-based staffers are "definitely on the horizon."
State Sen. Tick Segerblom, a Sanders supporter, said that if Sanders decided to prioritize Nevada that there are many people in the state who would be "receptive" to his message. "Hillary does have offices and they're out there actively and working hard," he said. "But at the end of the day, if he wants to make a play for it, he certainly can do that."