Ben Carson Comes to Harlem
The Republican presidential candidate makes his case to black voters, trying to tap a deep vein of conservatism that runs through the African American community.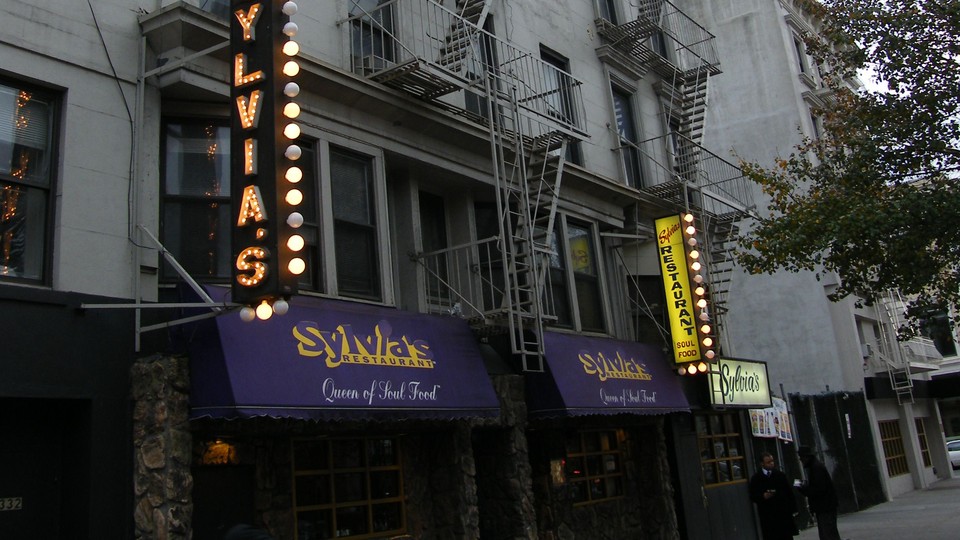 On Wednesday, Ben Carson came to Sylvia's soul food restaurant, an iconic eatery in iconic Harlem, located along Lenox Avenue near 127th Street. The restaurant is a meeting place for black power brokers in this hub of black Democratic support, which Carson, a Republican candidate, wants to tap into in his campaign to become the next president of the United States.
"We Democratic people. We don't deal with Republicans," said Eddie Francis, 70, sitting a block from Sylvia's, under a white tent, where from a table he sold avocados, mangos, and bananas outside a laundromat. "Being a black Republican make it worse."
Carson has recently surged in the polls, and he holds second place, behind Donald Trump, among likely Republican caucus goers in Iowa. But in black communities like Harlem, he is very much an outsider.
"This has to become of a trend," said John Burnett, an advisor for the New York State Republican committee, who helped organize Carson's meeting at Sylvia's last week with about two dozen business, religious, and community leaders, mostly black and Latino, affiliated as Democrats, Republicans, and Independents, "to bring Republican candidates to an iconic symbol of black American culture, which is Harlem. We need the full political process at work to empower black America."
The black and gold marquee outside the restaurant is synonymous with black soul, black culture, and black achievement. Its matriarch, Sylvia Woods, built the brand from a greasy spoon back when Harlem was flooded with poverty, drugs, and political neglect. Carson, a poor boy from Detroit, turned himself into a renowned pediatric neurosurgeon, and an icon of black accomplishment.
Still, Sylvia's was as an unlikely campaign stop for Carson's campaign and its brand of conservative politics, both of which have largely resonated with white evangelicals. Carson did not visit Harlem to raise money; his campaign picked up the check at Sylvia's. Carson came to bring a message, to talk directly to liberal blacks who tuned out of the debates and coverage, and would never entertain the thought of voting Republican. He came to try to put his shared black experience over his political ideology. By breaking bread and shaking hands in an urban black mecca, he also put his Republican opponents and Democratic candidates on notice that he still holds a place in the heart of the black community.
Inside the banquet hall, black and white photos of stars such as Ella Fitzgerald, Billie Holiday and Gordon Parks decked the pumpkin-colored walls. White linens and single red roses dressed the round tables. The sweet smell of soul food magnetized security staff and interns. Carson, 63, dressed in a gray suit and red tie, sat next to Candy, his wife of 40 years, and chatted over bites of fried chicken, collard greens, and three-cheese baked macaroni. He sipped water instead of the signature uptown iced tea. Reverend Vernon Williams, the pastor of Perfect Peace Ministries of Harlem, who works with at risk youth in the neighborhood, offered an opening prayer, thanking God for Carson, his legacy, and the message he was about to deliver.
"So many people have given up on the dream of the United States," Carson said. And that is what his campaign is about, he said, "bringing hope back, in the right way."
There was a time when Carson had little hope, he said. Sitting on the "ghetto stairs" of his childhood home in Boston, where he and his mother moved from Detroit after his parents divorced, he realized that they had money for nothing. And, Carson said, he thought: "I will never live to be more than 25."
"Because that's what I saw all around me. Death," he said. Sirens and gunshots. Bloodied bodies splayed on the street. Two of his older cousins had been murdered, Carson said. His mother, Sonya, who grew up in rural Tennessee, cobbled together no more than a third-grade education. She left the house before dawn to go clean other people's houses. She could never bring herself to rely fully on public assistance, Carson said. So she worked. And she pushed books, like she saw in the children's rooms of the houses she cleaned, on her two sons: Carson, a then-feeble student, and his older brother Curtis, who is now a mechanical engineer in Georgia.
"I hear a lot of people, particularly progressive people, who say, 'Carson is a hypocrite, because he grew up and received stuff, assistance,'" Carson said. "'And now he wants to take it away from everybody else,' which is a just a total, blatant lie." Carson joked how a black woman stopped him at the airport to ask why he didn't want poor people to have healthcare. "I don't know where they get that," he continued. "Well, I do know where they get it from, they have to demonize you. But the fact of the matter is I do believe in safety nets, for people who actually need them."
Carson taps into deep strains of black conservatism, a philosophy that asserts that blacks must utilize personal responsibility and self-empowerment to reach economic and social stability. Black conservatism has roots in the social and cultural orthodoxy of the black church, which generally does not support abortion or marriage equality. It traces back before Booker T. Washington, who Carson has said is one of his heroes, an educator who stressed that blacks hard labor would mean social equality. It runs through Pharrell Williams, who faced widespread criticism on social media last year after telling Oprah Winfrey that: "The New Black doesn't blame other races for our issues." Carson campaigns on a political ideology that tells black Americans that, despite their race and their socio-economic status, they can still write their own tickets. He tells them that no one else can hold them down.
And, this is where Carson tends to split with some in the black community, where he touts prayers and resolve; where he testifies how books opened his mind and made him see that the poverty he grew up hating was temporary, that he alone had the power to change it; where he warns that society must invest in the "young man walking with his pants hanging down" or become afraid of him later; where he seems to blow by the sturdy, steel structure of institutional racism.
Programs like the multi-billion War on Poverty have been a failure, Carson said. But black unemployment in America is now nearly double the national rate, and twice as high as white unemployment. For black Americans, having access to higher education and high-paying jobs has done little to narrow the wealth gap. Some protesting in Ferguson under the banner of "Black Lives Matter" might cringe over Carson's take on police-community relations, that officers and black residents need to see each other as "friends" (a remark about community policing that garnered a few nods at Sylvia's). But one strong message Carson brought to Harlem was what he called the manipulation of the left, liberal programs that he said have not only failed the black community, but actually weakened it.
"I don't believe it's particularly compassionate," Carson said, "when you just pet somebody on the head and say, 'Here, you poor little thing, and I'm going to take care of your food, housing, give you a telephone and do all this stuff for you. And all you got to do is recognize that I'm the one, and make sure you vote for me.' You know these kinds of things have not worked." But the social and economic inequalities in communities like Harlem could turn about, Carson said, if the black community stops being politically predictable.
Across the street from Sylvia's, Cornelius R. Ricks sat on the corner under a red-black-and-green sign, the colors of the Pan-African flag, that read: "Ferguson is Everywhere." He also had a banner asking those who read it to: "Stop The Urban Youth Violence. See Black People Living, Loving and Respecting Each Other." Ricks sells replica Negro League baseball hats at the stand to raise funds for his anti-violence group. He raised the same question as Carson at Sylvia's. "What has the Democratic Party done for Black Americans?" Ricks said. "When are black people going to hold officials accountable for what they are elected for?" If anything, Ricks said, Carson, based on his journey, may do more than any of the other presidential candidates. "We just need a chance," Ricks said, "and we can achieve anything."
If elected, Carson said, he would restart the country's economic engine by lowering the corporate tax rate, closing fiscal gaps, like the U.S. borrowing money from China to send aid to Pakistan, and he would replace the current tax system with a proportional income tax. He would use the combined savings, Carson said, to create jobs for the unemployed. He also told those at Sylvia's that he would build incentives for entrepreneurs, and attitudes to turn over wealth in communities like Harlem, a few times, before residents "send them out."
"That's how wealth is created," said Carson. But wealth creation has stalled in the black community, Carson said, largely because of internal strife. "The purveyors of division," Carson said, "they have fought very hard to make sure that conservative blacks and liberal blacks don't ever talk together and never see themselves as having similar causes. They demonize one to the other. As a result, they divide and conquer. Exactly the same attitude that prevailed during slavery."
At the close of the lunch, Reverend Williams asked the would-be president how he would address the growing number of un- and under-employed black and Latino youth in Harlem, spit out of what Williams called a poor education system and a biased criminal-justice system.
"School choice, I think is critical," Carson said. "And if that requires a voucher program, so be it. But we have to give people the ability to move. That's the only thing that's going to force the improvement of the public school system." Carson said schools must also restore vocational programs. "Those people make a lot more money than a lot of people who go to college."
As Carson left Sylvia's, he turned on 125th Street to tour the storied retail strip, followed by a pack of reporters. Past African vendors selling jewelry, DVDs, incenses, ties, and selfie sticks. Past a gray-haired black woman selling cold bottled water. Past federal postal workers handing out fliers to protest mail services at the Staples. Past a girls' drill team practicing their steps outside of the H&M to a steady drum beat.
Robert Rice rushed Carson to thank him for changing his life. Rice, 47, a Harlem native, had dropped out of school after the 10th grade, caught up in smoking marijuana, and later consuming other drugs. Or perhaps he left school because he never really learned how to read or write. As Rice later studied for this GED, he said his pastor gave him a copy of Carson's memoir, Gifted Hands. "Just how he changed his life," Rice said. "It inspired me." Rice is now a state chaplain. "Absolutely, I would vote him, why not," Rice said, grinning. "But it's going to be a tough to get a Republican in there."