Asians Now Outpace Mexicans In Terms of Undocumented Growth
Chinese, South Koreans, and Indians among the fastest-growing segments of undocumented immigrants.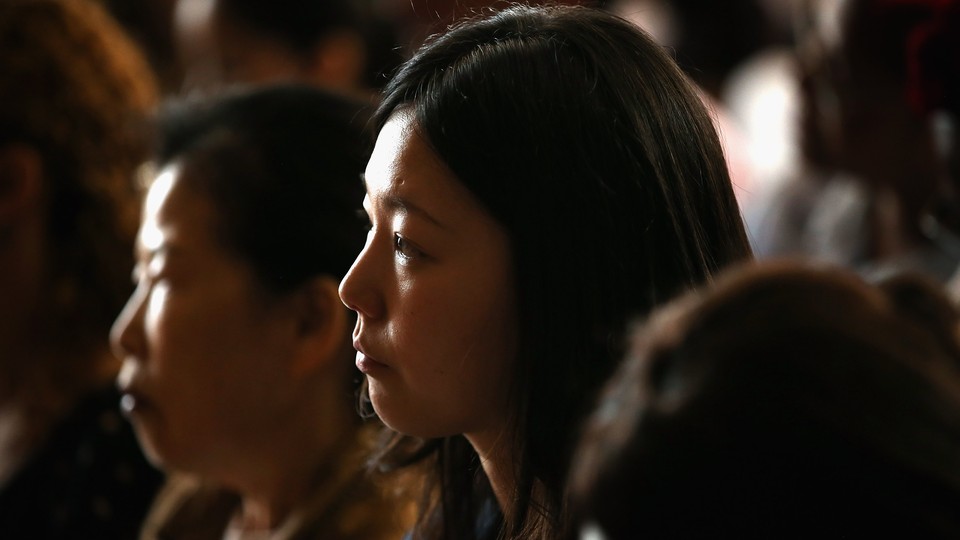 Someone tell Donald Trump that he's picking on the wrong immigrants. Turns out that, since 2000, unauthorized immigration from Asia has grown at rates much faster than from Mexico and Central America. That's according to a new report by the Migration Policy Institute. So Trump will need to amend his ideas for "securing our nation's borders."
(Related article: The three fastest-growing Latino groups will surprise you.)
At 6 million, Mexicans still represent the majority of the 11 million unauthorized immigrants in the country. But the percentage of those arriving has slowed since the recession. During that time, however, Asian unauthorized immigration has increased considerably. From 2000 to 2013, it increased 202 percent, according to the report.
A curious reason for this, says Marc Rosenblum, deputy director of U.S. immigration policy at MPI, and coauthor of the study, is that income in some Asian countries has risen. "That can be counterintuitive," he says, "since you often think of immigration is something that low-income people do."
(Related article: Why the 'illegal' population stopped growing.)
In the 1990s, the unauthorized population in America doubled from 3.5 to 7 million. It reached its apogee in 2007 at 12.2 million. Then the recession hit.
As demand for low-skilled, low-wage workers waned, so did the number of those who came to the U.S. and traditionally filled those roles. In greater numbers than any other group, the unauthorized Mexican immigrant population has dropped after the recession.
"I think it's safe to say that the unauthorized immigrant Mexican population is unlikely to return to the high growth rate that it did in the 80s and 90s," says Rosenblum.
In that same time, the number of African unauthorized immigrants doubled. Similarly, the number of unauthorized immigrants from Asia tripled.
What happened in that time, Rosenblum says, is that as the economies thrived in places such as China, South Korea, and India, people there could now afford to migrate to the U.S.—both legally and illegally.
For example, in 1990, there were an estimated 28,000 unauthorized immigrants from India in the U.S. There's now more than 284,000. Those numbers mirror the rising share of legal Indian immigrants coming to the U.S., and also America's growing Indian-American population.
The Asian countries with the largest growth are India (306 percent), South Korea (249 percent), and China (148 percent) .
In fact, if stretched back to 1990, India's unauthorized U.S. immigration growth far outpaces any other country's, reaching 914 percent.
Asians now represent about a third of the foreign-born population in America—equal with the Mexican foreign-born population. They also represent 14 percent of the unauthorized population. That number, by the author's own projections, will grow in the coming decade.
So what does this mean?
First, the political emphasis on securing the U.S.-Mexico border might lose importance—at least in reality, if not in rhetoric.
"I think we can say that given what we know "... it probably does receive disproportionate emphasis," Rosenblum says. "It would not be at the top of my to-do list, whether in national security or combating unauthorized immigration."
Some countries with the highest unauthorized immigrant growth from 2000 to 2013 are: