Apps in Schools Do More Than Expected
A growing range of apps, cloud-based tools, and other innovations allow teachers, students, and institutions to enhance learning.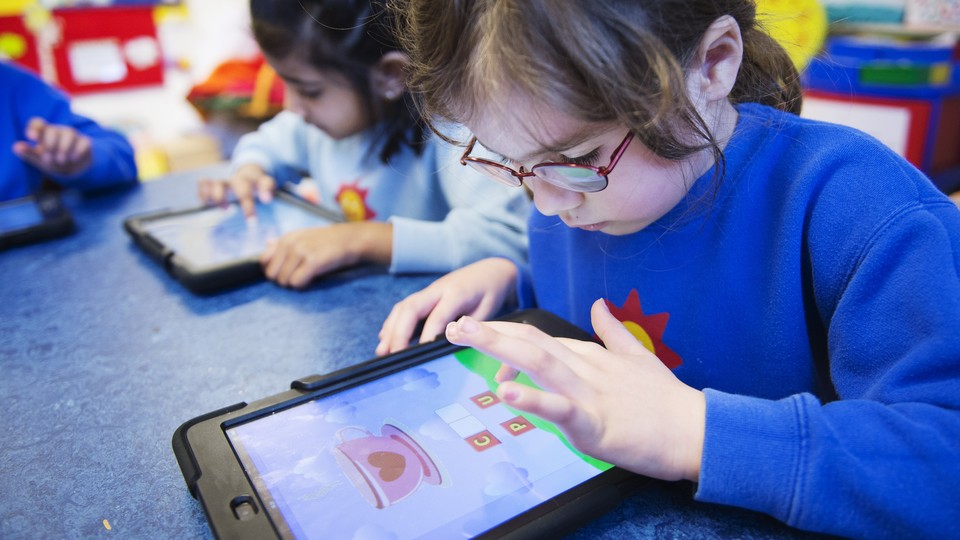 As students head back to school this week, they will enter classrooms that are more digital and tech-oriented than ever. The fierce debates of just a decade ago about whether technology should play a role in learning have largely dissipated, leaving more specific questions about how it should be used in its wake.
According to a new McGraw-Hill Education study, nine in 10 parents think digital learning can "enhance classroom-learning experiences," and nearly three-quarters think tech is a primary solution to many of today's educational challenges, such as outdated textbooks. Historically a textbook publisher, the company has reinvented itself as a digital learning entity in recent years. It clearly has a lot invested in parents buying into the idea that education should involve tech, and is pleased with the results of the study.
Peter Cohen, U.S. Education Group President of McGraw-Hill Education, points out that tech allows teachers to get immediate feedback on what a student is or is not learning and to offer tailored assistance. A mini assessment built into a computer program can pinpoint where a kid is having trouble in real time, without having to develop, give and grade a quiz.
"That, from a learning standpoint, is actually huge," Cohen told Next America ahead of the survey's release. He noted that the earlier a teacher can intervene, the less time a student will spend having to "unlearn" erroneous information. He also acknowledges that there are hurdles.
"Technology isn't the panacea itself," Cohen said. "It doesn't automatically equate to better effectiveness and better outcomes." Teachers need to know how to use the technology a company like McGraw-Hill creates. While Cohen says his company tries to create products that are easy to use and are adaptable, teacher training remains a challenge.
Cohen is less concerned about student access to technology, and the study indicates that parents agree. The survey suggests that parents are overwhelmingly confident that all classrooms will be "plugged-in" by 2025. Cohen "unequivocally" believes that will be true.
While it is fair to say that most families are connected today, it is also true that school districts continue to purchase textbooks (instead of strictly digital tools) to accommodate students without computer access at home.
On the other end of the spectrum, a broader issue for connected families and schools is the sheer abundance of companies hawking "education" apps and products for students.
While McGraw-Hill and its competitors design products to meet state education standards, that's not true for many of the more than 80,000 apps that purport to be educational. Teachers and schools can vet the apps and materials they use to supplement lessons, but until recently, parents were largely left to their own devices. And while no one is saying a parent can't identify what is best for his or her child, some guidelines might be helpful.
This spring, researchers published four standards for what constitutes an educational app in the journal Psychology Science in the Public Interest. A student should be actively involved with an app, not just passively observing. She needs to be engaged. Apps that uses gimmicks like music without a purpose are distracting, not engaging. An app should also be relatable, meaning a student can tie what he is learning through the app to past knowledge or to his personal experience. The final standard is social interaction. An app should let students interact with one another as they learn.
Apply these guidelines and a lot of apps don't make the cut. But a growing number appear to be aiding education, not just gamifying it for profit. As Cohen and other digital learning advocates rightly point out, apps can and do help students learn. You just have to know where to look.
We chose a handful of apps educators have endorsed:
Choreo Graph App
Fast Company recently took a look at Choreo Graph, which was developed by the New York Hall of Science to get students interested in STEM (science, technology, engineering and math). The whole piece is worth a read, but the app aims to teach kids math concepts by allowing them to take and animate photos. The idea is to encourage and direct the play and curiosity that kids display naturally instead of demanding that they channel all of that energy into listening to a lecture about math and science that has little grounding in their experiences.
As Margaret Honey, president and CEO of the science museum in Queens says in a video about the project, the aim is to take kids from "passively absorbing information to actively creating information."
As Fast Company notes, the app is new enough that there isn't solid data to prove that kids who use it do better in STEM classes or that they are more interested in STEM careers, but anecdotal evidence is favorable. That's a good thing because the U.S. needs more students to pursue STEM careers to be competitive. Right now, too few students go that route and the country relies heavily on foreign tech workers to fill job openings. But the Department of Labor predicts that STEM jobs will only increase in importance in the future.
By engaging kids early with a tool like Choreo Graph, educators may be able to spark a long-term interest in STEM fields.
Ball State Achievements App
College enrollment has climbed among low-income students, but retention has remained a persistent problem. Often low-income students are the first in their families to attend college and the experience can be a culture shock. While organizations like the Posse Foundation provide mentors and foster a sense of community, they serve a limited number of students. Ball State University in Muncie, Indiana has developed an app to keep these young people engaged.
As the Chronicle of Higher Education reports, Ball State Achievements is an app geared toward students who receive Pell Grants, federal aid for low-income students. Students can earn points for things like studying at the library, going to a football game or even watching a movie screening and then cash them in at the campus bookstore or even the university Starbucks.
While earning good grades results in more points than, say, catching a game, the idea is to engage young people in all facets of campus life, not just the academics. According to the Chronicle, half of Ball State's Pell Grant students downloaded the app and those who used it last year had higher GPAs and were more engaged in college activities. While the app is limited to Ball State right now, it's a scalable idea that other colleges could replicate and customize. The app also presents an opportunity to gently prod students if their grades dip or they start to skip class.
Google for Education Tools
Yes, Google is a massive tech company that recently announced revenues of nearly $18 billion. And yes, there are lots of valid concerns about what Google is doing with all of the data it collects. (Last spring, after it was hit with a lawsuit from privacy advocates, Google announced it would stop scanning the messages sent through its education apps and turn off advertising on its education platform.) But the company also has some of the most versatile and accessible education apps out there. Classroom lets teachers post assignments and communicate with students and parents. Google Drive lets students create and share documents and tables with classmates and teachers, automatically tracking edits. The company has partnered with textbook publishers to offer thousands of books online via Google Play for Education. Google's Art Project even lets students go on virtual museum tours.