A Moment of Grace From Jimmy Carter
The 90-year-old former president's discussion of his cancer is a reminder of why so many Americans once placed their faith in him.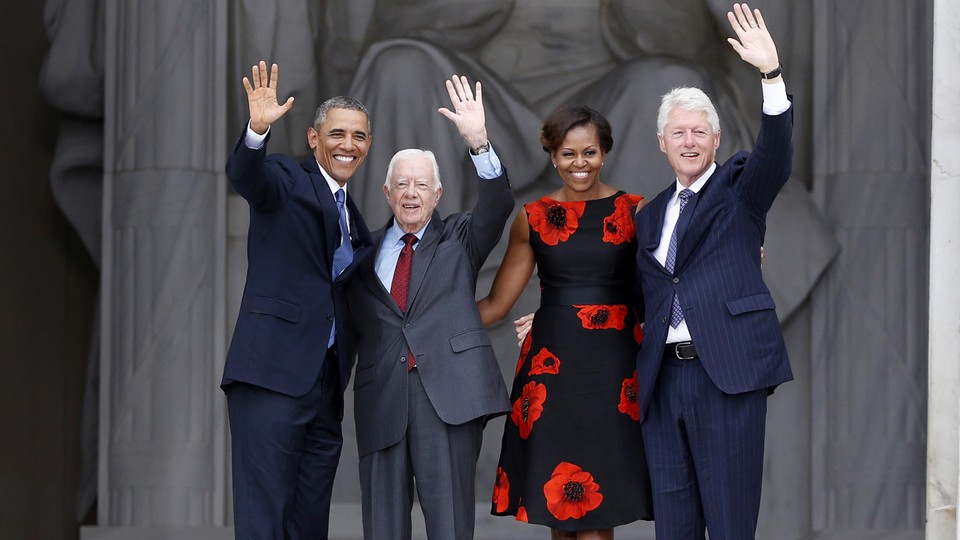 The 1970s were overall a terrible and traumatic time, and Jimmy Carter was both their product and their victim. He was their product in that it took an unprecedented national convulsion—turmoil and eventually defeat in Vietnam, the forced resignation of a president—to give a little-known one-term governor of Georgia, and peanut farmer, a chance at national office. He was their victim in that the woes of the late 1970s—gasoline shortages and price spikes, worldwide hyper-inflation that drove the prime interest rate to 21 percent, the dawn of Islamist turmoil in the Middle East, leading to the revolution in Iran—all happened on his watch and dragged him down. Even so, as he points out and as most historians attest, if he had sent one more helicopter on the doomed rescue mission for American hostages in Tehran, he would probably have been re-elected in 1980, and Ronald Reagan might have missed his chance.
The 1970s are so dis-esteemed, and Carter has been so vilified (in counterpoint to the elevation of Reagan), and the entire era is now so long in the past, that many people may wonder how Carter could have become president in the first place.
I think the video of today's press conference, at which the 90-year-old President Carter discussed the spread of cancer through his body and how he planned to continue his work, will give you a glimpse of what people saw in the man.
Beyond that, it is an extraordinary display of human grace. And humor!
I worked for Jimmy Carter in the campaign and for two years in the White House. I had my differences with and criticisms of him during his troubled time in office, along of course with admiration and respect. I now find it amazing that so many things he did, and tried to do, stand up so well in the long run. The peace that has lasted in the Middle East is the one he willed into existence, between Israel and Egypt.
But even if you disdain his ideas and his works, I suggest watching this performance for its display of intelligence, serenity, and, again, grace, of a sort we all can reflect on.
***
Update And for something that brings back the 1970s in an entirely different way, yet still has a recognizable connection to the man who spoke in Atlanta today, you can check out the immortal "Ask President Carter" sketch from the very early days of Saturday Night Live. It features Dan Aykroyd as the calmly omniscient Mr. Fixit to the Nation. It is on Hulu here. But watch today's press conference first.