After Controversies, the Capitol Police Chief Is Retiring
Kim Dine, who has presided over the department through a string of embarrassing incidents, will leave in January.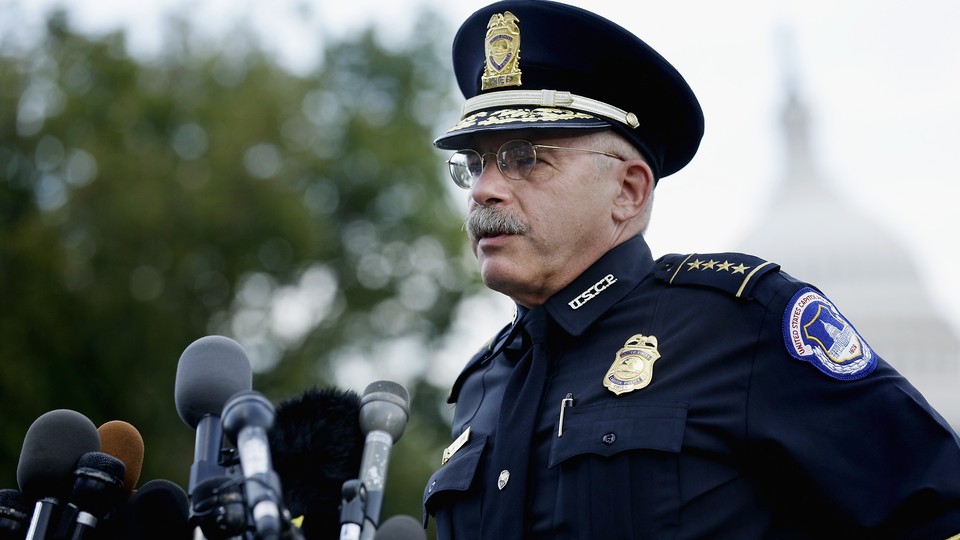 The Capitol Police Department will have a new leader next year.
In a letter sent to the entire force Monday afternoon, Chief Kim Dine announced that he plans to retire in January. The news came as Dine — a former Metropolitan Police Department assistant police chief and Frederick, Maryland, police chief — will reach the end of his third year as chief in December.
Over the last several months, the department has faced scrutiny from some lawmakers after police response time lagged when activists swarmed former Secretary of State Henry Kissinger's seat, the department didn't notify the full congressional community after a gyrocopter landed on the Capitol's West Front lawn in April and officers left guns in two Capitol bathrooms. In May, the House Administration Committee requested a hearing with Dine, where members questioned him on some of these incidents and his plan to move the department forward.
Dine reportedly offered to resign earlier this year, but ended up staying on the job — at least until his planned retirement.
It's critical that the department stay focused during the transition period, Dine said in the letter, as Pope Francis' visit upcoming September visit likely will bring large crowds to the Capitol and Washington.
"The Department requires a focused leadership team during the implementation of our security plans for this event, as well as during our transition between fiscal years and the security planning leading up to the State of the Union in early 2016," Dine wrote in the email to his colleagues.
He ended the letter by thanking the House, the Senate, the department, and the Capitol Police Board — and saying he would enhance the force's "strategic goals and objectives" during his final months.
This article has been updated.