After Charleston Shooting, Clyburn Pushes for 'Substance' Over Symbols
The veteran South Carolina lawmaker is happy to see the Confederate flag come down, but is now more focused on voting rights.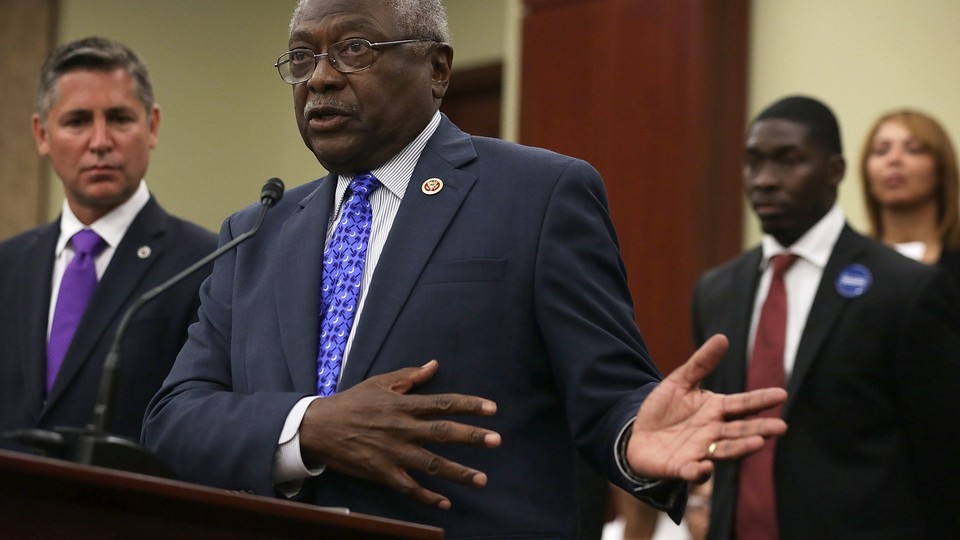 The day after the shooting that claimed nine lives at Emanuel AME Church in Charleston, South Carolina, Rep. Jim Clyburn gathered with state leaders and worshippers at his home church a few blocks away.
"I felt emotions I don't remember feeling before," Clyburn said during an interview last week in the Capitol. "I've been in the [civil rights] sit-ins in the '60s. But that crowd was different. There was something totally different about the atmosphere in that sanctuary."
In the six weeks since, Clyburn has found himself at the center of a debate over the Confederate flag — and he's used his platform to push for the restoration of the Voting Rights Act. "Right now we're dealing with symbols, but there's no substitute for substance," Clyburn said. "Taking the flag down is a great starting point. It removes a symbol of resistance. "¦ It's the first step on a thousand-mile journey. I'm waiting to see what step two and three are going to be."
Clyburn helped lead the push to remove the flag from the South Carolina state capitol, and he's been a loud critic of House Republicans who oppose a proposal banning the flag from federal cemeteries. But he's also tried to be a mediator, offering to drop the flag ban — which has stalled the appropriations process — if GOP leaders agree to consider restoring the Voting Rights Act, parts of which were struck down by the Supreme Court in 2013.
Still, Clyburn hasn't shied away from criticizing the Republicans that defend the flag. "I know there are a lot of people in this body — I know where they're from, and it's shocking that they would play into it," he said.
He painted the issue as a continuation of the GOP's history with the Confederate flag. Former Sen. Strom Thurmond — a segregationist who was a Democrat for the first portion of his career — used the flag at his rallies, Clyburn said, and the state's Republican leaders would occasionally put flag-related questions on the ballot to boost primary turnout. "They used that flag to organize the Republican Party throughout South Carolina," he said. "That was their symbol, their emblem. If you organized your whole party around the flag, you gotta know some of that would stick coming up here [to Washington]."
Clyburn also talked at length about his initial reaction to the shooting, and his role in the state's response. When he heard the news, Clyburn said, he didn't immediately process just how devastating it would be. "I was just in shock and disbelief," he said. "About 2:30 in the morning of Thursday when I came to grips with the fact that this was real, I still did not know the full extent of it until I landed in Charleston later that day. "¦ It all struck me as being really real when on my way into Charleston from the airport, I got this call on my cell phone from the president's obvious he had information that I did not have, and that's when it really struck me as to how grave the situation was."
It was that day that Gov. Nikki Haley approached Clyburn and asked him to reach out if he needed anything. Days later, after Clyburn had begun to speak out against the Confederate battle flag, Haley asked him to stand with her as she called for its removal from the grounds of the state capitol. A little more than two weeks later, the flag was lowered.
Meanwhile, Clyburn has pushed for a more substantive response to the shooting. He's joined calls for an expansion of Medicaid in South Carolina, and he introduced legislation in the House to tighten gun laws. All the while, he's continued to push for an overhaul of the Voting Rights Act, joined by a Democratic chorus that continues to hammer Republicans on the issue.
But Republicans weren't the only ones Clyburn took to task for image problems. He criticized a pair of Democratic primary contenders for their early performance on the campaign trail. "[Sen.] Bernie [Sanders] and [former Maryland Gov. Martin] O'Malley have suffered growing pains," he said. "Hopefully they get better, but right now they're not conducting themselves in a way that would make us all proud."
O'Malley in particular faced criticism after telling a Netroots Nation crowd: "Black lives matter. White lives matter. All lives matter." Clyburn understood why the activists in attendance were upset. "When they ask a question, answer the question. If someone asks me, 'Do black lives matter?' 'Yes, they do. What's the next question?' If you start mincing words and trying to calibrate your answers, that's what got O'Malley in trouble. "¦ Black people always react negatively to any attempt to dilute their importance."
Sanders, meanwhile, was docked for his prickly response to the hostile crowd, talking up his own civil rights resume. Clyburn said his defensive tone, rather than his message, frustrated the activists.
For former Secretary of State Hillary Clinton, however, Clyburn had praise. "She's got significant outreach [in the black community]," he said. "It's been there for a long time. She doesn't have an outreach problem right now — not with African-Americans. Her problem right now is being able to keep the campaign focused on what the issues are and away from all these other extraneous things that's got people floating around out there with emails and everything else."
Clyburn received an angry phone call from Bill Clinton in 2008, blaming him for his wife's defeat in the South Carolina primary, despite his pledge to stay publicly neutral. Clyburn denies helping move voters in favor of Obama — or that his influence would have changed the outcome. "He didn't need my thumb on the scale," he said.
Asked if he's patched things up with the Clintons, Clyburn noted several subsequent meetings with each, including sitting beside Hillary Clinton at Pinckney's funeral. Still, he said he'll again stay publicly neutral until the South Carolina primary is over.
Asked about his own political future, the 75-year-old said he's already filed for reelection — but he has a plan for whenever his House career comes to an end. "Whenever I leave here, I'll be headed for my golf cart," he said.