A Prayer for Ben Carson in Iowa
A night with the Republican presidential candidate's faithful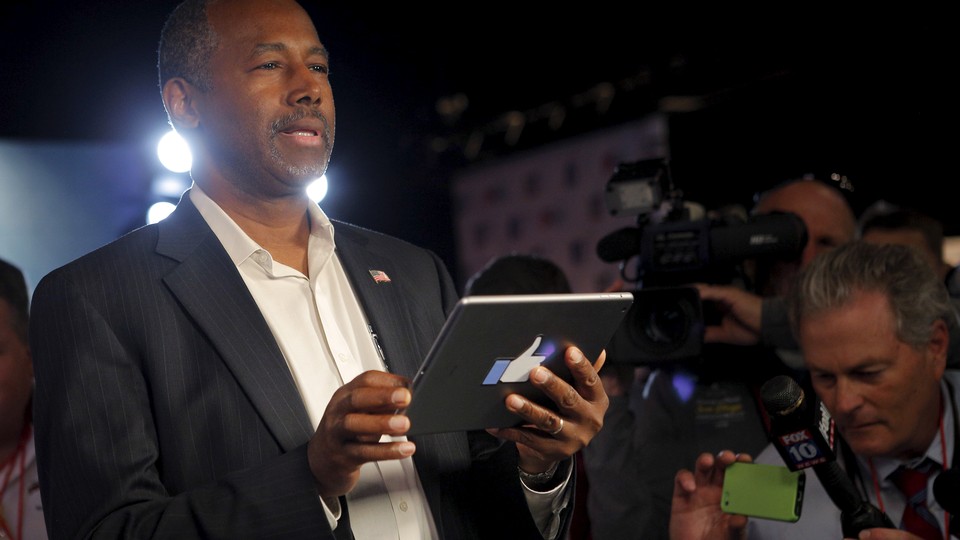 JOHNSTON, Iowa—On Thursday night, as the ten leading Republican presidential hopefuls  prepared to take the stage in Cleveland, Ohio, some fifty supporters of the candidate Ben Carson bowed their heads at the retired neurosurgeon's campaign headquarters in Johnston, Iowa.
"We're just gonna say a prayer," one campaign official explained, "so we can pray for Dr. Carson to have wisdom during the debate."
The floor was ceded to a straw-haired college freshman who, without notes and with impressive equanimity, recited Psalm 127 for the occasion:
Unless the Lord builds the house,
its builders labor over it in vain.
Unless the Lord watches over a city,
the watchman stays alert in vain.
The improvised liturgy went something like this: A note of gratitude to "Father God" for "this room full of people," a call to "pray over Dr. Ben Carson right now," more praise to God for what Carson represents—"a true story of redemption"—and then a brief meditation on Solomon, the biblical character known for his wisdom from whom Carson takes his middle name. Finally, the prayer was dedicated "in the precious name of Jesus Christ."
Ben Carson's surprise standing in the GOP top tier has been anchored by a block of evangelical and conservative voters like the dozens who tacked on their amens to the pre-debate prayer. One supporter, Mary Lou, described "a feeling" about the former doctor that sounded not unlike that of salvation. "He's honest, intelligent, I could just go on and on."
Part of his rise is rooted in his outsider status as the preeminent non-politician, culture warrior, and crusader against political correctness in the race. John Hartman, a retired Air Force veteran, drives around Iowa in "The Carson-mobile," a red pickup truck covered in campaign magnets. Like many other supporters, Hartman first became aware of Carson because of his performance at the 2013 National Prayer Breakfast, a nonpartisan event into which Carson injected partisan politics with a withering critique of government policies delivered just feet from President Obama.
Despite the build-up, Carson's numbers have taken a dip as the candidacy of you know who has broken out in recent weeks. Last week, my colleague David Graham noted how the disaffection mantle once held by Carson had been usurped by the louder, brasher Trump. "Remember, before Trump entered the race and started making bizarre statements about Mexicans and John McCain, Carson was saying Obamacare was the worst thing since slavery and accusing the AP History curriculum of preparing teens to join ISIS," he wrote.
On Thursday night, Trump was a source of entertainment and bemusement to a Carson crew in Iowa that was young, old, black, white, and Asian American. The boos were mainly reserved for former Florida Governor Jeb Bush, seen as the establishment candidate. Bush found himself on the defensive during the debate after he was called out for serving on the board of Bloomberg Philanthropies, which gave money to Planned Parenthood. "That man!" a woman shouted in disapproval as Bush referred to himself as "Veto Corleone."
By most accounts, Carson's performance was modestly successful. He disappeared for a while and secured only a middling amount of airtime, but delivered a memorable bon mot in his closing statement. Those watching across the country searched for him on Google more than nearly any other candidate. A panel of undecided Republicans in Ohio was impressed.
John Hartman, of Carson-mobile fame, was disappointed not by his candidate's performance, but by the event's moderators. "I think he did good, but I am not happy with Fox," he said. "Seemed like all the really good questions tonight went to the three or four people." He was particularly bothered by the last-second switch on the closing question, when one of the moderates asked Carson to talk about race when most of the other candidates had been asked about God.
Carson, praised by his supporters for his even temper, offered his own critique of the moderators in the middle of the debate when, after not speaking for about 40 minutes, he was finally asked a second question. "I wasn't sure I was going to get to talk again," he quipped. The line seemed to draw more laughter in Ohio than in Iowa.