While national unemployment has dropped, the job market remains especially tough for millennials. Youth advocacy group Young Invincibles crunched the numbers recently and found that unemployment for people between the ages of 18 and 34 was 40 percent higher than average. Wages have fallen or stagnated as the cost of college – the supposed path to prosperity – has climbed.
But there are still good jobs and solid career paths if you know where to look. On that front, Young Invincibles analyzed over 400 occupations and considered salary along with expected growth and access. (A millennial can't generally walk straight into the C-Suite, so the group looked at whether each job is open to young workers.)
(Related story: "Gig Economy Right Fit For Some, Not All")
Here are their top 25: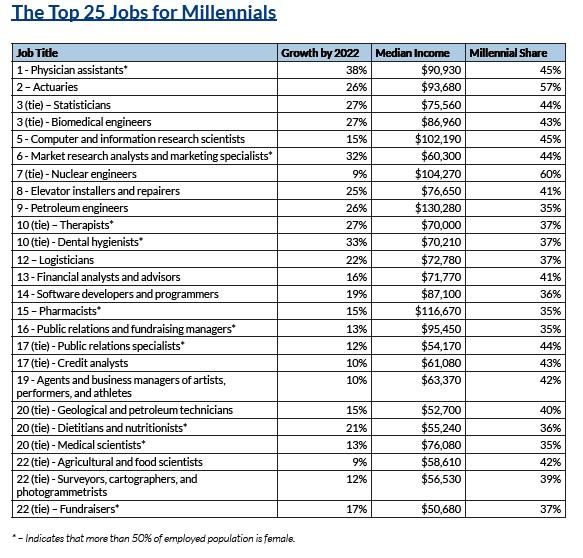 No surprise, STEM jobs – science, technology, engineering and math – are heavily represented. But Tom Allison, one of the report's authors and research and policy manager at Young Invincibles, tells Next America that "the pathway to prosperity is pretty diverse."
Public relations specialists make the cut, as do music agents and fundraisers. Not all of the jobs in the top 25 require a degree, either. Elevator installers rank high at No. 8 and typically require only a high school diploma.