2016 Hopefuls Seize on Wall Street's Wild Day
A sharp early drop in American markets reverberated on the presidential campaign trail—predictably, Donald Trump was out in front.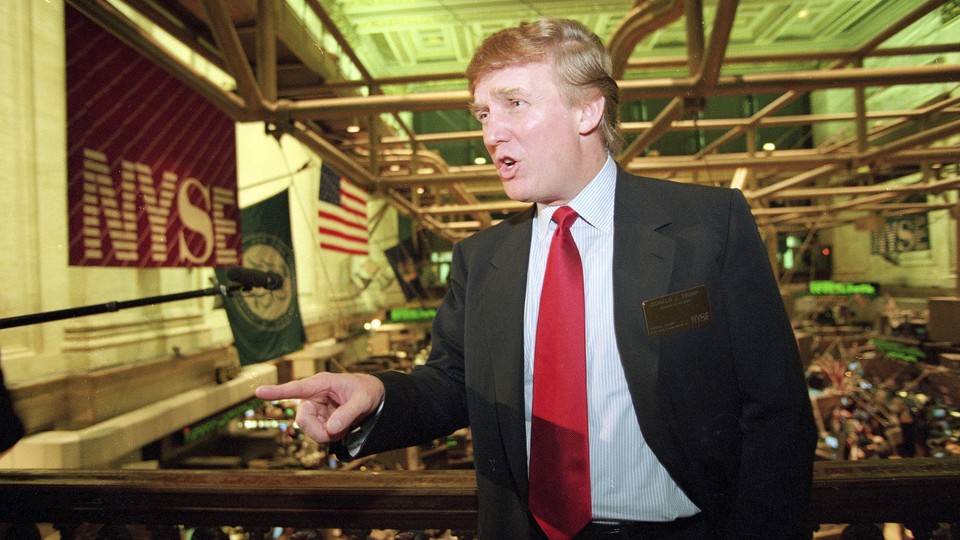 There's nothing like a plunge on Wall Street to turn a bunch of presidential candidates into instant experts on global financial markets.
Several 2016 hopefuls reacted quickly on Monday to the steep drop in the U.S. stock markets, and—surprise!—no one did so more aggressively than the wealthiest of the bunch, Donald Trump. In a series of tweets, media appearances, and even a video posted on Instagram, the GOP front-runner seized on the downturn to renew his oft-repeated warnings about the threat that China poses to the U.S.
As I have long stated, we are so tied in with China and Asia that their markets are now taking the U.S. market down. Get smart U.S.A.

— Donald J. Trump (@realDonaldTrump) August 24, 2015
Markets are crashing - all caused by poor planning and allowing China and Asia to dictate the agenda. This could get very messy! Vote Trump.

— Donald J. Trump (@realDonaldTrump) August 24, 2015
In a tweet linking to his Instagram post, Trump even dropped a mention of the dreaded D-word: "Depression." In a quick, direct-to-camera message to his followers, Trump urged them to "be careful" without advising them specifically what to do.
Carly Fiorina, who like Trump made her name in business rather than politics, brought her own extensive experience with declining stock prices to the table. She responded more cautiously and analytically to the turmoil, which began with a major sell-off in Asian markets last week amid dismal economic data out of China. "I actually have been expecting a correction for some time," she said in an appearance on the Fox Business Channel. "The market has been way too high given the fundamentals. Our economy is not particularly strong." Fiorina attributed the stock-market highs that have been reached during the Obama era to the Federal Reserve's "easy money" policies, which many conservatives have criticized. Now that the Fed is close to backing off those policies and raising interest rates, she suggested, the market is reacting.  "So I think this is warranted, honestly," she said.
Appearing separately on Fox News, Chris Christie directly blamed President Obama and his free-spending policies, arguing that the spike in the national debt during his tenure—much of which is held by China—had made the U.S. more vulnerable.
Now, as the Chinese markets have a correction, which they're doing right now, it's going to have an even greater effect because this president doesn't know how to say no to spending, doesn't know how to say no to a bigger and more obtrusive government.
Asked how he would respond to the market turmoil if he were in the Oval Office, the New Jersey governor said he would "rein this government in, stop running up some much debt." It's hard to see, however, how that long-term strategy would plug the—for now—short-term volatility in the markets.
Prolonged volatility caused by China's downturn could benefit Trump, whose perceived business acumen is helping to fuel his unexpected staying power in the GOP polls. And in recent days, the real-estate tycoon has even struck a populist note by criticizing "hedge fund guys" who "shift paper around and get lucky," saying they should pay higher taxes. But as Americans anxiously monitor the balances in their 401K plans, the market slide could also play right into the anti-Wall Street message of Bernie Sanders, who has railed against the banker class and wondered why executives who made irresponsible bets in the run-up to the last financial crisis weren't punished. "We need banks that invest in the job-creating economy," he tweeted shortly after the markets opened Monday and before a rally in New Hampshire. "We don't need more speculation with the American economy hanging in the balance."
Other candidates were slower to respond on Monday, perhaps waiting to see exactly how Wall Street would shake out by the end of the day. The Dow Jones Industrial Average plunged more than 1,000 points at the open, but then it quickly rallied. Such caution may be prudent. But as John McCain learned in 2008, there's a risk in waiting too long to recognize a crisis. Democrats skewered his remark, made while markets were tanking, that the "fundamentals of the economy are strong." (His over-correction of that mistake didn't help, either.) The sell-off may indeed be, in Fiorina's words, a "warranted" correction that has little impact on the broader U.S. economy. But if it continues for even a few more days, don't expect the other dozen-plus presidential aspirants to stay quiet for long.