Xavier Becerra Is Staying in the House. Now What?
The California Democrat decided not to run for Senate, but it's unclear whether a bigger leadership post is in his future.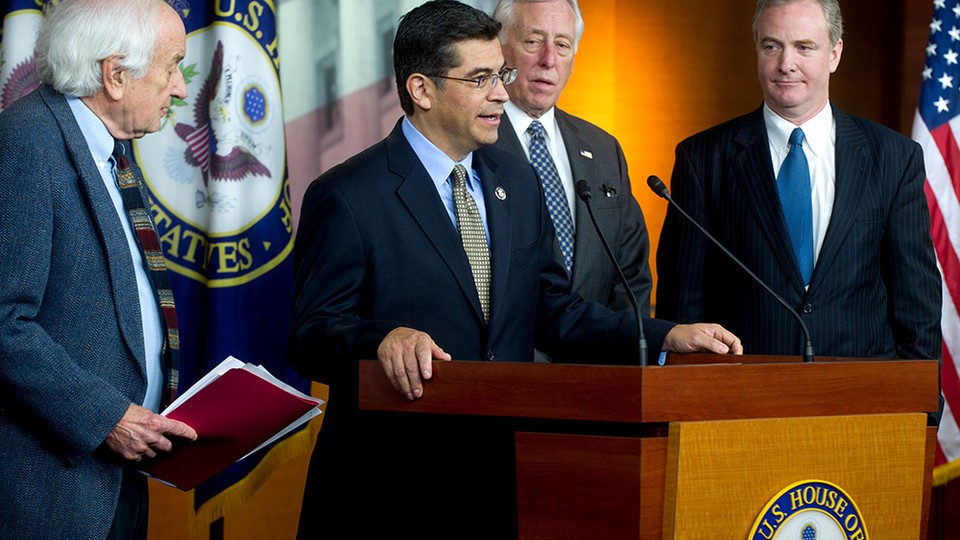 Rep. Xavier Becerra is passing on a bid to join California's open-seat Senate race, leaving him among a long list of leadership hopefuls in the House Democratic caucus whose path forward remains murky.
Becerra would have faced an uphill battle in his home state, where Attorney General Kamala Harris remains the consensus front-runner with a slew of early endorsements. Initially, there was room in the race for a Southern Californian with a Latino base, but the entrance of Rep. Loretta Sanchez into the campaign likely nudged out Becerra.
That leaves Becerra looking for his place in the House, where term limits will end his tenure as caucus chair after the next election. He has long been seen as an aspirant to a higher leadership post, but he, like other Democratic top leaders, has given no hints as to whether or not he plans to serve another term. And even if roles did open up, Becerra would likely face a crowded field of contenders who, like him, have been waiting in the wings for such an opportunity.
The decision to stay in the House, while unsurprising, separates Becerra from a number of other ambitious colleagues. Already this cycle, seven House Democrats have opted to run for Senate seats rather than wait for a chance to ascend in the House. Rep. Chris Van Hollen, seen by many as a potential successor to House Minority Leader Nancy Pelosi, opted to run for Senate in Maryland — against another Democrat with a potentially bright future in the House, Rep. Donna Edwards. Florida Rep. Patrick Murphy was often listed near the top of the caucus's rising stars — before he opted to run for Senate.
Becerra has made a different calculation, though the difficulty of the California race likely also influenced his decision.
"The sky is the limit" to Becerra's prospects in the House, he told The Sacramento Bee. But even if opportunities open up in the House, Becerra will likely face stiff challenges. Colleagues describe him as affable and a good listener — someone not prone to making enemies.
But that nice-guy approach has some convinced he lacks the sharp elbows necessary to jostle for a top spot in the caucus. "He's a nice, smart guy," a former House Democratic leadership aide said earlier this year. (The aide requested anonymity in order to speak candidly.) "I think you have to take him seriously. Whether or not he would be a dominant, tough candidate in a leadership race — I don't think people view him that way. I don't think anyone is really scared of him."
Becerra dismisses such criticism, pointing to the tough votes and political decisions he has made. Now that he's out of the Senate race, he'll have to reassess his options in the House — and bide his time for the next opportunity.