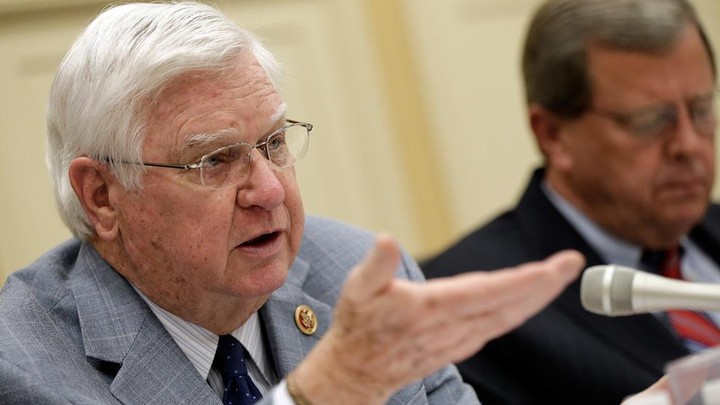 As the spending process grinds to a halt yet again, House Appropriations Chairman Harold Rogers said Thursday he is nostalgic for earmarks to grease the process.
The panel's chairman, once dubbed the "Prince of Pork" by his home-state newspaper, has met frustration the last several years in his quest to pass and conference all 12 appropriations bills with the Senate. Rogers said he sometimes wishes he had earmarks back, both because members know the needs of their districts and because it helps draw votes to tough bills.
"It's no doubt it is an aid to passing the bills," Rogers said in an interview taped for C-SPAN Newsmakers, set to air Sunday. "Earmarks in very good moderation — sensible — are a good thing to have."
Rogers, of course, has his own complicated history with earmarks. The spending riders have been banned since 2013 and the politics of Capitol Hill will most likely not allow them to be phased back in, in the near term and possibly ever. Still, Rogers said, there have been other ways to attract members to bills, namely regular order.
"Members are more and more seeing that this is a really good way for them to legislate — offering amendments on these bills on the floor and getting their voice on the process, and then voting for the final bill," he said.
Yet that very process is what compromised the Interior spending bill this year. Democrats offered riders dealing with the Confederate flag, which were objected to by many Republicans. To avoid confrontation on a heated racial issue, GOP leaders pulled the bill from the floor. Speaker John Boehner said Thursday that a continuing resolution would be the most likely outcome since the process has stalled.
Rogers said he would prefer an omnibus bill rather than a CR so appropriators could still have a hand in the process. But he said at the very least, a short-term CR could come up.
"I do not want a long-term CR," he said. "That would mean, if we did that, that all of the work the appropriations committees have done perfecting these 12 bills — all of that would go out the window."
We want to hear what you think about this article. Submit a letter to the editor or write to letters@theatlantic.com.
Daniel Newhauser is a staff correspondent for National Journal, where he primarily covers the House of Representatives. He was formerly a House leadership reporter for Roll Call, where he started as an intern in 2010 and quickly earned a slot as a beat reporter.
A native of San Antonio, Texas, Newhauser traveled further West to study journalism at Arizona State University's Walter Cronkite School of Journalism and Mass Communication and write for newspapers including the East Valley Tribune and the Green Valley News & Sun.