Is the Democratic Party Abandoning Jefferson and Jackson?
Connecticut, Missouri, and Georgia have dropped the slave-owning presidents from their annual fund-raising dinners, and many more states could follow suit.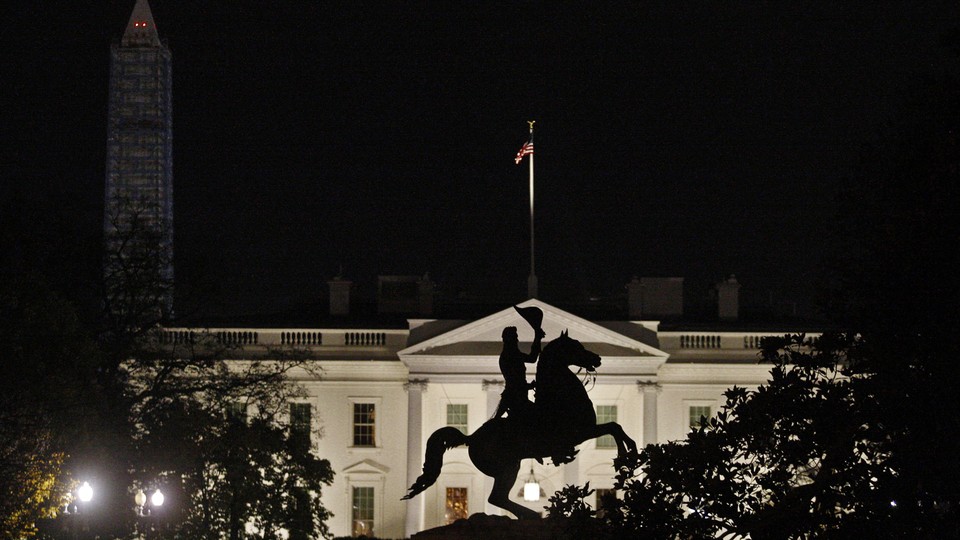 The Democratic Party is on the hunt for a new pair of fathers.
Last week, Democrats in Connecticut rather matter-of-factly decided to oust Thomas Jefferson and Andrew Jackson from their place of honor as the namesakes of the state party's annual fund-raising dinner. The debate—such as it was—over the legacies of the two slave-owning presidents took all of two minutes, a spokesman for the state central committee said, and the vote to strip their names from the dinner was unanimous. A week earlier, Missouri changed the name of its Jefferson-Jackson dinner to honor native son Harry Truman instead, and two days after Connecticut's vote, Georgia Democrats announced a similar change with even less fanfare.
"Jefferson-Jackson" dinners are signature events for state-level Democratic parties around the country and are often used to recruit rising stars, or feature presidential candidates as keynote speakers. The dinners in Iowa, New Hampshire, and South Carolina are especially can't-miss affairs; then-Senator Barack Obama's speech at the Iowa Jefferson Jackson dinner in November 2007 helped launch him ahead of Hillary Clinton in the state's crucial January caucuses.
Yet the decisions by Connecticut, Missouri, and Georgia, and a parallel debate over Jackson's place on the $20 bill, could herald a broader shift away from the Jefferson and Jackson legacies in the party and a search for other historical figures that better reflect the Democrats' contemporary message of inclusiveness and racial harmony. Already, the state party in South Carolina plans to discuss re-naming its dinner in September, Chairman Jaime Harrison said in a statement. Iowa is talking about a change, a spokesman for the state party said. And even in Jackson's home state of Tennessee, Mary Mancini, the Democratic Party chairwoman, said it's time to talk about changing the dinner named exclusively for the seventh president. An aide for the Democratic National Committee in Washington predicted that even more states could follow suit.
In Connecticut, the change occurred swiftly after the arrival this summer of a new Democratic chairman, Nick Balletto, who is closely aligned with the state chapter of the NAACP. The NAACP had previously helped to draw attention to buildings at Yale that were named after slave owners, along with the role that Aetna, the Hartford-based insurance giant, had played insuring the slave industry. When South Carolina moved to remove the Confederate flag from its Capitol grounds weeks after the racially-motivated massacre of nine African Americans in a Charleston church, the debate in Connecticut "resurfaced," said Scot X. Esdaile, president of the state NAACP.
"If the Republican Party is going to be challenged on the Confederate flag, then the Democratic Party needs to be challenged on their issues, too," Esdaile said in a phone interview, noting that while the NAACP has recently been much more closely allied with Democrats, it is a nonpartisan organization. "If you really delve into the history of the Democratic Party, they have a really cloudy and bloody past."
Democrats, Esdaile said, "can't be judged on what happened in the past, but they can be judged on what they have done today. And I think they did the right thing."
Balletto put forward the proposal in a resolution stating that it was "only fitting" that the name of the state party's "most visible annual event reflects our dedication to diversity and forward-looking vision." (The event was known as the Jefferson-Jackson-Bailey Dinner, with the latter name honoring John Bailey, a New Deal-era liberal who headed the state party and died in 1975.) Governor Dannel Malloy quickly endorsed the resolution, writing in a letter to committee members that the dinner's name should reflect the Democratic "commitment to justice and equality."
This is by no means an indictment of the legacy of Thomas Jefferson or any of our nation's founders. Yet as a party we should continue to look at ourselves in the mirror and ensure that we strive to represent the ideals that we talk about every day in Connecticut. This is an opportunity to pay homage to the progressive leaders and policies that have defined our party for the past several decades.
Facing no serious opposition, the change was approved on July 22, and the names of Jefferson and Jackson were dropped from the dinner's name for the first time in 67 years. The party is now accepting suggestions for a new name, which it will consider in the fall.
The vice president of the Thomas Jefferson Foundation in Monticello is, incredibly, a British-born historian named Andrew Jackson O'Shaughnessy. "The Jackson is basically my mother's maiden name, but I also use it as something of a joke," he told me by phone.
O'Shaughnessy told me it was "inevitable and appropriate that historians adopted a more critical perspective towards Thomas Jefferson, but it is possible to appreciate his contribution to the advancement of democracy while acknowledging his involvement in slavery, which he himself denounced as an 'abominable crime.'" And the modern Democratic Party, he said, understandably wants "to embrace a much larger audience."
Yet the problem with the push to scrub historical figures, he said, is that "in the end we dissociate ourselves from our own past." And where do you draw the line, O'Shaughnessy asked?
Four of America's first five presidents were slave owners. Are we going to drop the name Washington? Maybe the capital city should change its name. How far do you take this? Maybe this is a lesson to teach people, that the origins of our country are intertwined with slavery, whether we like it or not. It's not just confined to a few founding fathers.
Despite the revelations in the last two decades that Jefferson likely fathered children with Sally Hemings, one of the more than 600 slaves he owned, his legacy is surely safer than that of Jackson's. As O'Shaughnessy noted, Jefferson has better anti-slavery credentials than Jackson, having spoken out against the practice and having signed legislation in 1807 abolishing the slave trade. And while the names of fund-raising dinners can be changed rather easily, Jefferson is much more permanently enshrined atop Mount Rushmore and through his namesake memorial in Washington.
Though long lauded as a champion of popular democracy, Jackson has been under siege in recent years both for his support of slavery and for his brutal campaigns against the Cherokees before and during his presidency. The grassroots effort to put a woman on U.S. currency has centered on removing Jackson from his place on the $20 bill (although the Treasury Department has announced that a woman would go on the redesigned $10 note instead). While Democrats in Tennessee are naturally more protective of Jackson, Mancini said she's encountered multiple people during her seven months as party chairman who have urged her to remove his name from the annual fund-raising dinner. "I think we absolutely need to have that conversation now," she told me. "It's something that should be discussed, and it's going to be."
At the same time, Mancini said Jackson still merited a place of honor in the party. "The spirit of Andrew Jackson is the spirit that flows through the Democratic Party, that the common man gets his day and has his voice," Mancini said. "We'll be forever grateful and honor that legacy. But everything evolves, and we can't really hold anything static. So might be find we find someone else who better exemplifies who we are today? Sure, absolutely. But we don't need to vilify him in order to do that."
As for the $20 bill, Mancini said that when the topic came up earlier in the year, Democratic leaders in the state were in agreement that it should continue to feature Jackson. That debate, she insisted, should not be mixed up with the controversy over the Confederate flag. "Nobody is wrapping themselves in the $20 bill and then going into an African American church and murdering nine innocent people," Mancini said. "So I think we're looking at apples and oranges when you compare Andrew Jackson's visage on the $20 bill with the Confederate flag." (She acknowledged, however, that an African American or a Native American might see things differently, and that they should be part of the upcoming discussion.)
Whether Tennessee, Iowa, or South Carolina will actually go through with their planned name changes is unclear. Virginia Democrats declined to comment on the question, though there doesn't appear to much of a movement to abandon Jefferson's legacy in his home state. And then there's the old regional politics to consider: Connecticut, as O'Shaughnessy noted, was the heartland of the Federalist Party, which stood in opposition to Jefferson's vision of democracy.
If the Democrats move away from Jefferson and Jackson, who will they embrace instead? Roosevelt and Kennedy are obvious options, and Hillary Clinton is already embracing the legacy of both Franklin and Eleanor Roosevelt early in her second presidential campaign. Despite his escalation in Vietnam, Lyndon Johnson is also getting another look amid the 50th Anniversary celebrations of the Civil Rights Act and the Voting Rights Act. And it's already been suggested that within a few decades, Democrats could be raising money at annual Clinton-Obama party dinners—or would it be Obama-Clinton?
How future historians evaluate and reeevaluate the past is, of course, a reflection of the values of the present. Perhaps, O'Shaughnessy suggested, the current generation of leaders will be judged in the future less on issues of equality and more, say, on their positions on climate change. "It's the irony of history that it's always changing," he said. "It's due partly to new information, but its also due to our changing values and what we really think is important. And obviously it changes with time."