Why Latinos Don't Caucus in Iowa
There's a well-known rule among Iowa caucus-goers: You have to personally ask for their support. Latinos don't have a history of caucusing because no one asked them.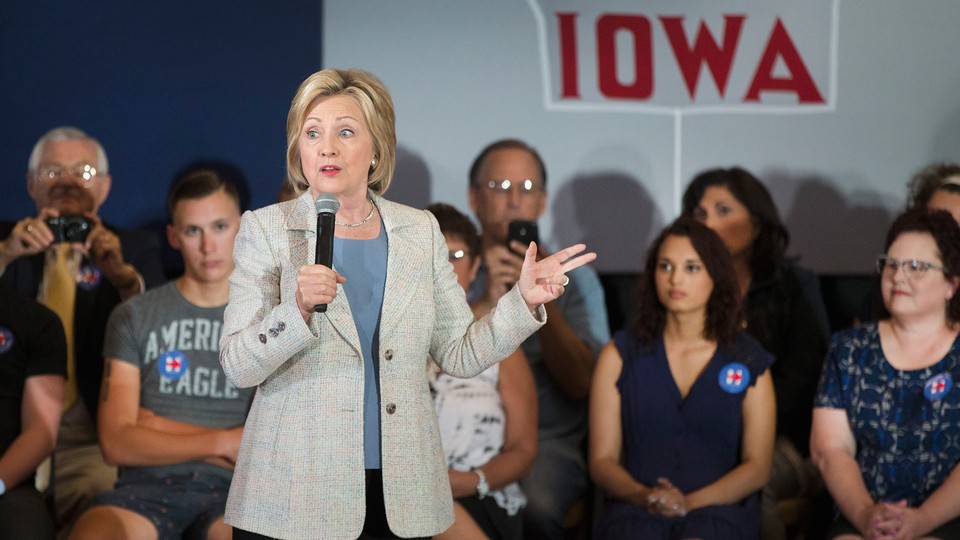 Perry, Iowa, is a typical small town in the state.
Rows of Victorian homes line streets that lead to grain elevators and factories, nestled between a country highway and a cornfield. Along Second Street, on a sunny summer day, a young family crosses Willis Avenue from the public library and walks past the turn-of-the-century Town Craft building. The rusted First National Bank clock welcomes them to the town's equivalent of Main Street.
Second Street has mom-and-pop stores like any other central commercial artery in a small town, but they're not what you'd expect. There's the El Rey Meat Market and the Panaderia Mexican Bakery. A block away is the Casa de Oro restaurant. And more Spanish-speaking businesses will soon fill empty storefronts nearby, catering to the 35 percent Latino population in this meatpacking town of 8,000.
Perry is among dozens of small towns across the state with a significant Latino population.
Latinos may be just 5.5 percent of the state's population now, but they're young and growing. At 22, their median age is 16 years younger than the rest of the state. And as the white population ages out over the next 20 years, Latinos are expected to double in number. In other words, they will be here for a while.
That growth means more voters.
In 2014, there were 50,000 registered Latino voters in the state, with 20,000 more who could have been registered, according to a League of United Latin American Citizens of Iowa analysis. That's 70,000 potential Latino voters in this election cycle.
These may seem like small numbers, but consider how few Iowans actually caucus. Since 2000, Republican caucuses have averaged 90,000 participants. The 2008 Democratic caucuses saw a record 239,000 participants. Usually, caucus turnout is around 5 to 10 percent of registered voters.
"I'd be surprised if some candidates didn't purposefully introduce themselves to that constituency," says David Oman, a longtime figure in the state's Republican politics. "We have 18 people running. To do well, a very modest plurality is all one needs. We may have a winner with 20 percent."
It's fitting then that Oman, who ran unsuccessfully for governor in 1998 and was Gov. Terry Branstad's chief of staff, was just brought on as a top adviser for Jeb Bush in Iowa. He understands that a pitch for the Latino vote here is more than just a passing mention at a campaign stop, or saying that you value the Latino vote, or even answering a town hall question in Spanish.
There's a well-known rule among Iowa caucus-goers: You have to personally ask for their support. Latinos don't have a history of caucusing, and the reason is the same: because no one asked them.
Rob Barron thinks he may have found a solution.
HOMEGROWN TALENT
Barron, a Des Moines School Board member who was a state staff director for former Sen. Tom Harkin, just helped launch a new organization called the Latino Political Network that will encourage and train Latinos to run for office throughout Iowa. There are 7,400 elected offices in the state. Latinos occupy around a dozen of those seats. Even with 165,000 Latinos in Iowa, no Latino has even been elected to the state legislature or been on the ballot for federal or statewide office.
As abysmal as Latino representation is in the state, so too is Latino participation in the caucuses. Sure, Barron sees the activists with nuanced opinions willing to participate in the next caucus. But the restaurant owners and the shift workers across the state probably won't. By encouraging more Latinos to run for office, which would bring more Latinos out to vote for local races, Barron thinks that over time more Latinos may begin to caucus.
"What's the best entry point to getting them to vote?" Barron says. "Well, 'I know that person. I like that person. I recognize something of me in that person.' "
Consider Barron's election in 2013, which he won by just 28 votes. If you can get someone who has never voted before to vote for a school board member on the second Tuesday of September in an odd year, there's a decent chance you can get them to vote two months later in a city race or a year later in a big federal or state race. Now, you have taken away those barriers and shown them how to vote again. They know where their polling place is and the ballot process no longer intimidates them.
"Is that enough to reverse this discrepancy in voting?" Barron says. "Absolutely not. But this is a nice brick in that wall."
Barron's family has been in Iowa since the 1940s when they came from Mexico. Latinos are not new to this state. His father ran unsuccessfully for city council in 1979. Now, Barron is one of two Latino elected officials in Des Moines. Government participation is on Latinos, he says, but it's also on the rest of the population. And he doesn't have high expectations that presidential campaigns or state officials are willing to substantively engage them.
"I'm an Iowan. I'll be here next year, and the year after and the year after," Barron says. "For me, the most important thing about the caucuses is what they leave behind. They leave a lot of money behind, which is nice. We can't dismiss that. But what have they done to better organize the state?"
FROM THE GROUND UP
"We don't have a lot of incentive to caucus," says Rosa Gonzalez, a Perry resident of Mexican descent. "For many of us, it doesn't make sense. It's hard to trust the government."
Gonzalez is the president of Hispanics United for Perry, a group that fundraises for college scholarships for Latinos, and also promotes events in Perry that are cross-cultural. The group's Latino Fest gets 2,000 attendees annually.
The organization is trying to combat one of the main reasons why Latinos don't caucus by actually engaging them in civic life. The town may be 35 percent Latino, but there are no Latino elected officials, and community meetings are attended almost entirely by white residents. The group has started to work with local businesses in Perry — from Hy-Vee to Raccoon Valley Bank — to arrange release time so their employees can attend more meetings.
The town's public workers are also doing their part. The city administrator's office is leading efforts to develop a soccer complex, while the public library has bilingual story times and offers books in Spanish. The Perry Public Library even received a $10,000 cash grant from the National Endowment for the Humanities and the American Library Association to hold programming about Latino culture, which will include film screenings, book talks, and a mural project.
Mary Murphy, the library director, says these efforts make community and government participation more approachable, which could set future habits. Through preschool and daycare outreach, she has already noticed an increase in Latino patrons at the library.
"Your presence says something," says Murphy, who also serves on the board of Hispanics United for Perry. "It's your city. It's your organization."
For now, encouraging Latinos to caucus on a broad scale is left to organizations like the League of United Latin American Citizens of Iowa, which is rather ambitiously hoping to turn out 25,000 Latinos to the caucuses — half of currently registered Latino voters. Steffen Schmidt, an Iowa State University professor, will also launch an online tutorial to train Latinos on the caucus process.
Until campaigns make sincere efforts, they will have a problem with engaging Latino voters, says Perry resident Eloisa Baumgartner. An on-and-off Republican caucus-goer, the Tyson Foods employee whose parents emigrated from Mexico doesn't know whether she'll caucus this time around, or if there's enough motivation for other Latinos either.
"Candidates have to go and talk to people who really don't have a voice and explain to them what they're voting on," says Baumgartner. "If you do that, they're going to go back and tell all their friends and family."
And if the campaigns won't approach her, then she's not going to caucus.