Why Is Elizabeth Warren on the Energy Committee?
She leads progressives on economic justice, but has been quieter on energy and resource issues despite a new panel perch this year.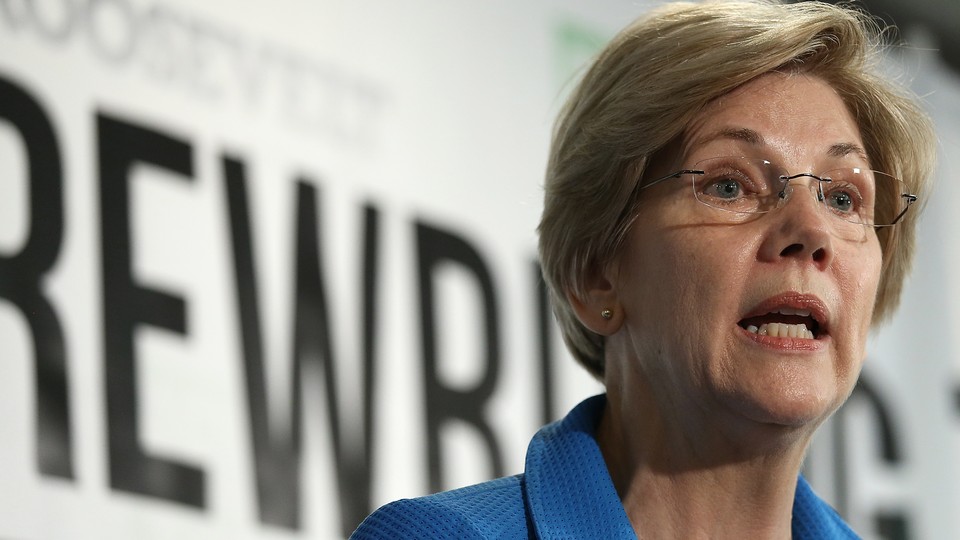 When Senate Democrats announced their committee rosters late last year, one change stood out.
Sen. Elizabeth Warren of Massachusetts, who boasts a wide progressive following for battling Wall Street and free trade deals, had joined the Energy and Natural Resources Committee. Warren asked to be on the panel, according to a Democratic leadership aide.
It was a surprising choice. Warren, in her young Senate career, has not made energy a top political priority on par with her high-profile work on economic issues like curbing Wall Street's power and student debt.
And while Massachusetts is home to an array of companies in the green-energy and efficiency space, it's not a major energy-producing state, doesn't have the huge swaths of federal land that fall under the committee's jurisdiction, and isn't home to big, ongoing Energy Department-led nuclear-waste cleanups.
"We had a two-part reaction," said one longtime environmental lobbyist about the news that Warren had taken a seat on the committee. "The first part was, great, Elizabeth Warren — she is a political superstar on the rise; it's great to have someone like that on this committee.
"The second reaction was, wow, I wonder what is going to be her specialty. She is not from a Western state. She is not from a state that has a lot of public lands even for an East Coast state. What is she going to champion on that committee?" the lobbyist said.
Seven months later, Warren's role is still taking shape.
Sure, she's added her name to plenty of letters on energy and resource issues, and signed onto several colleagues' bills on energy and public-lands protection. For instance, there was a late June letter to the White House from 13 Democrats — led by Sens. Edward Markey and Robert Menendez — against lifting the ban on crude-oil exports.
Warren, in her Senate tenure, has also spoken out repeatedly on climate change and in favor of the Environmental Protection Agency's carbon-emissions rules for power plants, and signed onto letters to defend and bolster them.
But Warren has been the lead sponsor of just one energy bill this year, a measure that requires an Energy Department study of the cost savings provided by technologies that make buildings more efficient.
In contrast, Warren's the lead author of several big-ticket pieces of economic-policy legislation, such as proposals to rebuild the regulatory wall between traditional and investment banking, and a measure to create more schedule stability and flexibility for low-wage workers.
And beyond just legislation, Warren has been a relentless and highly visible standard-bearer for progressives on trade and economic issues.
But there is certainly overlap between energy policy and the core economic issues that she's made the centerpiece of her work on the Banking Committee and the Health, Education, Labor, and Pensions Committee. For instance, New England families often struggle with high home-heating costs.
Sen. Maria Cantwell, the committee's top Democrat, says Warren has a natural role on the panel. "She is a loud voice on Northeast energy issues, and she is very interested in protecting the consumer," Cantwell told National Journal in a short interview.
Warren will soon have new chances to try to shape the Senate's work on energy as the committee prepares to debate a wide-ranging bill that the panel's leaders unveiled on Wednesday.
Cantwell worked with Warren on several energy-market-related provisions in the measure. These provisions underscore the overlap between energy and Warren's ongoing mission to give federal regulators more power to crack down on the financial industry.
One would create an Energy Department-led Working Group On Energy Markets that includes participation from the Securities and Exchange Commission, the Federal Trade Commission, the Federal Energy Regulatory Commission, and the Commodity Futures Trading Commission.
The group's work would include an investigation of "the effect of increased financial investment in energy commodities on energy prices and the energy security of the United States," and make recommendations to combat "excessive" speculation that hurts consumers and the economy.
Sen. Ron Wyden, who was briefly chairman of the Energy panel in the last Congress, says he's spoken with Warren about energy and that the Massachusetts Democrat is drawn to issues in which "there are substantial sums of money that skew the market and distort marketplace forces."
The powerful corporate interests in the energy industry provide a natural target for Warren. Early this year, in a meeting to pass a bill that Warren opposed to approve the Keystone XL oil-sands pipeline, Warren asked why Republicans had immediately turned to Keystone at the start of the new congressional session.
"Their first priority is to advance a pipeline that means a whole lot to an army of well-paid lobbyists and a whole lot to a giant foreign oil company," she said.
Warren's words show a connection between her top political priorities and her more recent arrival on the committee. Here's Warren talking about energy-efficiency technologies at a late April hearing:
"It seems to me they are a three-fer. They protect the environment, they fight climate change, they save money for consumers. Actually, maybe I should say it's a four-fer because the energy-efficiency industry is creating a lot of new jobs, good jobs, in Massachusetts and elsewhere across the country," Warren said.
One environmentalist predicts that Warren's profile on energy will only grow.
"Instead of trying to weigh in on everything, Senator Warren has really dug in deep on a few issues like banks and student loans, and pushed them hard," said Ben Schreiber, the climate and energy program director at Friends of the Earth. "She has less experience with the environment than she does with banking, but I expect she will eventually find an issue to own on [Energy and Natural Resources], and that when she does she will be a vigorous and effective advocate."
Warren's office, in response to questions from National Journal about her plans and agenda, pointed to a speech she gave late last month at the 15th-anniversary event for Environmental Entrepreneurs, a green-oriented business group affiliated with the Natural Resources Defense Council.
It's heavy on her familiar criticisms of tax cuts for the wealthy and deregulatory zeal. But it also argues that these hallmarks of Reagan-era "trickle down" economics had bad consequences for the climate, such as stymieing investment in R&D and climate-friendly infrastructure like mass transit.
"Washington is working for powerful interests that tilt the playing field so that energy entrepreneurs and innovators have a harder time getting a foothold in the market. And these powerful interests have a stranglehold on our political system," Warren said.