Who Decides Whether to Remove the Mississippi Flag From the Capitol?
Republicans want to hear from state leaders before taking action on the flag and its Confederate symbol. Democrats don't want to wait too long.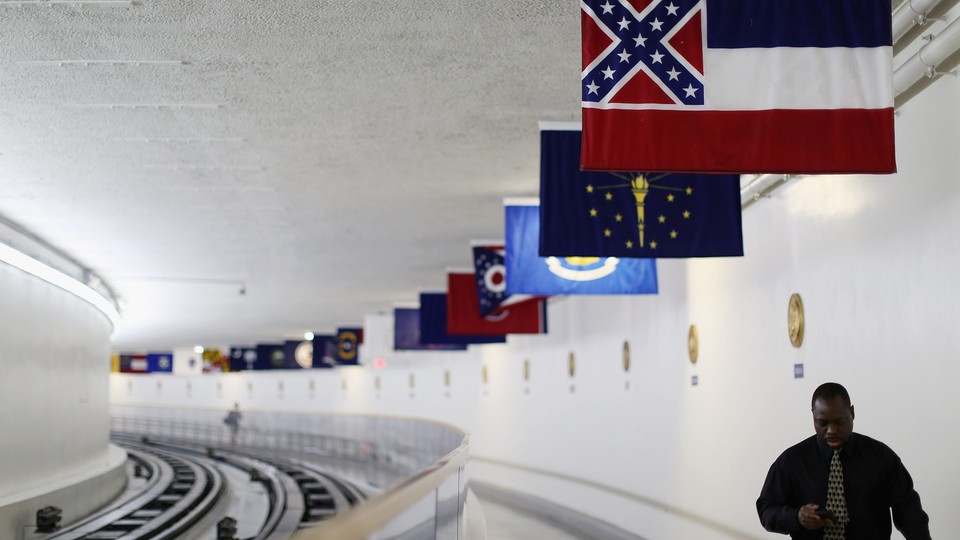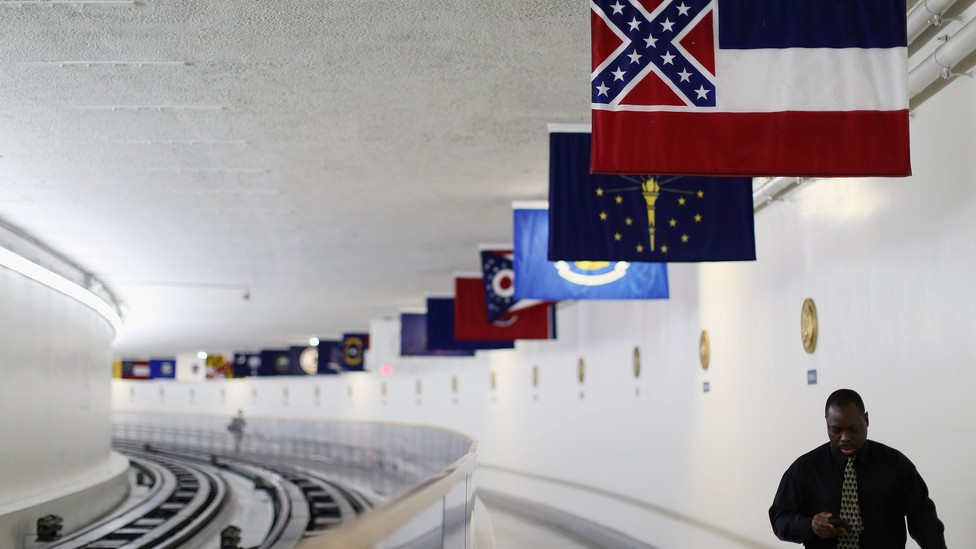 For now, the Mississippi flag, with a scaled-down version of the contentious Confederate symbol in its upper left corner, will remain inside the Capitol. But the fight over the flag — and who decides whether it should come down — is far from over.
On Tuesday, House Administration Committee Chairwoman Candice Miller sent a letter to her panel's Democrats saying she is looking to hear more from the Mississippi delegation and state-level leaders on the matter, and that she intends "to give thoughtful and serious consideration" to Rep. Bennie Thompson's proposal requiring flags with the Confederate symbol be removed from the House (unless it's the lawmaker's office displaying the flag).
But some Democrats are frustrated with what they see as a Republican fear of forcing their members to take a stance on the subject.
"They have a problem on their side," said Rep. Juan Vargas, a House Administration Committee member. "There's a whole bunch of people that don't want to vote on this. I think it's stalled, delayed, anything they can not to vote on it."
Miller told National Journal that removing a state flag would likely be precedent-setting — and that it shouldn't be done without "quite a bit of deliberation." And right now, the small committee is "in the information-gathering mode," the Michigan Republican said.
In a July 9 letter, the panel's three Democrats — ranking member Robert Brady, Rep. Zoe Lofgren, and Vargas — suggested holding one or more hearings on the resolution that has been referred to the House Administration Committee. They also suggested marking up the resolution, writing their own, or asking the superintendent of House buildings to remove flags bearing the Confederate emblem (as all state flags hang from the ceiling of the Rayburn House Office Building's basement).
"The Confederate battle flag is obviously a symbol of both slavery and segregation and secession. That's not an appropriate symbol to be displayed in the Capitol of the United States," Minority Whip Steny Hoyer told National Journal. "I would hope that we would make a determination to come to grips with that."
Lofgren said Wednesday morning that she couldn't comment on the letter, as she hadn't seen it yet (it was sent around late afternoon Tuesday), but that the Democrats on the committee believe the resolution didn't get referred just to bury it. "Let's take this up, let's have hearings, let's take this seriously," the California Democrat said.
Miller's letter noted that the Mississippi state legislature isn't scheduled to reconvene until January and that state lawmakers likely will address the flag then. And she asked Democrats to suggest specific people, such as scholars, that the committee could hear from while deliberating.
"We really need to hear from people in Mississippi," Miller said, "but, I mean, they're not even going to be in session until January, so I'm not quite sure how that will work, but I'm looking forward to hearing back from my Democratic colleagues."
Yet, Democrats are itching for a vote soon. "I'm disappointed," Vargas said. "I think that we should vote today. We shouldn't wait for Mississippi, we shouldn't wait for anybody. We should act as the United States of America and do away with the Confederate battle flag in all of its iterations here and all of its presence in the Capitol and on federal property."
The debate over the Confederate flag intensified on Capitol Hill and around the country after the fatal shooting, allegedly by a white supremacist, of nine members of the Emanuel African Methodist Episcopal Church, a place that has a tradition of being a symbol of black freedom. Division over other amendments related to the Confederate flag have left the Interior and the Environment Appropriations bill stalled.