What Jeb Bush and Carly Fiorina Aren't Saying About Climate Change
Some Republicans say innovation can solve rising temperatures. But that's not the whole story.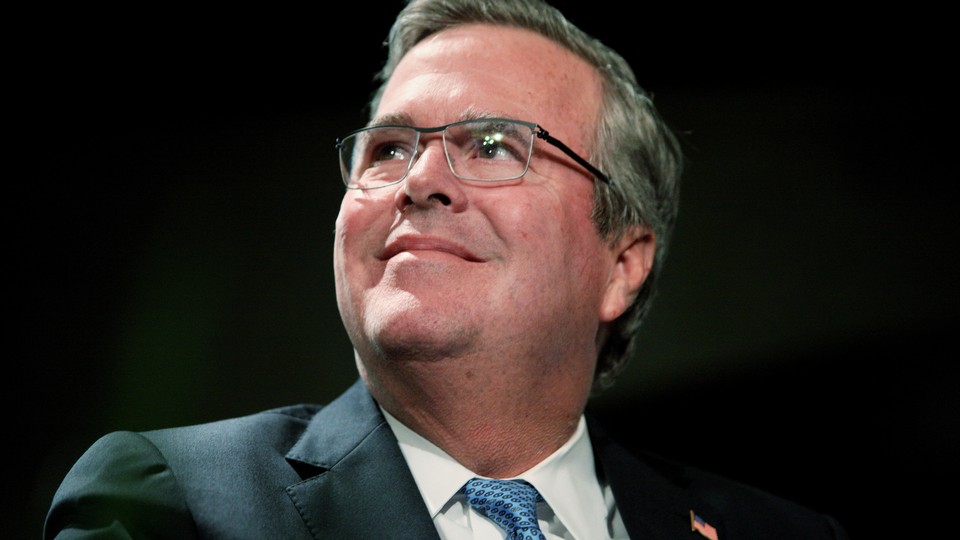 Republican presidential candidates aren't going anywhere if they endorse government regulations on power plants or industry to limit carbon-dioxide emissions and confront the threat of climate change.
But some, wary of being branded "climate deniers," while still appealing to their base and tearing down President Obama's green agenda, are actively delivering a new message: Global warming is a problem, yes, but it will be private industry, innovation, and invention that solves the problem.
"Ultimately, there's going to be a person in a garage somewhere that's going to come up with a disruptive technology that's going to solve these problems, and I think markets need to be respected in this regard," Jeb Bush said during an interview with the New Hampshire Union Leader earlier this month.
"I think the answer to this problem is innovation, not regulation," Carly Fiorina told Katie Couric when asked about climate change in an interview after announcing her 2016 bid.
Acknowledging the threat of climate change is a far cry from the way Republican candidates talked about Earth's rising temperatures during the 2012 presidential election — an era when conservatives scarcely mentioned the issue on the campaign trail. Taking a stance that innovation could solve climate change may help Republican 2016 contenders ward off criticism that their party refuses to consider the threat of global warming.
If the message sticks, it could also take pressure off Republicans to outline any overarching policy solution of their own as they work to dismantle Environmental Protection Agency regulations and curbs on greenhouse-gas emissions, a key pillar of Obama's environmental agenda.
But energy and innovation experts warn that the free market alone — or a Silicon Valley start-up — won't solve global warming.
"The idea that the private sector will pave the way for the clean-energy innovation needed to deal with climate change is simply wrong. When you look at the major advances in solar and wind and even battery technology in this country, their origins trace back to government funding and research," said Robert Atkinson, president of the Information Technology and Innovation Foundation, a think tank that advocates for policy to promote innovation.
The immense costs are also prohibitive. Commercializing energy technology typically involves substantial up-front capital investment and several decades to move from initial concept to the marketplace — barriers to innovation that public policy can help to overcome.
"The market is absolutely driven by policy," said Phyllis Cuttino, director of the Pew Charitable Trusts clean-energy initiative. "With energy, you can have a great idea but that can be extremely difficult to commercialize. That's where policy comes in. Whether it's a goal, a regulation, or investment in research, policy drives private-sector investment and innovation."
In his Union Leader interview, Bush praised fracking for helping cut carbon emissions but failed to mention that government assistance, including tax credits and funding for research, helped commercialize the technology.
"We're emitting less carbon into the atmosphere, and it's not because of any government program. It's because of the natural-gas revolution that is a byproduct of American ingenuity, American innovation," he said.
Bush and Fiorina aren't the only Republicans delivering the innovation-not-regulation message, a talking point that leaves the impression that energy innovation has prevailed in spite of federal policy — and not because of it.
Senate Majority Whip John Cornyn made the case last week in a National Review op-ed headlined "Countering Climate Change with American Ingenuity."
"America's entrepreneurial minds have shown time and again that they are simply more adaptive and ingenious than government regulators and bureaucrats. When the government tries to play savior, we find that overbearing, intrusive Washington 'solutions' do far more harm than good," Cornyn wrote.
Among 2016 contenders, Wisconsin Gov. Scott Walker struck a similar tone during a speech in January before promising to take aim at the president's carbon regulations. "Top-down regulations and mandates from the federal government get in the way of innovation and growth," Walker said.
Of course, there are still Republican presidential candidates who dispute the scientific consensus that global warming is real and poses a threat. Sen. Ted Cruz told the Texas Tribune in March that "satellite data demonstrate that there has been no significant warming whatsoever for 17 years."
And even if Bush and Fiorina call climate change a problem, Democrats will still be sure to cast the Republican contenders as deniers. On Monday, Hillary Clinton's campaign put out a video attacking the entire GOP presidential field, including Bush and Fiorina, as climate deniers.