What It's Really Like To Be a Political Speechwriter
Spoiler alert: it's nothing like The West Wing.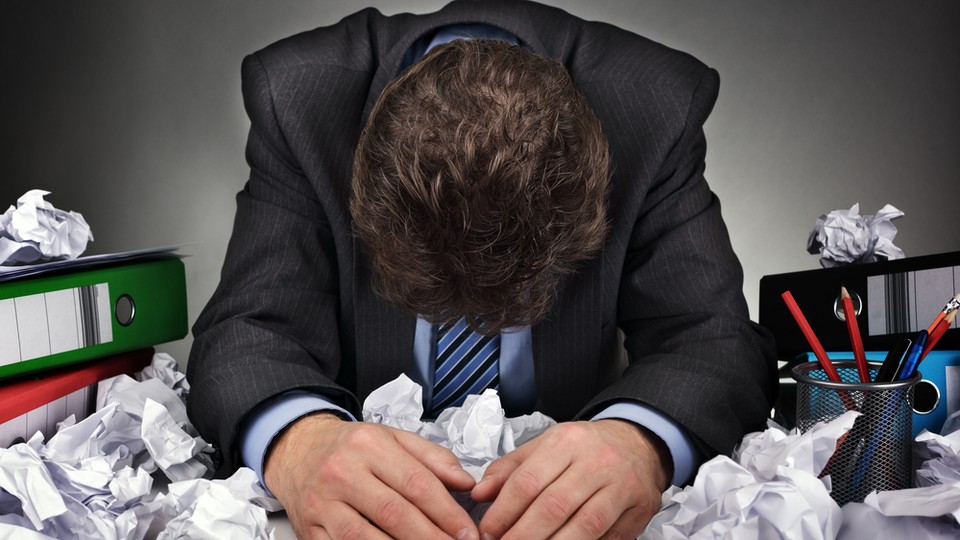 Few political staffers are lionized as much as the political speechwriter. You know the caricature: the rumpled hair, desk strewn with empty coffee cups, peering at a laptop screen searching for the perfect turn of phrase. Their struggle is real, but their gallant prose can bring a nation to its feet.
In reality, few speechwriters look like Sam Seaborn, or even his rubber-ball-throwing counterpart, Toby Ziegler. Rather than tortured wordsmiths who can afford to belabor every syllable, speechwriters have to deal with the same time constraints, bureaucracy, and petty office politics as any other drone in a political office.
Barton Swaim occupied that space for nearly four years as a speechwriter for Rep. Mark Sanford during his time as governor of South Carolina. When Swaim started working in Sanford's office, he knew he wanted to write a book about the political life — something funny, maybe a novel. Then the Appalachian Trail happened. Swaim's new book, The Speechwriter, chronicles his time in Sanford's office before and after the revelation that Sanford was having an affair with a woman in Argentina when he told his staff he was hiking.
When he first came to Sanford's office, Swaim, who has a Ph. D. in English, quickly learned that his writing was not up to the governor's snuff. One of Swaim's duties was transcribing Sanford's dictated letters to constituents, and he picked up the quirks of the governor's speech that way.
"I copied down a lot of his phrases and weird expressions, and I would just sprinkle everything I wrote with those expressions, whether they were appropriate or not," Swaim said.
Some of those phrases: "speaks volumes," "a whole host of," "in large measure," "pearls of wisdom," "unique," "fabulous," and especially "given the fact that." When giving a speech or discussing policy, Sanford would demand the writers give him three points, never two.
Sanford preferred to write his own speeches when he had the time, so Swaim was consigned to writing speeches for less-than-momentous occasions — the ground-breaking and ribbon-cutting ceremonies that take up much of a governor's face time with the public.
"I thought I was going to be this great speechwriter, stringing grand phrases together and soaring oratory and all this," Swaim said. "I was basically just coming up with cute things that you could say at a gathering of the National Square Dancing Society, or a grand opening at the Heinz factory. So, coming up with stories about ketchup."
Matt Latimer can sympathize. He became a speechwriter for then-Secretary of Defense Donald Rumsfeld in 2004. He recalls receiving a "snowflake," one of Rumsfeld's infamous brief one-page notes, from the secretary on his writing preferences.
"One of my favorite snowflakes he sent me was, 'I never use the word "very." It is a very weak word,' " Latimer said.
In 2007, Latimer moved from the Pentagon to the White House to write speeches for President George W. Bush. This was in the late stages of Bush's presidency, when the Iraq War was going sideways and the economy was collapsing in on itself.
"It was less like Aaron Sorkin's The West Wing and more like The Office," Latimer wrote in his 2009 book Speech-Less: Tales of a White House Survivor.
Like Swaim, Latimer often found himself frustrated with the layers of bureaucracy involved in writing more high-profile speeches, so he gravitated toward ceremonial speeches. One of the speeches Latimer is most proud of writing was when Bush presented the Congressional Gold Medal to members of the Tuskegee Airmen.
Here's an excerpt of that speech:
"I'm interested in a story about a young man who was so worried that the Army might change its mind about allowing him to fly that he drove immediately to the train station; he left his car as well as $1,000 worth of photography equipment. He never saw his car. He never saw his camera. But he became a flyer. These men in our presence felt a special sense of urgency. They were fighting two wars: one was in Europe, and the other took place in the hearts and minds of our citizens. That's why we're here."
It's a near-perfect blend of prose, research, anecdote, and commitment to the greater purpose of our country. And even Latimer, who by that point already felt some disenchantment toward his job, still recognized the importance of delivering all those elements — that Bush's audience deserved to hear something good.
Being a speechwriter is like being a novelist, only with more behind-the-scenes power and fewer accolades. The one thing being a speechwriter does not provide is fame — that is, until you leave your job and write a tell-all book about your old boss.
Swaim and Latimer are just two in a long tradition of political speechwriters turning toward more creative expressions of their craft. Peggy Noonan's book, What I Saw at the Revolution, chronicles her work as a speechwriter for President Reagan and Vice President George H.W. Bush. And Mark Salter, who wrote speeches for Sen. John McCain during his 2008 presidential run, was revealed as the anonymous author of O: A Presidential Novel in 2011.
When asked if he would ever want to work as a speechwriter again, Swaim — who now works as the communications director for the South Carolina Policy Council — chuckled. "Who would hire me?"
Correction: An earlier version of this story misstated the name of a speechwriter for Sen. McCain's 2008 campaign. His name is Mark Salter.