What Happens if CHIP Disappears?
When Congress only passed a two-year extension of the Children's Health Insurance Program in April, these folks started planning for 2017.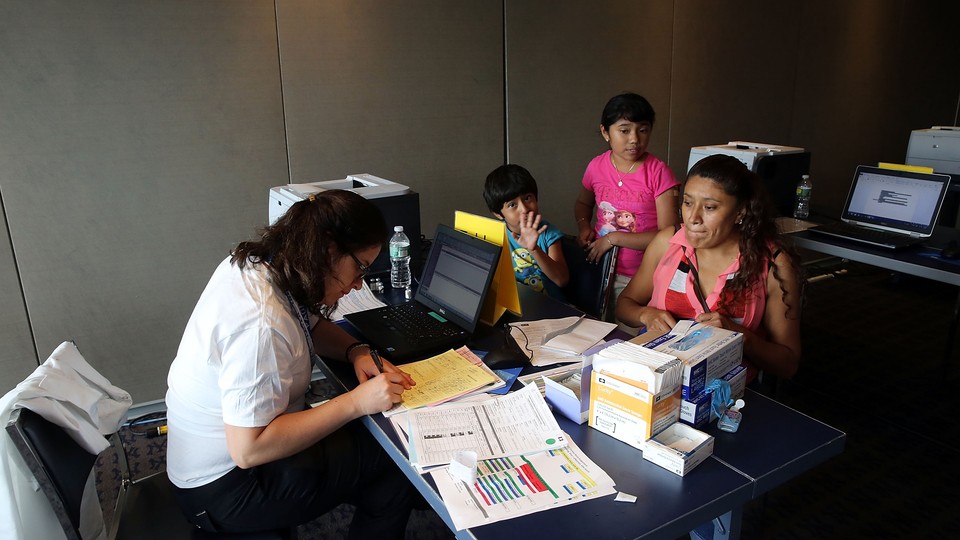 When Congress this April passed a two-year extension of the Children's Health Insurance Program—rather than the four years that some Democrats and outside groups were seeking—the folks at First Focus Campaign for Children knew they needed to start planning for 2017.
For a while, the open secret around Washington has been that CHIP might not be around for much longer. Republicans have always been somewhat ambivalent about the program, created in 1997. But Democrats, too, particularly with the passage of the Affordable Care Act, have sounded open to eventually moving on from it.
Officials tasked with implementing the program are now openly pondering a world without CHIP. But rather than sound ominous public warnings about what happens if a program that covers 8 million children goes away, advocacy groups are instead undertaking the more practical if mundane task of figuring out what to do in that scenario.
First Focus, founded 10 years ago, has begun holding regular calls and meetings to game-plan with some of its allies around Washington. The obvious thing to do would be moving the kids to Obamacare's coverage—but plans offered under the health care law are not as generous as CHIP, whether it comes to cost-sharing, benefits, or networks.
CHIP typically covers things like pediatric hearing aids and habilitation care for kids who have developmental problems; ACA plans don't necessarily do that. Like the bigger Medicaid program, CHIP has minimal cost-sharing, while the most popular exchange plans often have substantial deductibles and co-payments.
The preference would be to keep CHIP, but if that's not going to happen, the group would want legislative changes to make sure that there isn't a drop-off in coverage.
"Even in the children's community, people aren't necessarily focused on it," said Bruce Lesley, a former Democratic Hill staffer who is now president of First Focus. "We don't want one of these fait accomplis where March 2017 comes around and we have President Cruz or Clinton or Bush or Trump or whoever. ... Somebody's got to have, 'Here are your two or three options.' You either keep CHIP or you have this package of ACA fixes, or I don't even know what the other option is."
This spring's Medicare "doc-fix" legislation set off the soul-searching. Some Democrats and outside groups had sought a four-year extension as part of the deal, but the bill—which earned huge bipartisan support—included only two years. Explaining the preference for two years, a House leadership aide told National Journal at the time: "Republicans would like to reform and improve this program, and the next opportunity will be in two years when we have a new president."
Democrats on the Hill say they are cognizant that CHIP could be facing huge changes, or even its end, the next time around.
"I take it seriously because we couldn't get four years," said Democratic Sen. Sherrod Brown, who was one of the biggest proponents of a four-year extension as part of the doc-fix deal.
More and more people who follow CHIP are talking about what happens when it's gone. The issue came up during a May 14 meeting of the Medicaid and CHIP Payment and Access Commission, an independent government agency that advises Congress and the administration on the programs. Then in June, the National Academy for State Health Policy, which advises state officials, held a webinar on children's health coverage beyond CHIP. One of the MACPAC commissioners spoke during the online meeting.
"That seems to us to really raise questions for states about what to do in those two years," said Trish Riley, NASHP's executive director, of the doc-fix deal's extension. "The Affordable Care Act brings major reforms to state health policy, and we envision a world in which children and parents may be provided health care in the same plan together rather than a continuing CHIP program."
Obamacare actually increased federal funding for CHIP through 2019, though the program remains authorized only through fiscal year 2017. But the health care law also created what was intended to be a comprehensive system of health coverage for low-income Americans through the insurance marketplaces, tax subsidies, and expanded Medicaid.
"The question really arose, given the existence of subsidized exchange coverage, is CHIP still needed?" Anne Schwartz, MACPAC's executive director, said during the June meeting. The commission's short-term answer was yes, to avoid coverage losses for kids, she said, "but over the long term, it would be worth rethinking the system."
Democrats also believe that the ACA could eventually help replace CHIP, though they are skeptical that they can figure out a plan before the next expiration date.
"The goal ultimately is 2020, '22, but it will not be 2018, I wouldn't guess, when it comes to that stuff," Brown said. "But the answer is yes, eventually."
In the eyes of groups like First Focus, the solution can't be as simple as transitioning CHIP enrollees to Obamacare coverage. Their problem with that can be summed up as one of generosity: The plans offered under the ACA can have fewer benefits, more cost-sharing, and less robust networks than CHIP.
On networks, First Focus staff cited the example of Washington state, where the insurance marketplace was sued in 2013 by the Seattle Children's Hospital because many health plans being offered didn't include the hospital in their coverage.
So First Focus staff is meeting periodically to start figuring out how to avoid a falloff if CHIP is replaced by the ACA. They are holding regular calls with other groups like the Children's Defense Fund and the Urban Institute; there is also a quarterly meeting of interested groups examining health-reform implementation more broadly.
They don't have a set list of legislative fixes yet, but everything is on the table: from new requirements about what Obamacare plans cover and decreased cost-sharing for plans covering kids, to offering CHIP as a plan on the law's marketplaces. The goal is to create some kind of model legislation—complete with Title I, Title II, etc.—to frame the upcoming debate. There is a fear that, without it, lawmakers might move children to ACA coverage and then go about figuring out how to address some of these other issues.
"It's sort of, 'CHIP is enabling this system that is kind of jerry-rigged, so let's let it go and see what happens and then we'll fix the things that need to be fixed,'" said Lisa Shapiro, vice president of health policy at First Focus. "Which for us, that's terrifying."
Part of the problem will be one of cost. Extending CHIP for two years in the doc-fix deal added $5.6 billion to the deficit, according to the Congressional Budget Office. Implementing the kind of changes that First Focus and other groups would likely want to see would likely cost tens of billions of dollars.
The politics could be tricky, too: Reauthorization talk will pick up almost as soon as the new Congress and president are sworn in. Even if Hillary Clinton, who counts CHIP among her biggest achievements as first lady, wins the White House, Lesley asked rhetorically how House Republicans might use that to their advantage.
"If you're John Boehner and you're trying to think, 'What can I take hostage that Hillary Clinton might care about, so I can get my Keystone passed, or my whatever that I've been trying to get passed?'—could that possibly be CHIP?" Lesley said.
Reprinted with permission from National Journal. The original story can be found here.