Washington Movers, From the Drilling World to a Bipartisan Think Tank
Robert Traynham, Elizabeth Leoty Craddock and Amy Jensen Cunniffe are profiled.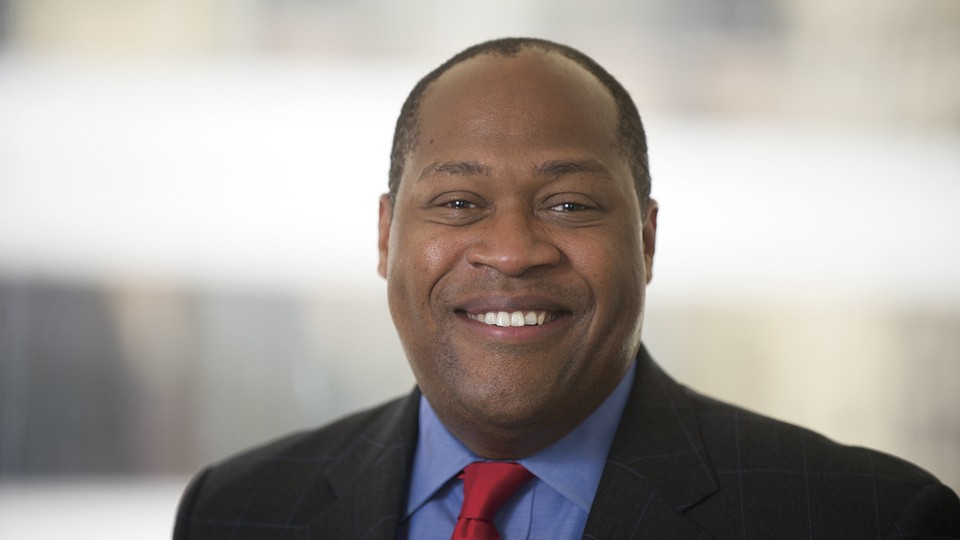 IN THE TANKS
Robert Traynham
Bipartisan Policy Center
Robert Traynham is the vice president of communications for the Bipartisan Policy Center. (Chet Susslin)
He has been a Republican operative and a media pundit, but now Robert Traynham is pushing policy ideas from a new perch. On June 22, fresh off an eight-year stint as Washington bureau chief of the cable channel the Comcast Network, the former press secretary to then-Sen. Rick Santorum and adviser to the 2004 Bush-Cheney campaign joined the Bipartisan Policy Center. As vice president of communications at the solutions-based think tank, the Lansdowne, Pennsylvania, native supervises a press team of 13, and works to support the group's priorities, which right now include finding ways to prevent Congress from "kicking the can" on infrastructure and figuring out what it can do to be part of the conversation on the Iran deal. Traynham, 40, has his own priorities, too, including bringing more minorities to the table. "I'm a person of African-American descent, so I'm always thinking about minority voices — both from a racial and ethnic standpoint and from an economic standpoint," he says.
— Sarah Smith
TRADE ASSOCIATIONS
Elizabeth Leoty Craddock
International Association of Drilling Contractors
Elizabeth Leoty Craddock is the vice president of policy and government affairs for the International Association of Drilling Contractors. (Chet Susslin)
Elizabeth Leoty Craddock first got a taste of energy issues when she went to work for then-Sen. Mary Landrieu of Louisiana in 2006. Originally Landrieu's legislative director, she eventually became the first female staff director of the Senate Energy and Natural Resources Committee, where she remained until Landrieu lost her Senate seat in the 2014 midterms. This April, Craddock, 35, took her experience and relationships from her 10 years on the Hill (she worked for former Reps. Karen Thurman and Dale Kildee before Landrieu) to the International Association of Drilling Contractors, where she is now vice president for policy and government affairs, heading up the Houston-based group's two-person Washington office. There, she coordinates with other trade associations and the IADC's 1,800 members, and pushes for the IADC's priorities, including lifting the crude-oil export ban and getting more offshore-drilling access in the Arctic and the Atlantic.
— Sarah Smith
LOBBY SHOPS
Amy Jensen Cunniffe
Washington Council Ernst & Young
Amy Jensen Cunniffe is a principal at Ernst and Young. (Chet Susslin)
After spending the better part of a year as an independent health-policy and strategy consultant, Amy Jensen Cunniffe found that she "missed the coordination and camaraderie of being part of a team." So in June, she joined the legislative group at Washington Council Ernst & Young, the lobbying arm of the accounting firm, and became head of a three-person unit working at the intersection of tax issues and health care policy. It's a natural move for the 43-year-old from Wheaton, Illinois, who cut her teeth handling the health care portfolio of her then-home-state Rep. Dennis Hastert. At the top of her agenda is working for the repeal of the so-called "Cadillac tax," a provision of the Affordable Care Act that would place a 40 percent excise tax on the health benefits companies provide to employees above a certain threshold. The provision is scheduled to take effect in 2018; a confident Cunniffe says her team is "looking forward" to seeing it rolled back before that happens.
— Lucia Graves